Convention overview

What a weekend. Wow.
Don't worry this post won't be all gushing about how great it was, but you have to grant me a few paragraphs of excitement before I explain to you how going to the convention is GREAT 100 miler training.
I always come away from the convention excited and inspired for the next year, but this year went beyond that.  Unlike last year, this year I showed up with ambitious ride plans and a certainty of my future participation in a sport (getting a young horse will do that) and the convention certainly cemented my desire to get on the trail and RIDE.
However, I found myself being inspired beyond the current year.  I'm looking forward to a LIFETIME of rides and trails and friends.  It was my first time going to the awards banquet portion of the convention and watching people and horses I knew, and some I didn't, being recognized for their achievements was amazing.  I've never had an achievement in endurance that is recognized nationally.  I was in the regional point standings one season, which is not presented at the national convention.  The highest mileage achievement both me and Farley have is 1,000 miles – which they don't bother reading nationally during the awards ceremony anymore (recognition now starts at 5,000). But what I realized as I watched riders, is that many of these people have been doing endurance longer than I've been alive.  These are truly life time achievements. Some are certainly the result of an exceptional season – but overall they stuck with something they loved and if they make it look easy it's because they've been doing it so dang long.  I have nothing to be ashamed of.
I'm also incredibly excited to be more than a rider in the sport – I'm excited to be a VET as part of this sport. This year it's finally starting to sink in that I'm going to be a VET in a very short year. And I'm going to get to experience this sport in a new way.  And I'm INCREDIBLY excited.  I ran my business plan past a couple vets at the convention and they wholeheartedly endorsed what I'm going to try and do (and yes, it involves my own practice, endurance riding and vetting, and a multitude of other nuances that is going to allow me to have balance and the things I want most out of life) which is a huge reassurance. Most of them told me that I'm going to come out of school at a place that it took them decades to get and that I could totally do it. 🙂
OK, I'm done gushing
Let's move onto how I trained for an endurance ride while at the convention.
Hopefully if you've been following along on my recent posts, you will understand that training for an athletic event goes far beyond the physical and technical aspects.  Any activity you find that "disturbs" your equilibrium can be used to your advantage – and I would encourage you to grab the opportunity to train the other aspects of endurance competition that may be harder to replicate at home or in your normal environment.
Three hour difference time zone, long days, very little sleep, intense socializing for a introvert, a completely screwed up internal clock, travelling, and lack of homemade food.  And then, to add a little bit of physical stress to the mix instead of sitting I tried to stand on my feet as much as possible. I pushed myself so that I could learn something about myself – and because I approached it as a "training ride" for my mind – it was sorta fun to see stuff fall apart – headaches, NQR appetite/hunger signals, difficulty doing complex tasks etc – and then to see patterns between what were the most influential factors in creating those problems.
So what did I learn?
The convention is a lot like riding a 100 miler. The similarities are mostly in the psychological component which is THE most difficult aspect for me to train for. I discovered that being sleep deprived, extremely focused and "on", and doing a lot of social interactions probably makes up a HUGE component of the mental fatigue and general physical "ickiness" I feel in 100's.
Lesson: Acute lack of sleep (like getting 2-4 hours in a 24-36 hour day) when combined with lots of social stimulation makes me feel headachy and messes with my ability to feel hungry or eat or make good decisions.
This also explains why I don't have the same problems during runs. Even with acute sleep deprivation I don't have a social group in the running world and my pace never seems to really match up with anyone else. Voila – less depletion of psychological reserves.
Since sleep deprivation is unavoidable in a 100…..it's the other factors I'm going to have work on.
– Snack foods, even if they were protein rich/non carby seemed to exacerbate the situation so planning ahead and having full meals at vet checks is important. (and save the snacks for refueling along the way, not at the 1 hour checks). Just to be clear, when I say "Meal" I mean a burger in a bowel and fries, or steak and rice, or mexican food – not yogurt or nuts or fruit or cereal or anything else that could remotely be eaten in the saddle.
– I do get a good night's sleep before a 100, but limiting the amount of socializing I do pre ride and during the ride might help – keep my crew small and the number of people that I connect with the day before small. Don't get sucked into small talk on the trail if it feels like an effort or if I haven't had a chance to ride alone and in my own head for a while. Being very conscious of how much intense socializing I'm doing before a 100, especially if it's a long 100 that I'm going to be out there all night. I'm a hard-core introvert who also adores seeing and socializing with friends………but I need to find a balance that allows me to perform for the 16-20 hours I'm in the saddle.
– Realize that this is not a food or appetite problem.  The food issues are just a indicator of something else. Instead focus my efforts on the psychologically stressful parts of the ride and the food part will probably work itself out and be more like when I run.
– Do some sleep-deprived or super "tired fatigue" runs and conditioning rides in training.
– Instead of seeing the potential sleep deprivation in clinics as something to become bitter and resentful towards, look forward to it as excellent 100 mile training! In reality the number of weeks that I'll be on call and sleepless with be relatively few and by approaching them as a training opportunity for one of the biggest passions in my life – I can make it work for me instead of against me.
Can't wait to start putting up the posts from the seminars – there was some AWESOME stuff presented that's going to be good on practical level for all of us.
If you are a west-coaster who has only ever been to the convention when it's in Reno or the west region, I would HIGHLY recommend that you venture over to the other regions to attend when it's offered other places. It's easy to let the AERC convention be the same every year – same vendors, same people and faces.  It is incredibly invigorating to travel across the country and realize the passion that exists for endurance over the entire country – and while we operate under the same rules and goals, regional differences DO exist and we can all learn from people who are accomplishing the same stuff under different terrain, weather conditions, and challenges.
Lastly before I dive into a deep dark hole and try to catch up on the school work that I missed (and is due tomorrow…) I want to give a huge shout out to all the people on the east coast that I've finally met IRL after we have read eachother's blogs or supported each other on facebook over the years. You guys were awesome and I can't wait 'til we do it again.
Next up: seminar reports
But first, some pictures. I'm so sad I didn't think to bring a "real" camera and these are random cell phone shots, which is challenging in florescent lighting. But smiles, and friends, and the meeting of people in IRL that you consider your fellow bloggers and friends transcends crappy cell phone cameras :).
5 bloggers all in a row. Before the convention I only knew one of these pretty ladies IRL. See if you can guess who's who!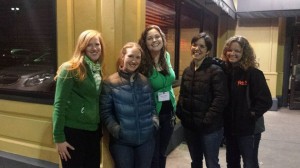 Do not underestimate how hungry an endurance riding who's in 100 mile training at the convention can get.  This was right after while waiting for our food we were shown the "how animals eat their food" youtube video. When our platter FINALLY came, I was asked what animal I would be…..(BTW AareneX – do you see the "piece" of you I brought to convention?)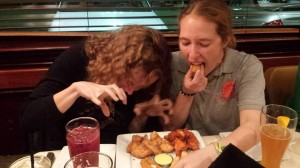 A big thanks for Renegade for allowing me hang out in the booth.  It helps me meet lots of new faces and come out of my introverted shell, and makes me feel value and needed.  I still got to escape and attend seminars, but I also got to meet and greet with HUNDREDS of new people. It was a humbling and rewarding experience – so many great people in this sport.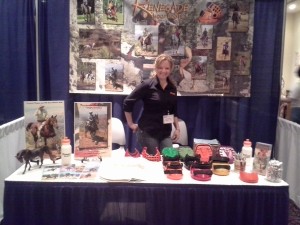 I thought we had a beautiful booth this year. Complete with the breyer horse that was modeled after Crockett's mare.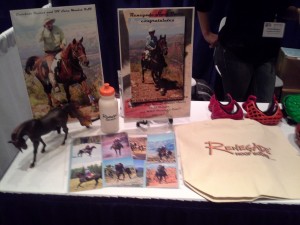 This is the first year I got to go to the awards banquet!!!!! Thanks so much to Ashley who made it happen for me. I'm usually so tired by this point I just go to my hotel and collapse but the prospect of getting to spend a couple more precious hours savoring the convention (in heels and a skirt!) let me drag myself downstairs. It was by far the most fun and entertainment I have EVER had at a banquet and awards show. The show ended at the sensible time of 10pm but of course we stayed up talking until past 2am…(with flights to catch the next morning!)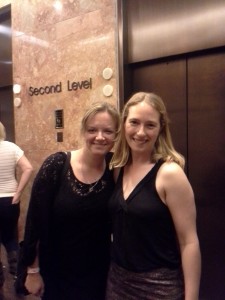 This is a picture of a very happy but tired Mel in Oakland, ready to drive home (after a detour to visit yet ANOTHER blogger who couldn't make it to the convention, Funder).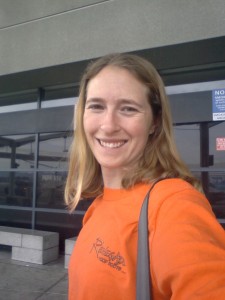 Sitting at home this evening with a ton of obligations stacked in front of me both work and school related, a crazy cooped up Brittany dog, and multiple horses to be ridden (tomorrow ponies!  I promise!) I don't regret a second of it.