Aug Link Luv

My new favorite routine in the mornings (and what I use to bribe myself to get up at a decent time) is sitting in the back yard with coffee and the dogs reading posts in feedly. As a result a loot more blogs are being read, commented on, and made it into this months Link Luv!
Feedly on my ipad or phone seems to be a bit unpredictable and sometimes skips over posts – "oh she didn't read that one, but now it's old enough we'll just mark it read anyways." – which is how I managed to miss this post from Aarene! An interesting look at a horse that isn't really "lame" buut something is off anyways….and because I am such a fan of the hoof for telling us about the health of the hoof, can you blame me for giving a woop of excitement when I saw the changes in the shoe on the foot as part of the evidence?
This writer is takes a different spin on the subject of public shaming then I usually do. She takes on pictures of people riding that are posted on the internet, while my soap box is usually treatment of endurance horses at rides. The concept is the same. Support and constructive criticism (IF appropriate coming from YOU and not better handled by someone else working with that person) is appropriate response. Public shaming is not. Public shaming is why some riders won't seek treatment or consent to treatment (yep, just like any other veterinary procedure, vets have to have PERMISSION to do anything to a horse at a ride) at rides, even though the horse needs it. Public shaming is why I rarely share pictures of me riding – even if it's a moment of triumph because we have gone so very very very far. Trust me, I can pick out the flaws of why I don't look like the pro as well as anyone. What she says about pictures is true – it's a moment captured that may or may not reflect reality. Think about the pics of celebrities in the grocery check out aisle. Do you think most of them walk around with the faces in a perpetual unflattering grimace such as captured in that photo? Probably not. Just as we choose the most flattering pic to share with others that represents a fleeting moment of time, so are the "bad" moments. The "majority of the time" is probably represented sometime in the middle.
Something I try to keep in mind whenever the little steps I take with MerryLegs in our sessions seem too minuscule to matter.
Do you fall victim to the health food halo effect? I read labels religiously and so I'd like to think I minimize this. Usually a quick scan of ingredients, calories, and protein to carb ratios let's me know whether it's something that will work for me, not whether it's a health food bar versus another option.
I recently discovered Ted Talks  on Netflicks and watched one that discussed "power positions" and how it influences success. It's all very interesting and I just deleted a paragraph explaining why in my two careers so far these concepts were/are key…..but what's MORE interesting is the horse connection. At the end of the talk the speaker demonstrates the classic power pose – think Wonder Women, hands on hips, head up, chest out, feet spread apart. Go ahead, try it. What does it remind you of? It reminds me of how it feels to ride a horse. Is this why females especially benefit so strongly from riding? Is it because to correctly ride a horse (head up! shoulders back!) you must put yourself into a body language position that universally radiates confidence?
I don't believe that everything happens for a reason, or that things always work out. However I believe this statement and I try to keep it in mind:  "too many of us have poorly developed disappointment muscles as a result of too many years of being shielded and protected from adversity in an attempt to stay happy and content. As parents and teachers we must be aware that our kids need disappointment and adversity in order to find ultimate success." Nope, this didn't come from a parenting article – it came from an ultrarunning article here. Like most people I feel the bitterness of disappointment when something doesn't work out and it hurts. The strange combination of grief, frustration, sadness, and upset-ness that plays into the feeling of disappointment is one the emotions that I hate THE most and makes me want to avoid committing to things fully until I'm relatively sure it's going to happen, which I suspect many people do as a way of protecting themselves. However even though I try to avoid disappointment on a routine daily basis, I have a tendency to also set big goals that I don't know are possible and disappointment within the journey to those goals are a motivation and catalyst for eventual success. Sometimes I don't know how badly I want something until I do fail, or when the cost of failure is made real.
Yes yes I know that the runner featured in this article hasn't been doing ultras for that long, and so is this a real thing?, but while this article reminded me of the existence of pool running it's not the first time I've heard about it. Every summer since I started reading running magazine in early 2000's I've seen it featured in some article. I've just never had a reason to try it and kept forgetting about it. While I can still run, I find aqua jogging a much better work out right now. My workouts combine jogging around the edge of the pool in chest deep water and then doing intervals in the deep water. The hardest part is not letting my upper and lower body slip into parellel movement instead of the normal cross movement of running. I've been able to adapt most of my favorite workouts to the pool including HIIT, 3/1 walk/run intervals, and sustained running of 30-40 min (that's my mental limit for jogging in the pool). It would be so easy to incorporate some "side of the pool" strength exercises that worked my upper body, but after trying yesterday it requires too much core so it will have to wait until later.
OK I'll fess up. My biggest infractions were continuing to ride with a broken elbow and I ran a half marathon – don't worry! I took the arm out of the sling for both activities so that I could respond appropriately to emergencies and keep good running form! I do completely "get" and agree with the reasons she puts for why we might do such a thing. I DON'T want to hear I told you so and perhaps have what I love curtailed (ummm…this is why public shaming for treated horses at rides doesn't work either BTW), and I am pretty stoic when it comes to acute injury type pain.
I didn't know there was any other way to pay and calculate board beyond "it's this much a month and it's due on the first. Leave me a check". If farrier or other services were done, a check was left for the service provider either before or after the service. Riding lessons (boarded at one barn where you had to be in the lesson program to board there) were prepaid weekly or monthly and seperately from board check.
From this article here "I think our culture has gotten pretty off-base with nutrition. Many people seem to think that the harder you train, the more you can "get away with" when it comes to food. When people see my training and racing schedule, they often comment on how I can eat anything I want. But the reality is quite the opposite. The harder you train, the more dialed in you have to be in order to give your body the tools to recover and get stronger. Burnout is not inevitable. It's running hard and then giving your body a double-whammy by eating poorly that's going to lead to burnout." – I'm in full agreement with the first part, I'm not sure about the burnout link. Can eating good nutrition and avoiding the temptation to "get away with" poor nutrition be linked to burnout? I'm not sure. Eating "well" and running "well" sure seems to be linked from my personal experience but I can't quite remember whether periods of burnout correlated with crappy nutrition and which was the chicken and which was the egg.
I run by myself a LOT. I love the opportunity to run with others but I would go crazy if I didnt' get my solo runs in too. I know it worries family members sometimes and while I don't consider myself risk tolerant, I'm not super risk adverse either.
Just a reminder to folks that a treadmill desk doesn't have to be fancy and expensive so if you want to give the concept a try, do it! A couple of years ago I made a treadmill desk out of a treadmill I was given by a friend, so it was essentially free. For grad school I had to have a lap top, so the desk could be rather simple since it just needed to hold the laptop where I could type on it. Fortunately the arms of the treadmill were level and happened to be at the exact height I needed for typing. So, I found a board that spanned the arms and was a good width. I then had a creative family member pain a trail scene on it for me "just because". It's worked out perfectly for the last 3 years. The only bummer is that when we moved the last time to our current rental the (rather large) treadmill won't fit through the door of the house, and I don't have an outdoor covered porch anymore, so it's in the garage which means I don't use it as much. That's OK really since now that I have graduated and have a job in a clinic, I'm on my feet and walking all day and not as sedentary as I was as a student. I posted this comment on a blog this month that was talking about treaddesks to remind everyone that it doesn't take a lot of effort to make one and treadmills are a dime a dozen especially this time of year (NOT New Years). Buy something cheap, see if it works, and then upgrade depending on preference and whether you like it!
Yeah. If you have horses, you've had a week like this.
Later on in this post I'll have a link to an article about how your downtime makes you a better runner and endurance rider, not just the times where you can log in the hours of training. Here's Exhibit A: long walks. I do NOT have the time or energy to make long walks a priority when I'm in the midst of a training cycle. Right now I'm getting them in every day. And yes, they are really that awesome.
Read this one for the story.  Read this one for the pictures. I just can't imagine a reality in my current life where I could get enough altitude training to do this race, but what amazing views. Who knows? If WS100 happens faster/better then I anticipate, maybe I convince Matt I need to sleep in an altitude tent and make the weekend drive up to Squaw for some altitude training more then once in a blue moon. My strength lays in hiking and being able to keep a constant forward movement, not speed so I might have a chance. On the other hand I am whiny and pathetic in cold wet conditions.
Last year I discovered burro racing for the first time and find it so ridiculously intriguing – is it really a thing? Really? Here's someone that seems to take it way too seriously as I can't find any tongue in cheek humor about his race report at all! So I'm back to thinking this really is a real thing…
Magda won the women's race at WS100 and I appreciated her insights on being an older ultra runner, and being a mom.
So glad I'm the ultrarunner and endurance rider of the equation and NOT the spouse. Matt and I have totally been through these discussions and some of the things we've come to agree on are these: I canNOT be gone every weekend. Whether it's for training or races, being gone two weekends in a row is pushing it and requires me to be extra helpful around the house before and after. Just because I did a big training ride/run or race (except the one or two BIG ones a year), I do not get excused from chores or participating in family life. I also make it a priority to find opportunities to support him in whatever activities he wants to do – like flying – without complaint – and resist the temptation to try and recruit him to like my activities – he's not a runner and he's just not that into horses. I want my activities (and his) to add to our family life, not overcome it. This means being creative with my time and sensitive to the fact that these activities, even though they are important to me are chosen and optional and anything I can do to minimize the impact on every day life means that a couple times a year when it gets crazy (Tevis week, ride and tie championships, big ultra milestones), it's OK.
I won't lie, I was prepared to dismiss this article outright and roll my eyes. But it's well written and the spirit of the whole thing I think comes through.
Has nothing to do with running or riding, and I wasn't brave enough to post on facebook.
I don't know how I feel about this. I agree and disagree. I'm not morbidly obese, but I've never gotten the all-knowing (sarcasm) BMI under merely "average" my ENTIRE life (NOT one of those rail skinny people ever) and yet when I got pregnant my body treated me as if I was a little underweight. The various ways to measure body fat also don't suggest that it's "all muscle" either. I agree that weight is more determined by diet than activity. There are LOTS of good reasons to exercise, but to make you thin it probably won't do directly. Fat dogs and fat horses aren't fit and I see the damage that happens when they are running and excersizing without losing weight – but they aren't human either.
Among other tips, this podcast rephrases the period before a major long event as "peaking" instead of tapering. I think the tendency of endurance riders is NOT to adequately peak/taper their horses before major rides and I felt there was a lot of cross over information in this podcasts to both endurance sports.
Some of these were spot on, some were not in my experience. That being said, polo was my first equestrian sport love, and do think it's worth a weekend of fun if you have an opportunity to just try it!
I like doing this on horses too! In addition to being able to hear how your horse is moving in general, it is useful in at least 2 other circumstances: when mounted, you can hear how your riding is affecting the horse's movement. Dismounted during trot outs you can hear how your trot out technique affects how your horse trots. And of course, This explains why I think I always look stupid in my running pictures.
BTW that same article's line drawings of forefoot versus heel strike runners explains why all my running pictures look so dumb. I'm a midfoot striker so and I look like the picture on the right, not the left (except my kick back isn't that high). Unfortunately I have this image in my brain that I should look like the heel striker if I'm really running! Never mind the physics of the whole thing that I can't look like that unless I switch to heel striking!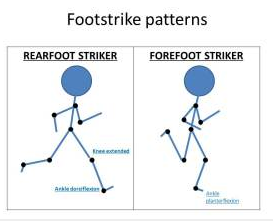 Can someone pretty please
buy these for me
?  Oh and headphones will work if you cut one ear bud off???? BTW I finally have found some ear buds that fit my ears, don't fall out, don't hurt my ears over long runs, and don't annoy the crap out of me if I want to take them out and hang them around my neck. AND they don't block all the ambient sound. But I'm not willing to cut one ear bud off! Wish the bone conducting headphones had been more durable.
(Let me know if any of the links don't work and I'll fix them. It's usually a formatting issue of how they got copied and pasted in – like extra spaces getting included).