Dec 2015 IRL – ponies

Wrapping up Dec IRL with an update on the ponies!
Here's the stats:
Farley
3 dressage rides
1 bareback trail ride (no mileage)
2 clicker sessions/ground work
ML
Rules of Engagement
Mid way through the month I was feeling especially down, panicked that I'm was not going to be able to see and become permanently blind since my eye was not getting better and was is in fact, getting a little bit worse. It got to the point where it was interfering with my vision even though my left eye has stayed perfectly normal.
Matt put his arm around me and said he was OK with me taking Fig to the stable earlier then originally planned as long as I followed certain rules.
She is to be properly bundled at all times. I have a habit of not using socks or hats. These are essential pieces of gear according to my husband and she is to be dressed properly before going to the stable.
She is to be securely protected in a wrap at all times.
The dogs are not allowed contact
I am not to contaminate her with hay or other things that I might be using to care for the horses
I am not to do anything stupid.
I celebrated the milestone with a selfie with Farley (see first picture of this post).
Clicker training
I was going to expound on clicker training in this post, but I've decided it's better left to a future post so that this post doesn't grow epically long and delayed even further!
A December  check-in
What went well
Being able to spend time at the stable with Fig really relieves the pressure, stress, and anxiety I was feeling when invariably one of my riding days got cancelled due to being sick or other factors.
Having committed days a week for riding with no make-ups meant that I rode or got training done on days I normally would have wussed out. Dark, rainy, windy nights and I gritted my teeth and did it anyways. And had some REALLY good rides.  Sometimes a bit of pressure NOT to wait until the right moment is good.
Maintenance stuff (like trimming feet) is getting done and getting done on time.  Yay!
What needs to be improved.
Having trouble getting out to the stable on my 2 committed riding days. Something always comes up – mostly house stuff as we make offers and look at houses etc. This is temporary and will not last. It's also a really crappy time of the year. I'm doing pretty good for the dead of winter!
ML needs more of a job then just the ground work and clicker training.
Looking forward
I have a hiking style back pack that I've switched to at the beginning of January that should allow me to hand walk my horses on the trail and do more kinds of groundwork.
This nicely supplements the 2 days a week that I leave her with Matt and get some in the saddle time. 
Confession time: it's the 10th of January and I have yet to actually do anything with the ponies. Epic amounts of rain and being sick has taken it's toll. But I'm trying to be patient and bide my time. 
Just one more thing….
Remember last year how there was quite a stir when I posted the statistics about who was the top commenter? I suggested that perhaps the next year there might be a prize for who did the most comments….since I absolutely adore and live for comments. 
The results are in!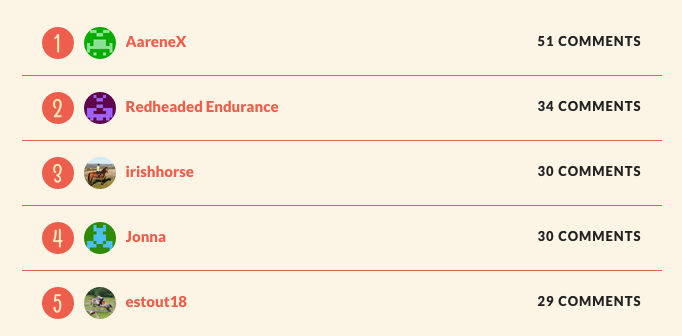 Thank you EVERYONE who commented this year – your comments and support mean so much to me. AareneX – there shall be a little token of my appreciation in the mail that is quite fitting for a librarian I must say!