Post #1622

If there's one truth I've learned about myself in the last 5 years, it is that I am resilient and tenacious.
I know that terms like "grit" and "resilience" are all the rage right now. How you can develop more. How to develop it in your kids. Whether it is the *it* factor that determines success versus failure.
It remains to be seen whether grit and resilience go the way of the self-esteem movement I was subject to in elementary school, but in my personal experience I credit much of my success in my goals to being able to wake up and tell myself "start again".
And then "start again again".
And over and over and over.
Two and a half years ago I had a mysterious loss of vision in my right eye, that was determined to be optic nerve swelling (optic neuritis). The swelling of the nerve extended both into the globe, and behind the orbit into the brain.
It didn't respond to steroids, I never recovered any vision that I lost, and every single test imaginable (I have good medical insurance) came back negative except for some general markers in my spinal fluid that suggested autoimmune.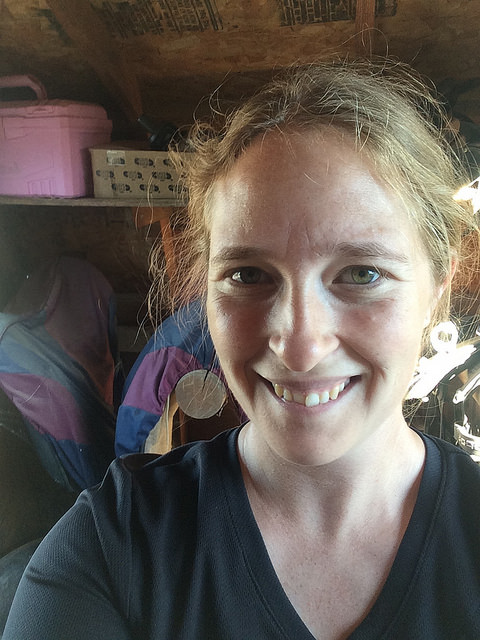 Over 2 years the swelling gradually subsided and six months ago I got the best news. The swelling was gone and replaced by scar tissue in the nerve which is why my brain was finally being able to compensate for the lost vision pretty darn well. Oh sure there was a loss of depth perception, and the PLR (pupillary light reflex – how fast my pupil can respond to light changes) was slower in the affected eye which makes trail running interesting….but life was moving on.
And then a couple weeks ago it started over again. The funny gummy feeling in my eye. Missing my suture tails in surgery (requires good depth perception). I closed my left eye and could swear that the fuzziness was worse…maybe?
Sure enough, more vision loss.
I had gotten a bad cold at the beginning of January, and it likely primed my immune system enough that it stimulated the process on my optic nerve again.
It was the first time I had been sick in 2 years. I don't get sick very often, which I guess has its advantages and disadvantages. Thank you immune system but also please leave my actual body parts the fuck alone?
More MRI's. More neuro visits. More bloodwork.
Still no answers. No diagnosis. No prognosis.
At least if I had a diagnosis I could join a support group.
I spent 24-48 hours just absolutely devastated.
Just like the first time this happened.
Last time I grieved for the loss of my sight. For the never-to-be future where I had depth perception and could run through shade and sunshine without running blind for a few crucial seconds because I've lost the ability to quickly adapt to changes in light.
This time I grieved not for the additional vision loss. At this point it's just being blind or blind-er. Whatever. Instead I grieved for my not-to-be future life where I did not have to deal with a re-occuring autoimmune disorder.
Each time it has taken my brain 1-3 days to let go of the future I once envisioned, and to re-wire my brain with a new future.
Here is the new reality.
Instead of a possible one-time thing that happened at the end of pregnancy and perhaps influenced by a vaccine, I have an autoimmune disorder that will likely re-occur over and over in my future.
That's a hard thing.
So, I start again.
And again.
---
Here's another interesting thing. If we acknowledge that the adjustment process is a sort of grief, it's not surprising when I tell you what else is happening.
I'm grieving my sister all over again. Right now the grief is as sharp and raw and as near the surface as it was 4 years ago when she died. Current grief sharpens past griefs. There's a lot of dead bodies in my recent past. My sister is just one of them, but she was the most unexpected and the one nearest to me so it's not surprising she's the one most in my thoughts. I accepted a long time ago that grief isn't linear and it isn't a "process" that can predicted. My feelings are valid and right and it's OK.
I recently learned something else about grief. It often comes with feeling completely helplessness and with a sense that you've lost all control.
Oh, so that's what is happening. That's why I have an almost unbearable mind-numbing and paralyzing anxiety that mostly revolves around losing pets and people (mostly my parents and my husband) to sudden deaths and that the last time I see them will be the last time, period. Before you give me some pep talk about the benefits of this mindset, I want to clarify. This isn't a healthy "make the most out of each day and appreciate the people around it", sort of thing. It's a disabling distortion of it. It's like calling a depressed person "sad" or an anxious person "stressed."
The "right" grief can also destroy any confidence in any other area of your life you still had intact.
That's probably why my body self-image and confidence has taken such a nose-dive I can barely stand to be in my own body right now. It's a terrible thing not be comfortable in your own body. I've come so far  accepting and loving the way I am and the way I look that this is a rather depressing development. Do you want to know what is my absolute life-line right now? The fact that I completed that 100 mile running race just over a year ago. No matter what has happened or is going to happen I did it, and no one and nothing can ever take that away.
---
I don't want to leave you with the wrong impression. I'm going to be OK. I'm resilient, tenacious, annoying, and terrier-like. But I also want to be honest and transparent. If I can make someone else feel less alone because I've shared this incredibly personal thing (I know I'm not the only one with some sort of chronic disease with no specific diagnosis) then it's worth any small amount of embarrassment this gives me to publish it. In fact, best not to re-read this or do edits…just hit publish right???? Or I might lose my courage :). *nervous laughter*.