Pain-free

First pain-free "real" run in SIX MONTHS.
Not a short easy run trying to avoid anything that might piss off my hip. Not a "felt OK during run but paid for it the next 24 hours".
I ran technical trails at a reasonable effort for 1 1/2 hours completely pain-free, continued to live my life the rest of my day pain-free and then woke up this morning without my hip being angree.
Can I get a big WHOO-HOO?????!!!!!!
I didn't realize that September (when I injured it) was six months ago. It really doesn't seem like that long ago, but it's been SIX MONTHS of a combination being off and doing intensive physical therapy to get it back to this point.
Now the sobering news. I'm about six weeks behind in my training on what I already knew was going to be a very tight schedule to get in 100 mile shape by mid July. I have 4 1/2 months to get from 1 1/2 hours of running to almost 34 hours. That's not a lot of time for training, and there's no time for mistakes or getting reinjuried. It's going to be a very *interesting* line that I'm trying to walk run (snicker) for the next couple of months. The wild card is what, if any, of my issues are related to a neuro autoimmune disorder. No one is really sure but my PT says he wouldn't really be doing anything differently whether it's a simple chronic injury or a neuro problem so onward and forward we go!
From now on mobilization work is going to have to be a regular part of my routine. My often neglected pyramid layer! One reason this injury happened was chronic weakness in my right hip and right side. My PT has been really good about prioritizing my exercises and we've talked about what a doable program looks like for me going forward. Instead of the 30+ minutes a day of strength and stretching I've been doing the last couple of months to get to where I am now (close to 10 miles of pain free running), it's going to be 15 minutes a day of exercises chosen from a prioritized list. Some exercises are more important than others and need to be done more often. Some need to get done periodically if they have been skipped over for a couple of days, and lastly some that need to be done as bench-marks occasionally to make sure I still *can* do them everything is still functioning well.
Everyone's needs are going to be slightly different, even if they have the same issue, but here's a list of exercises that I'm going to be rotating through.
Mel's current PT regimen:
I set a 15 minute timer and try to get through as many of these as I can (excluding biking or running time). I usually manage to get about half of the routine done, with the other half reserved for the next day. I listen to my body and don't push anything that doesn't feel right or feels exceptionally weak or fatigued. The perfect amount of difficulty is getting to the third set tired and fatigued….but not trashed. It's amazing how I can pace my running to get the right effort in, but when I do strength training I expect to go at my max every time. That's stupid! Moderate effort is so much more effective, fun, and safe.
—————————————————————————————–
Biking – 10-15 minutes of biking on my off days. Has a greater range of motion for the hip than running or walking.
Side sliders – 3 sets of 10 (3×10). I don't have a slider – I use socks on a hardwood surface. This is a priority exercise for me.
Lunge with elevated trailing leg – 3×10. Another priority exercise.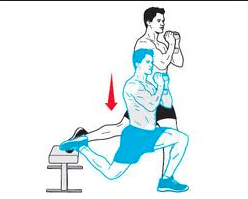 Fire hydrants with band (tie a stretchy band and put around knees) – 3×10. Before I did these I was doing clamshells with a band. Then they got too easy. Fire hydrants have the appropriate suck by the end of the third set.
Hamstring curls on ball – 3×10. Discontinued/optional as long as I'm doing bridges because these got too easy. PT is really trying to not have me do a lot of similar exercises so it's sustainable in the long-term.
Bicycles with band – 3×10. Focus is on bringing the leg closest to the body back using the hip flexors. This one isn't designated as a priority, but it does seem to target an area that has been very difficult for me to target in the past – the work the hip flexors do and the fatigue they feel, especially at the end of an ultra. If you are like me and have trouble walking after ultras or endurance rides because of grumpy hip flexors, try this exercise, focusing on bringing the leg BACK with the hip flexor as far to your chest as you can while the other leg is pushed forward.
Ankle stretches – straight and bent leg
Table hip flexors – 3 minutes per side. Bonus is if I can get someone to push the shin of the dangling leg back. My 2-year old loves to "help" with this one.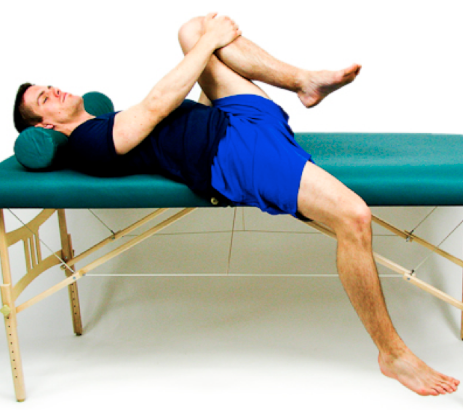 Adductor stretch with band – feels so good. I've loved this one since my pilates days!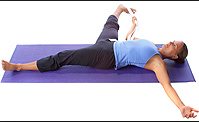 Single leg dead lifts with or without band (or with or without a weight). Without a weight or a band I find it's more of a balance exercise and like to experiment with standing on pillows and other unstable surfaces. I like to do this one almost every day, mixing up whether I use resistance or not.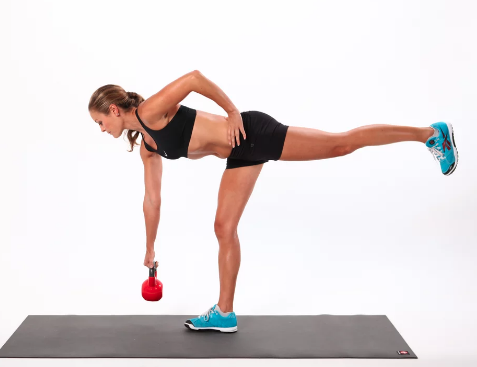 Planks – 'nuff said. No movement or leg lifts until I can do 3×60 seconds. No I'm not there yet.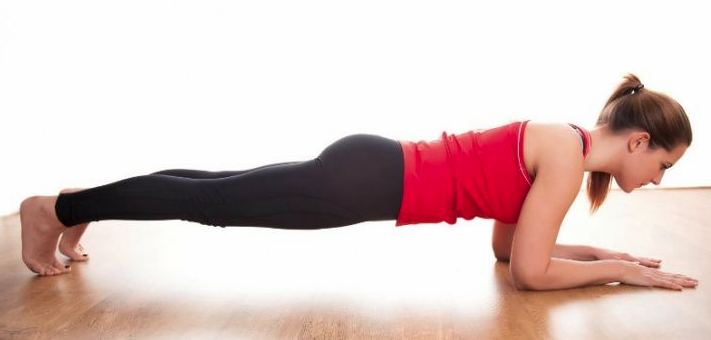 Modified side planks (so that they work the hips more). Same rules as above. I suck at these even more.
Single leg bridges – either elevated leg, or leg held against chest, hold or reps focusing on getting full range of motion through hip flexors. Both the variations suck. It's really hard for me to open up my hips and get good range of motion through my hip flexors. Bringing the knee to my chest forces my hip to not fake that movement.
Working hip trigger points with a racquet ball on floor – kinda fun! And one of the most useful things I'm getting out of PT. SO PAINFUL, and yet I think it is one of the things that is making THE difference. Out with the roller and in with the hard painful pressure points!
The Riding Connection
As a side benefit, all this strength work and mobilization on my hips has definitely made a difference in the saddle. When doing a lot of lateral work or dressage in the arena my right hip would get "stuck" and sometimes feel like it partially popped out. I couldn't get my leg to move back or open up my hip well on the right side. Really working those areas with these exercises has helped my riding more than I would have thought. I recommend giving it a try!