Week 4 – Proton Sabbatical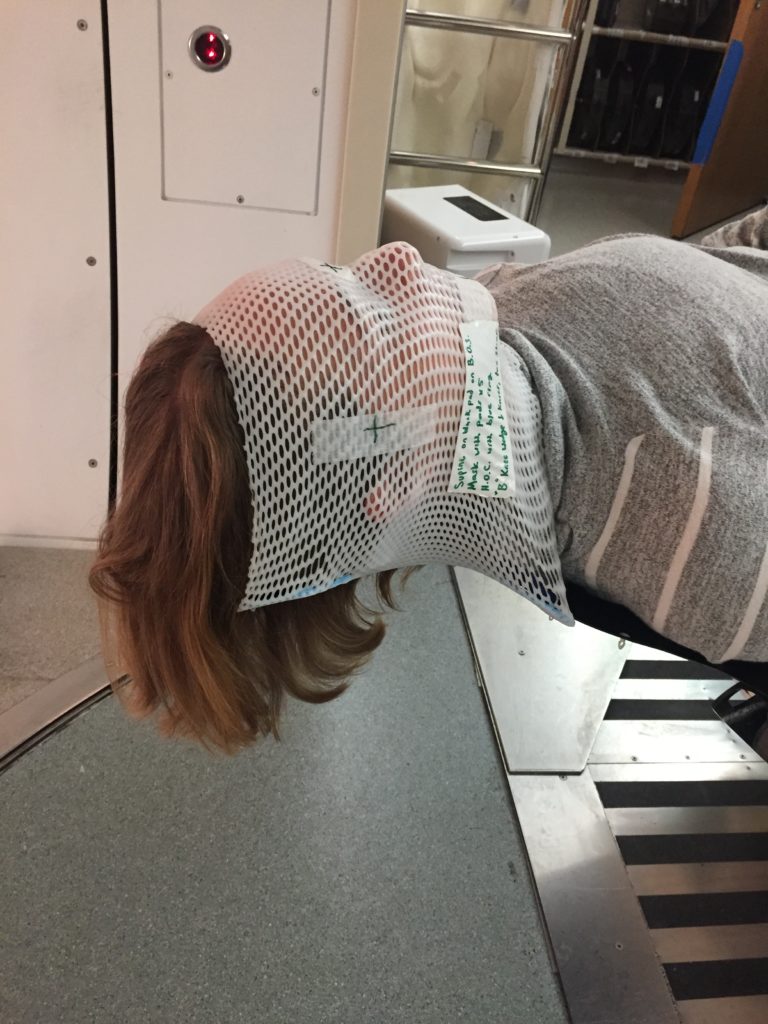 Seventeen times I've laid on this table, the plastic mask fitted over my face, waiting for the table to stop moving and the beams to be lined up exactly right, so the techs can leave the room. There are some people who find the mask so claustrophobic that they have to be sedated or put under general anesthesia to do these treatments. I've never considered myself NOT claustrophobic, but have never quite figured out the answer to whether I am indeed claustrophobic.
You know those TV shows where they show people exploring underground caverns that are less like caverns and more like slits they squeeze and ooze their way through? There's always that part where someone remarks that the only way to get through this part is to exhale all the air out of your lungs to collapse the volume of your chest as much as possible to squeeze through some crack. THAT IS WHEN IT IS TIME TO CHANGE THE CHANNEL. Nope nope nope. I can't even think of it for very long because I can feel a choking scream building in the back of my throat.
So, when a medical professional asks "are you claustrophobic" I'm mainly reminded that I think too much about all the nuances of the question, wonder just how similar whatever procedure is going to be to spelunking, and whether I should ask them to clarify the question. But, by the time I'm slowly blinking my eyes and erasing the blank look on my face that comes when I think too hard, the moment has passed and we've already moved on.
I'm guessing after all the MRIs, CT scans, and more than 25 sessions in the Hannibal mask I can confidently say no? I'm still not going spelunking.
When the machine is started up there's a mechanical whirring sound. It's not especially loud – not like an MRI. It's a sound of anticipation of something about to happen. It's like traffic passing you on the street, except the pitch doesn't change. After an indeterminate amount of time – basically whenever the machine feels like it's ready (and sometimes it decides it isn't ready at all and we need to start all over. It's just too early in the morning and could it please just hit the snooze one more time? Or have an extra cup of coffee? or could we provide more sacrifices?) it starts shooting protons out.
I can smell the protons before I hear the radiation monitor in the room beeping. A sharp chlorine chemical smell hits my nostrils, and a fraction of a moment later I see a deep cobalt blue flash behind my eyelids. Then comes the beeping like an elevator passing through floors. It repeats 17 1/2 or 25 or 12 times, more than 1 per second. My program changes every couple of days so I can never predict with certainty how many beeps I'll have.
The first week of treatment I could smell the chemical chlorine smell. They aren't quite sure why it happens but there's a theory it's the proton beam hitting the plastic mask and reacting with it. It's possible the smell and burning sensation of the mucus membranes of my nose is entirely imaginary and is a reaction of some part of the brain to the radiation. What ever the cause, I'm lucky and I only experience it during the treatment. For some the smell lingers all day and makes the nauseous. The lights didn't show up until about 2 ½ weeks into the treatments. I used to keep my eyes open, but now when the protons start I close my eyes so I can see the flash of color that comes a split second before the radiation beep. The color is thought to come from the optic nerve being affected by the proton beam. It doesn't mean the nerve is getting damaged, it's just how the nerve interprets the energy that it's experiencing. The weird color in the darkness against my eye lids flashes across both eyes, but it more pronounced in my right eye (which is where the tumor is located). I can't quite see the flash of color when my eyes are open but there's a "disturbance in the visual field" that isn't definable. It's only when I close my eyes that I can see the light show play out.
Most of the time it's two beams per treatment visit, each requiring the table and the proton device to be repositioning to get a different angle so that the right tissues get exactly the planned radiation. In the beginning the plan called for three beams for a certain number of treatments. Those appointments in the first week would often take 45-60 minutes and I'm glad that most of the visits since then have are just two beams. I arrive at 5:45 am for a 6 am treatment and most of the time I'm on an elevator headed back to my car by 6:30am where the rest of my day is mine.
I hear the proton treatment at Loma Linda referred to as the "proton vacation" by staff, patients, and doctors. Depending on what is making us ill in the first place going through proton treatment doesn't affect our every day quality of life during the treatment time. The simple fact that many of us are from out-of-town, leaving our accumulated commitments behind, making new friends at various hospital sanctioned social activities, while sightseeing around the area feels a lot less "*cancer patient" and a lot more "cancer tourist".
---
Warning: Giant tangent sitting on top of a soapbox. Because I'm pretty much done having this conversation.
*When people meet me and find out I'm a proton patient, they are always very curious what I'm being treated for, since my gender and age doesn't match the majority of the patients treated there (older males with prostate cancer). It's amazing to me how often (mostly older women breast cancer survivors) are eager to "set me straight" and define for me what this condition means. "Oh, it's benign. So you don't really have cancer. It's just a tumor." Here's the deal people. I have a tumor that is in a location that is so likely to severely disable me more than it already has, that I am choosing to undergo a treatment that ALSO brings risk of disabling me in the future and destroying my quality of life as I now know it. I am choosing this not-benign treatment, knowing that it may not work and then I'll have to deal with the tumor AND the side effects from treatment. Oh, and everything we are doing won't do a damn thing to bring the sight back to my right eye. It's gone. Toast. I'll be lucky if that's the only thing it takes from me.  So guess what? I'm dealing with some of the SAME decisions you did with your malignant breast cancer. I too am facing death and disability and the chance my quality of life disappears forever because of this. On top of this I'm having to make horrifying difficult decisions without the availability of the resources available to patients with more common types of cancers. I would never ever minimize the heart ache and struggle you undoubtedly went through when exploring your options and thinking about your future, so don't minimize mine. Empathy isn't a contest and it doesn't contain judgment.
---
Rather than a proton vacation, I'd like to propose that it would be more useful to view this time away from one's "real life" as a sabbatical. (with some vacation days thrown in of course)
Last year I had a forced sabbatical from all my "extracurricular" activities for about six weeks due to an injury. I was such an amazing, life changing experience that I decided I needed to take a six-week sabbatical every year.
Here's the problem. When you have a busy life full of responsibilities, it seems impossible to actually choose to step back from (almost) everything for almost two months and focus (almost) exclusively on something else.
So, even though I saw more personal growth last year in that six weeks than I had in the previous *six years I'm not sure I would have had the courage to either quit my extracurriculars or my job again without being forced to.
*in fact, the last time I saw such positive self-awareness and growth was when I spent a year in therapy 2012ish. BTW the sabbatical was a lot more fun than getting treated for anxiety and burnout…..
Thank goodness for life's timely interventions because this year's sabbatical is just as good as last year's.
Without getting into the wild hand gestures and the many many MANY words I want to use to drone on about all the things I'm getting out of this sabbatical [I just deleted three paragraphs of drivel that went on and on in vague and lofty terms about just that. You are welcome.] how about some plain 'ole English words some of the highlights of what I'm learning this time around?
I need more mental space in my daily life. Without it I can't write or be creative. Every single social connection and conversation I have during a day, casual or purposeful, counts towards my maximum. It doesn't matter whether it's having to talk to a grocery clerk, having to interact with people at work, answering a text or email, or being in the company of friends or family. Being very deliberate about my human interaction time right now has been AMAZING for my brain and I'm so much more present when I'm talking to people, and I'm so much more focused when it's time for me to work. I LIKE being social. I just have a limited amount of social interactions "in me" in any 24 hour period.
Like my last sabbatical, I'm writing A LOT. Some of it I'm getting paid for. Some of it I hope to get paid for in the future. It's exciting and very scary. Up until a year ago most of my writing has centered around what I want to write about and what I think my readers will enjoy. I've freely given away most of my words for the last ten years, even the stuff that I've worked really hard on. Last year I made a huge leap and asked readers to pay a couple of dollars for a book I authored. It was so scary to put something out that I cared about and had worked so hard on. Most people are happy to get something for free, but would they like it if they had to pay for it?
I'm so proud of myself for making that leap last year. This year I'm taking it a step further and asking publishers to pay me for my work. I feel really vulnerable. What if they don't think I'm good enough? What if I fail? What if they say yes? WHAT IF IT'S REALLY GOOD AND THEY WANT ME TO WRITE MORE AND THAT WAS THE ONLY STORY I'LL EVER WRITE???????
Each time I do something out of my comfort zone, guess what… I don't actually die. Or melt into a puddle of anxious goo. I also have yet to be struck by lightning on a clear day as a sure sign I have incurred some sort of universal wrath for being too uppity. I somehow manage to engage some sort of pro-adulting program in my brain and behave like a normal, rational human being. I'm always surprised at what I'm capable of accomplishing, if I stop letting fear hold me back.
In the end, why not try? After all, it's just a six-week experiment. A leap of faith into the unknown, letting our inner, secret-wild-dreaming selves come out to play for a little while.
After the sabbatical is over, maybe we can invite those wonderful dreaming selves to stick around for a while and watch the magic happen far beyond the sabbatical.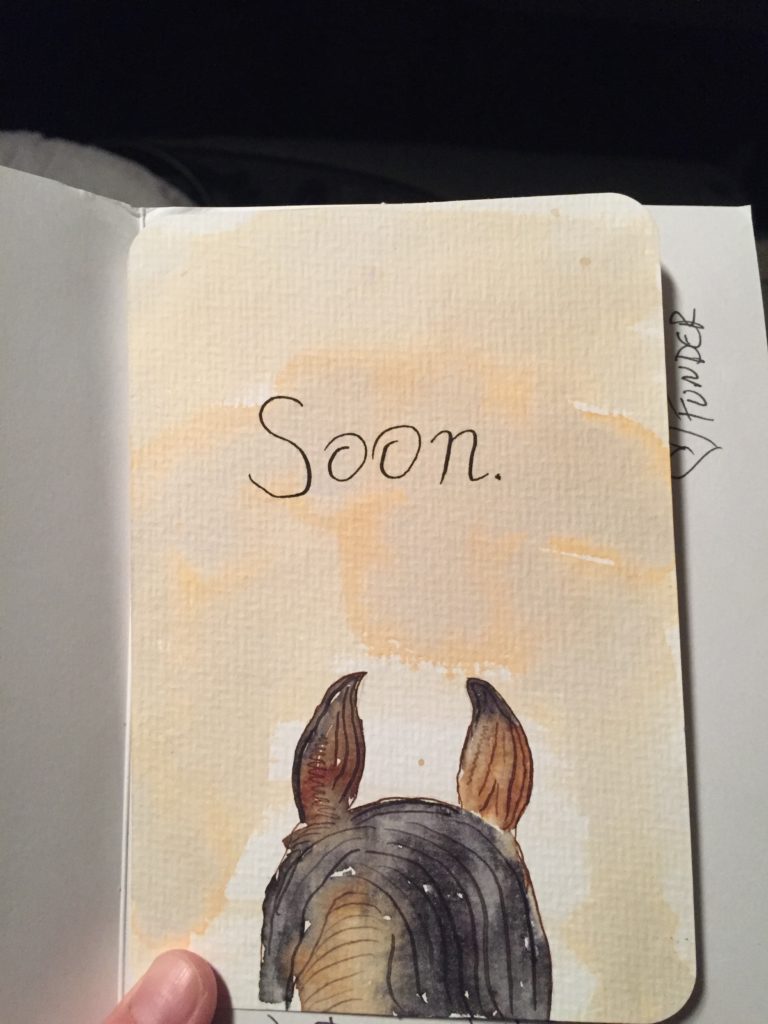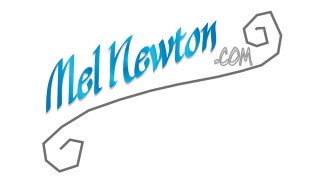 Sabbatical notes for those of you that are interested in the idea.
You don't have to step away from everything to have a meaningful sabbatical. You just have to choose something to step away from that consumes a large part of your life – such as work, or an activity that consumes a majority of your time – in order to give yourself space to explore, be creative, and do whatever it is that is the point of your sabbatical.
There are many good books out there that explain how to use a sabbatical and I would encourage you to do some research before doing a sabbatical. I'm so lucky that a good friend who decided to take a year off work and travel lent me a book on sabbaticals right before I was forced to take my first one last year. It helped me immensely to develop the structure and goals of my time. The one other time I took significant time off before 2017 was between my last career and attending vet school in 2011. I took about three months off and it wasn't nearly as transformative, mostly because I didn't approach it as a sabbatical. Instead I treated it like vacation time and sort of wandered from activity to activity. It's important to have vacations and unstructured time off, and I'm including some vacation days (1-2 every 1-2 weeks) in my sabbatical now….but merely "taking a break" isn't the same as a sabbatical.