A New Look

Today, for the first time in five years, the look of the Boots and Saddles blog got a major "redo".
For most of the last 5 years of this blog's 5 1/2 year existence the overall look has remained unchanged.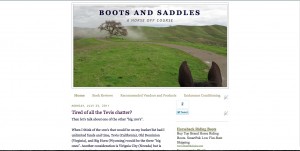 I've always admired the clean, timeless look of the blog and have gotten many compliments over the years on it's "readability" on screen.
During the move to the new URL at the beginning of this year, I kept the look of the blog very much the same as the old blogger site, but the feel was different and more "clunky". I knew I was going to have to do an update sooner or later.
Goals of the redesign were to:
Retain the strengths of the original, including readibility and simplicity
Do a better job of keeping relevant content refreshed and accessible
Give the blog a more mature, polished look.
Revise the scope of the blog beyond simply the story of me conditioning my endurance horses and doing endurance rides.
Today, with an on-location 12 hour on call shift that was incredibly non-eventful I spent some hours coding and tweaking…..and voila!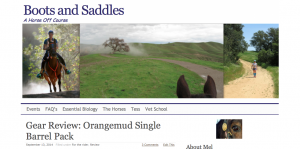 I hope that for long-time visitors there are enough preserved elements in the new design (the ears picture, horse eye) to make the page feel familiar.
If you have any thoughts or comments, I would love to hear them. The biggest issue with the site right now is that it's not as mobile friendly as the old design. I'm still doing little tweaks here and there, but the majority of the format and design layout is completed.
I have the nagging thought my time would have been better spent studying for boards….but ah well – pretty blogs that will last another 5 years are priceless right?
***FYI I do have rights to all the photos in the header, including the pro ones.