Biometrics and Recovery

I'm taking an intermission before starting in on the last seminar topics since they are more detailed and require more mental energy for me to put together. I'm also in the process of trying out a new rasp that hopefully solves the bane of my existence – maintaining a good mustang roll.
But that's in the FUTURE. Today we are going to discuss the fascinating little diagram below: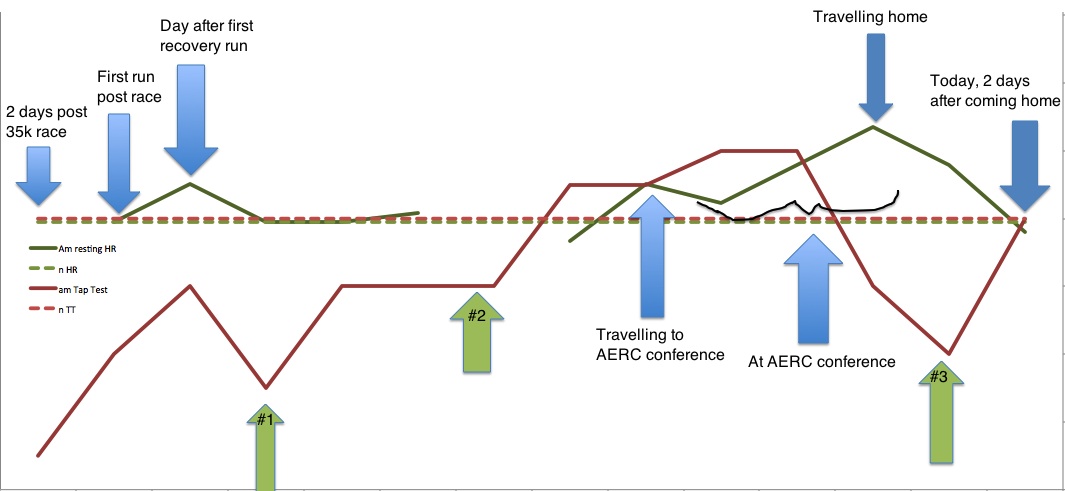 Since the 35K race a couple weeks ago I have diligently kept track of different biometrics including my am HR and tap test in an effort to track my recovery better. The graph above shows my results from the tap test (red) and am HR (green).
As you might recall, the "tap" test and resting heart rate can be an indicator of how "recovered" you are from a particular training stimulus in the categories of central/neuro fatigue and "stress".
I aligned the data so that expected recovered value for HR and tap test are on the same plane and are represented by the dashed line.
The dashed line represents the expected values of a well recovered Mel.
Heart rates that go above the line is an indicator of increased stressed. Tap tests that go below the line is an indicator of greater central/neuro fatigue.
So, a stimulus that results in stress (physical/mental) with a central/neural fatigue would expect to see heart rate (the green line) RISE, and the tap test (red line) to FALL.
Got it?
Tracking the numbers over the last couple of weeks has been intriguing.
The first observation is that heart rate tends to react faster to a training stimulus than tap test – both in rise if the stress is cumulative over a couple of days, AND in recovery. The tap test lags behind the heart rate. Look at the green arrow numbered "#1". The heart rate was elevated the day after I tried to go for my first (too soon) recovery run, but the tap test didn't take a hit until a day after that. A similar pattern occurred during the convention and traveling.  The heart rate responded the fastest, and the tap test lagged behind.
It also suggested that my first "recovery" run after the 35K was done too soon.  It's hard to imagine I could have gone slower and easier (it was a death mark of a walk/run) so the logical conclusion is that even that minor physical stimulus was too much and I hadn't built enough reserves after the race for even that minimal of an effort. After seeing a sharp dip in the tap test and the heart rate react to that run, I waited a few more days before trying to run again, and made sure to keep them easy.  I was rewarded with a heart rate that stayed in the "non-stimulated by stress" range, and a tap test that kept slowly rising as it recovered for the original 35K stimulus. My easy runs probably were truly easy since they weren't causing sharp reactions in these numbers – although there's a chance my tap tests would have gotten better faster if I had held off altogether.
If you need proof that mental stress can cause similar reactions as a physical training stress, look at the convention time period. The same pattern of the heart rate responding quicker the stimulus and being quicker to recovery than the tap test.
Note how much faster both the tap test and heart rate recovered after the conference than when I screwed up and ran too soon after the 35K. Seeing the whacked out numbers while I was in Atlanta is one reason I didn't make an effort to try to do any sort of exercise at the hotel, and I've been willing to take it easy the first couple of days back home. Today was the first day that both that these parameters representing stress and central fatigue indicate that my body is ready to handle a run etc. If I had wanted to do a "pre-fatigued" workout, Atlanta would have been the perfect training ground, but knowing that my numbers were JUST looking "normal" from my 35K effort, IMO it would have been too much too soon. Just being at the conference was stimulation enough!.