What's hot…and what's not

America's Test Kitchen anyone?  They always do their product reviews in the "what's hot and what's not" format and since today is a perfect day for a fluffy post (live animal surgery this afternoon that may or may not take forever) I'm going to do my own version….
In this post I talked about endurance food and mentioned I had 2 new products I was trying out.  Today I'm reporting back on the results.
First up: Endurolyte's "Fizz"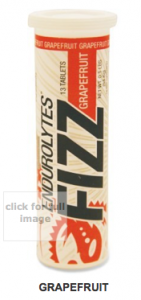 The same electrolyte composition as my tried and true capsules, "Fizz" are tablets that can be dropped in a water bottle.  Slightly flavored, slightly sweet, with a bit of a carbonated feel.  I wasn't sure how well I would like it – it contains some sorbitol and stevia and usually I'm not thrilled with how those sweetners taste when I'm hot and dehydrated.
However, they've been a huge success. I have HORRIBLE allergies right now combined with travel and I've been drinking and drinking (and drinking and drinking…) lots of water and still feel dehydrated and slightly headache-y. I finally started popping these tablets in some of my glasses of water last night and today and I feel a lot better now. They go down well, not overly flavored, not too sweet (and not sweet enough that I can taste any off flavors from the sweetners), and the bit of "bite" from the carbonation is perfect.
I've only tried the grapefruit flavor, but would be interested in trying the mango, and perhaps the grape.
The caps are more convenient and quicker on the trail and during running and these tablets don't replace that strategy. But I like having another option that is like a tasty treat at checks or aid stations.  These tablets are definitely more convenient than the powders and packets and it's effortless. And sometimes I want to drink something rather than swallow a capsule/pill.
"Fizz" from Endurolytes? Hot.
Now let's move onto a product that's not.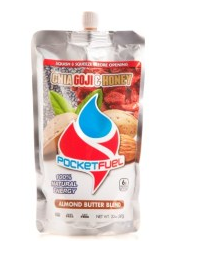 I tried 2 different flavors of pocket fuel and it just isn't going to work for me. My nutbutter conconctions are cheaper, taste better, and have a better texture. I could barely get the 2 different flavors down at the convention and best they were "blah". And the nifty foil packs? My plastic squeeze tubes do such a better job with delivery.  Mixing my nut butters to taste and being creative with my flavors will be better for me. PocketFuel was not sweet enough, gummy, pastey, and wouldn't come out of the d*mn packet.  If it's work to get the calories out of the packet it likely isn't going to happen – and not only was it work the reward wasn't worth the effort.
And now for something else that IS hot.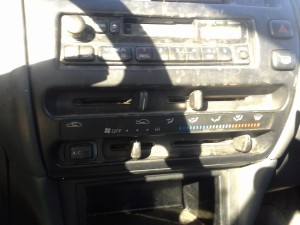 When sunny temps in the 70's here in the central valley it's time to start thinking about heat conditioning.  Yesterday I rolled the windows up, turned the heat thermostat all the way up, and the blower to a medium position.  (I later relented when Tess looked at me with sad puppy eyes and gave her a cracked window on her side and made sure the vents were pointed at me). This morning I wore a sweatshirt and managed to soak myself with sweat on the way to school.  I kept the blower and temp going to the point where every 5 min I started to reflexsively move towards the thermostat to cool down (but then caught myself) but not to the point where I was miserable on a second by second basis.
The most miserable thing in the world is to step out of your heat conditioning module (ie the car…) soaked with sweat and be smacked with bone chilling winds. BRRRRRR!