Camp Far West Q&A: Bento box

My bento box has evolved in contents since I first put it together a couple of years ago. Now 2+ years into using it, I feel like it's really dialed in to what I routinely need when I hit the trails, and what stuff I need to keep close at hand, "just in case".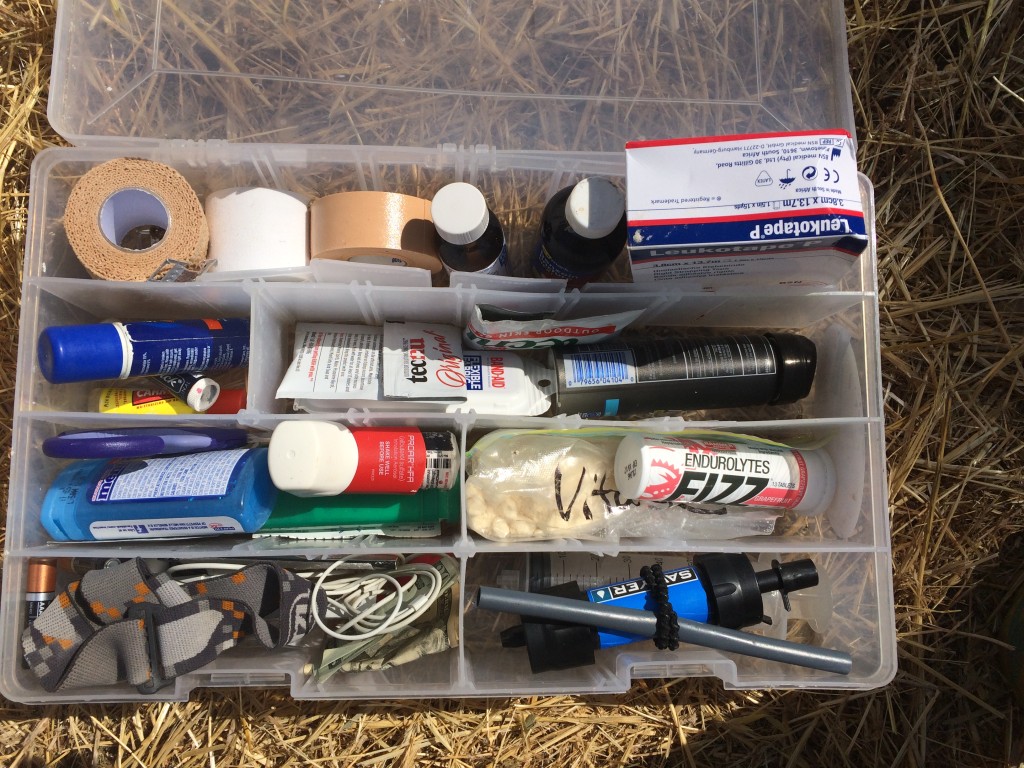 Sawyer brand in line water filter with a straw. The cleaning syringe used to flush it is underneath it, that way when I get back to the car and if I've used it, I can immediately clean it. After some feedback from the employees at REI, the Sawyer filter is what I chose out of 2-3 options that were all priced similarly. It has worked flawlessly.
Spare headlamp, with an extra set of batteries.
Spare set of headphones
$20 cash
Contacts case.
Hammer Fizz electrolytes
Baggies of Vitalyte powdered elyte mix.
Tic tac container filled with Hammer elyte capsules (not pictured because it's in my pack at the time of the picture).
Inhaler
Pair of very sharp small sewing sissors.
Mentos gum container that has a small vial of super glue and safety pins
Mentos gum container with benedryl pills
Ondansetron tablets
Loperamide tablets
Caffiene tablets
Container of advil
Container of tynenol (left over from when I was pregnant and couldn't take ibrophen)
Small bottle of spare sunscreen
Sunscreen stick
Packet of antichafe lube
Technu Extreme packets
bandaids
Chap stick (with SPF rating)
Leukotape
Benzoin tincture (as an adhesive promotor)
New Skin liquid bandage
Stretchy vet wrap type bandage roll (I used to have an ace bandage, but it got used and I bought this. Would prefer to have an ace bandage or Elasticon in place of this)
White tap
"First Aid Tape" that is thicker and has a "foam" texture to it.
I used to have an ice pack in this, but didn't replace since I used the last one.
Any questions about the stuff in the bento box?
This was only question I got after Camp Far West so we will be moving on!