New (Used) Horse Trailer

Things have been a little crazy here. I bought a new horse trailer on Tuesday! Originally I was going to trade in my trailer as part of the deal and do it Saturday (yes, the same day I was leaving for the Camp Far West endurance ride….) but then things got complicated because the tires on the "new" trailer were 16 years old (do you know how to read a DOT tire code? A very useful thing…) which was going to require either a price adjustment OR swapping tires off of my trailer onto the new trailer.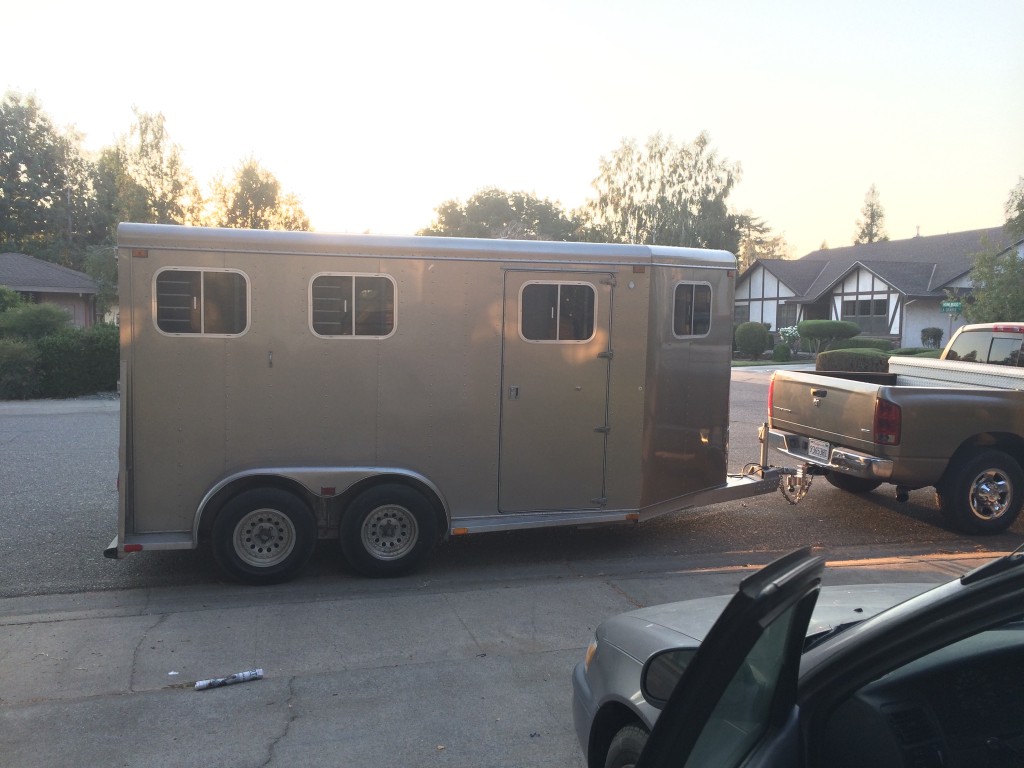 Life being what it is for two very busy people, we kept having to delay the meeting, I went to Camp Far West in my old trailer, and finally we decided to keep it simple. No swap, I bought the trailer outright with the old tires, and I'll sell my trailer at a later date.
The new trailer is a 1994 Sooner 2 horse aluminum trailer. It solves a couple of things I don't like about my three horse, the main one being giving up tack room space for a third horse stall that I most used for gear anyways :). Both 2 horse trailers I've owned were similar lengths to my three horse. It's also very light, giving me the option to go back to using a 1/2 ton truck if I want, and puts it in the ball park to be towed by a motor home.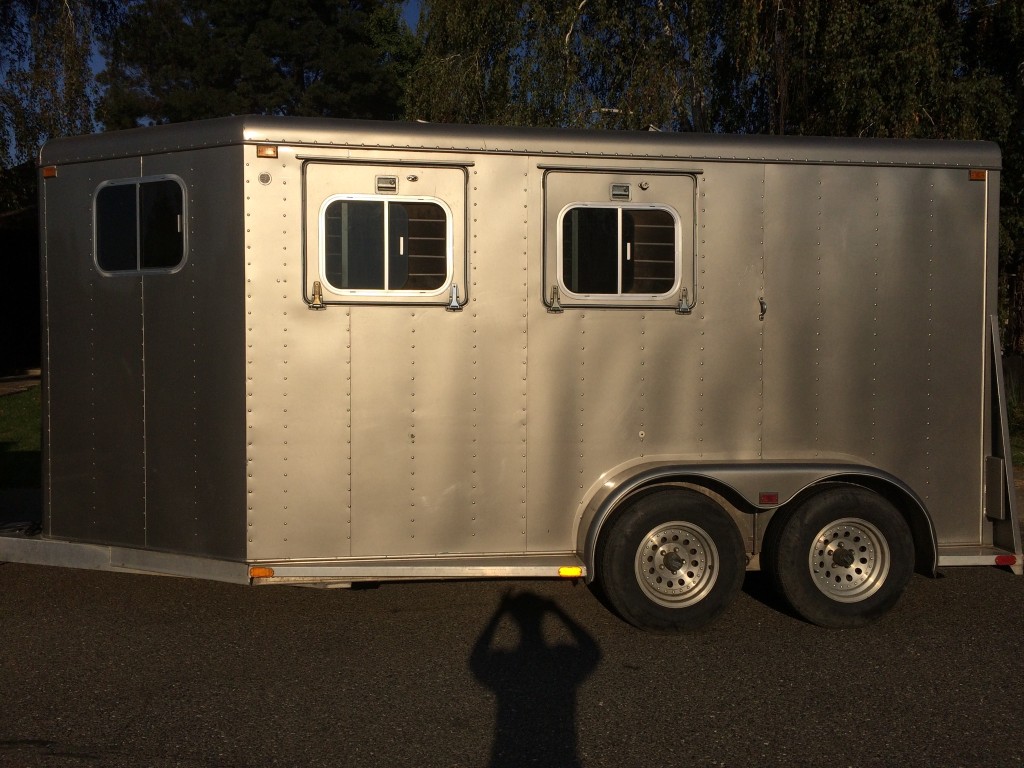 I had looked at the floor prior to buying and thought it looked ok, but when I got it home and got it really well sprayed down and cleaned saw pitting. This was a learning lesson for me. A aluminum floor is a little harder to evaluate than a wood one unless the mats are all the way out and you can get all the debris off of it.
Floor seems still structurally sound but it's something I'll have to keep a close eye on. Fortunately it's a small floor and if in the future I do have to have it repaired  as long as the rest of the trailer is in good shape it will be worth it.
In the meantime I'm going to clean and prep it and seal it. I'll try to remember to take pics and do a post on that process when it gets down next week.
An aluminum floor is not ideal for me – it's much higher maintenance and in this climate wood dries and breathes and lasts a long time….but now that I'm not using the trailer several times a week I'll be able to keep up on getting mats out and the trailer sprayed down on a regular basis.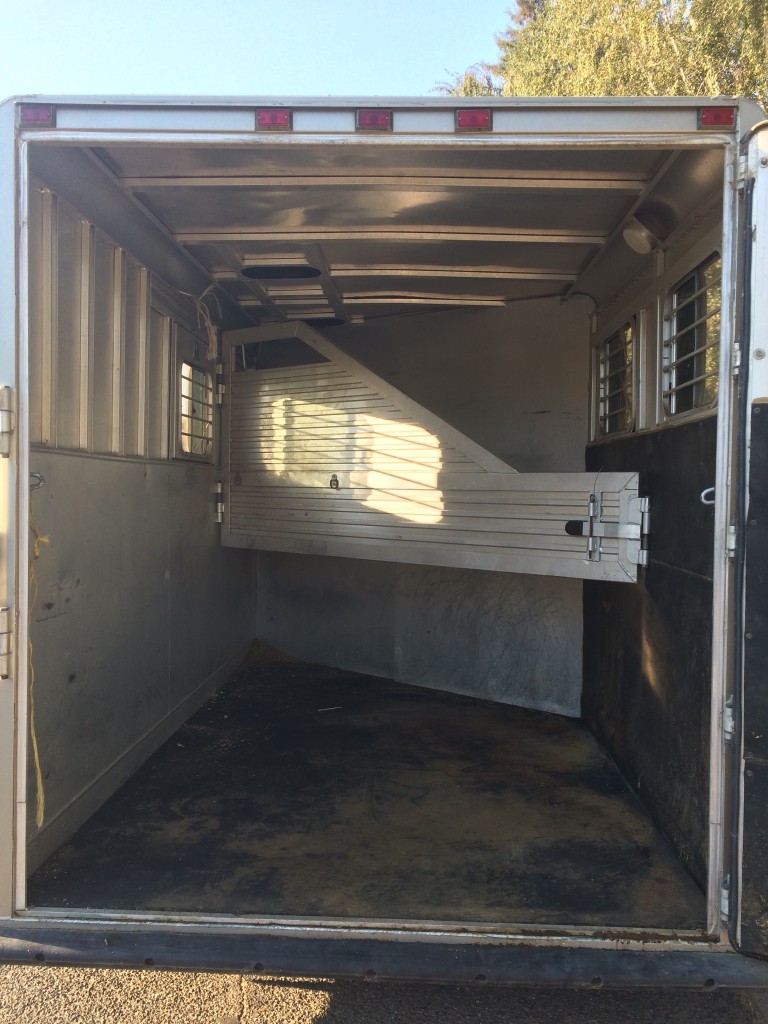 The other learning curve with an aluminum trailer is how the heck to put organizational tools up in the tack room without the benefit of magnets and being able to drill into walls (the main wall of the tack room is carpeted). LOL! I'm sure I will adjust.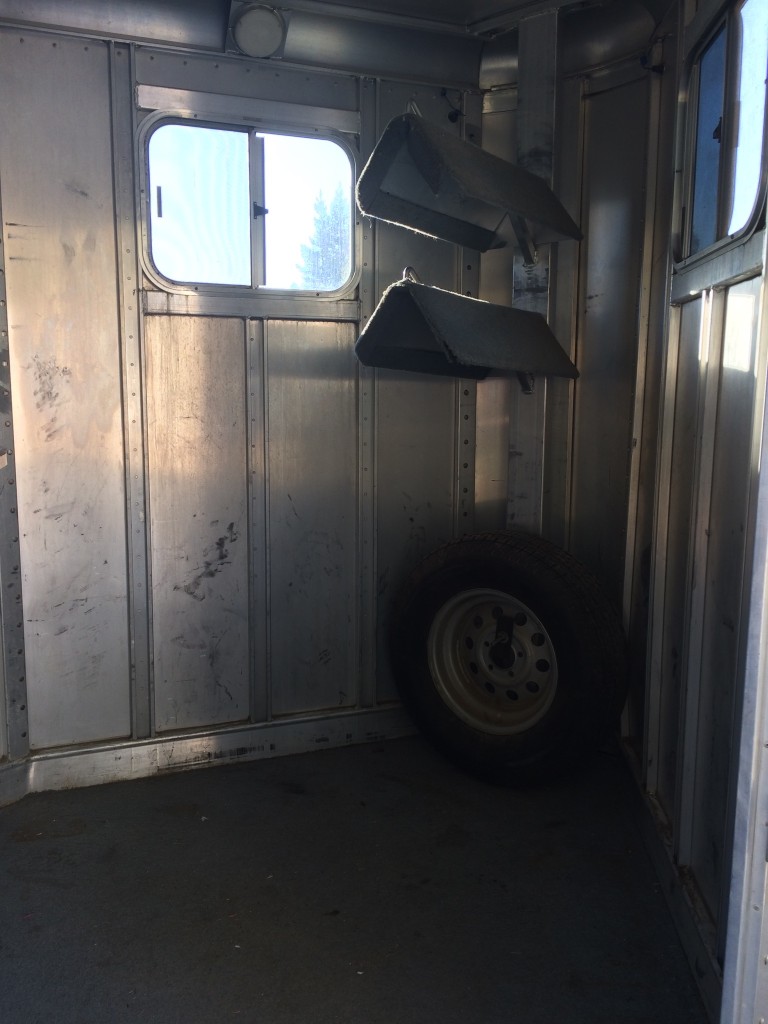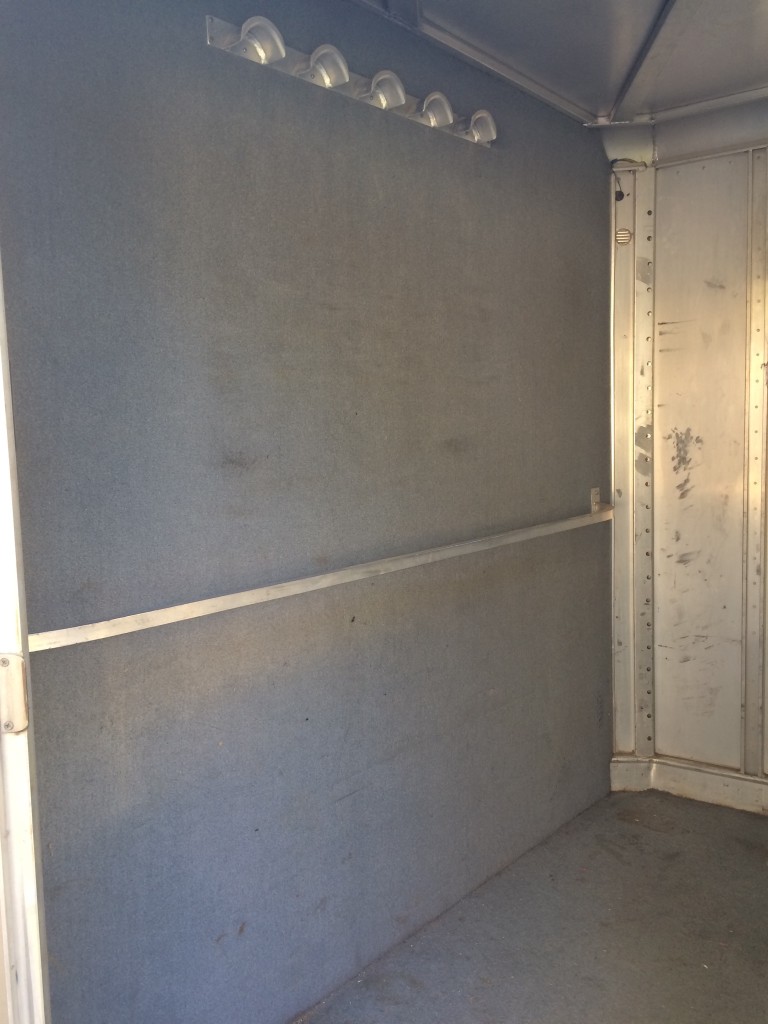 One other note for those DIYer's out there. When I hooked the trailer up to take it home the trailer brakes kept locking up and my controller gave me an error code saying there was a short somewhere. Disconnected the brake controller box in order to get it home (everything still worked except the trailer brakes). Husband suspected that the problem was that 2 wires in the pigtail (big black thing that plugs the trailer into the truck) got switched – the ground and the trailer brake wire. When that happens your lights and everything work perfectly, and if you don't have a brake controller box in the tow vehicle and aren't using the trailer brakes, you will never know there's a problem. Got the wires switched back and it works perfectly now. Besides being "accidentally" switched from the (now) standard wiring pattern, it can be on purpose – older trucks and self wired trucks aren't always standard and the trailer plug is changed to reflect that. So….big learning point here is that if you are having trouble with the trailer electrical, double check that your pig tail plug is wired correctly according to your trucks wiring!  I can recall at least one other trailer I bought having this same problem with the same 2 wires switched.
Besides getting new tires (spare is original from 1994 and tires on the trailer is 2000!) and doing some cleaning and sealing on the floor the trailer doesn't need any major work besides those annoying DOT lights!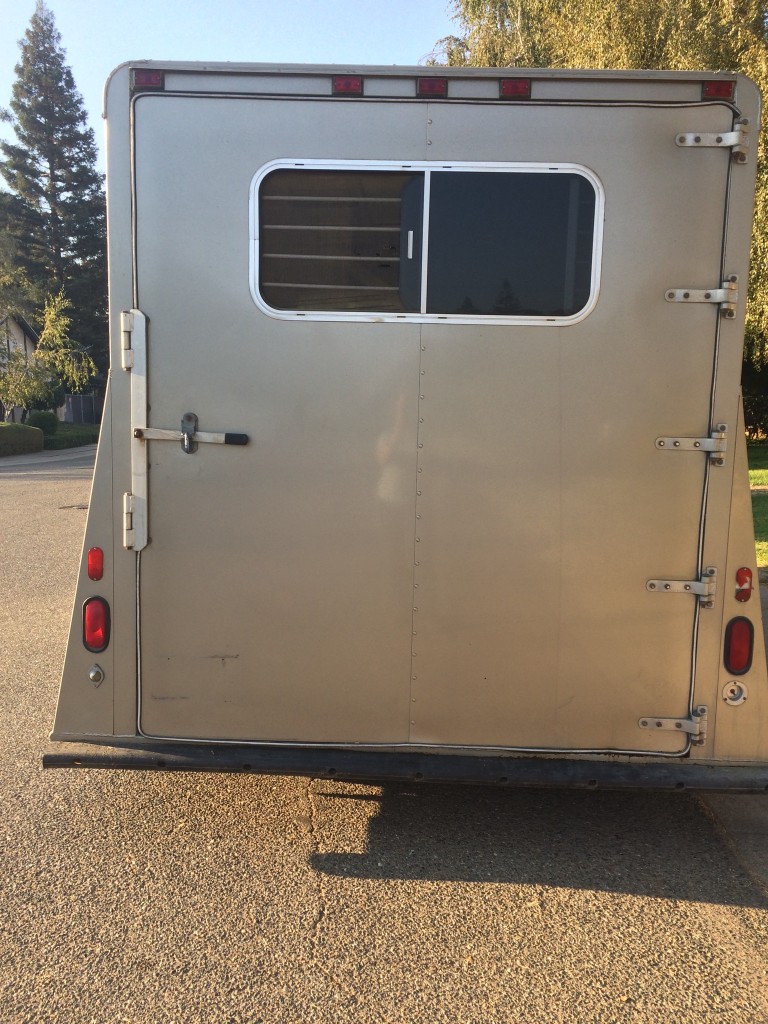 Super stoked with my horses' new ride.
🙂
BTW – My Logan will be going up for sale, probably next month. I'll post the deets here when it does, but feel free to email or message me if you have an interest.