Bad News over happy pictures

Yep yep yep it's been a stellar day.  But since the MerryLegs session went well, all is well with the world and this post is only slightly tongue in cheek. Because of course the bad things are far more entertaining than hearing about how I put the first ground driving foundations on ML, how she was non-pulsed about me tightening a rope in girth like fashion, or our trot-out exercise s(never too early to teach a good endurance horse trot out!).
So without further ado, I present "Why Melinda owns horses" (answer hint: because irritating things happen but it's always OK when there's ponies!).
Being the epitome of adult restraint I went home to change out of khakis and a white button up shirt before heading out to the stable with a book, lawn chair, and a plan to spend some quality time with MerryLegs.
And….I found this.
*this* is my spare tire. My spare and 2 out of the 4 tires on the trailer I put on in spring of 2008.
6 years.
That's how old these tires are.
I learned my lesson about tire age when I bought this trailer at the end of 2007.  It's a 2000 that was driven very little. The tires were original but in mint condition.
They started blowing 3 months later and I learned my lesson about the shelf life of a tire regardless of wear and protection from sun. Five years is what you can expect as the reliable tire life.
I knew I wouldn't be using the trailer in school (or so I thought…) so the idea of putting new tires on it at the beginning of vet school where they would age without use was NOT my idea of money well spent….so I waited. And when I started to use my trailer more after the New Years Realization of 2013 it was with bated breath and crossed fingers that the tires would not spontaneously blow.
I can't say I was surprised when I inspected the tires on the trailer and found this.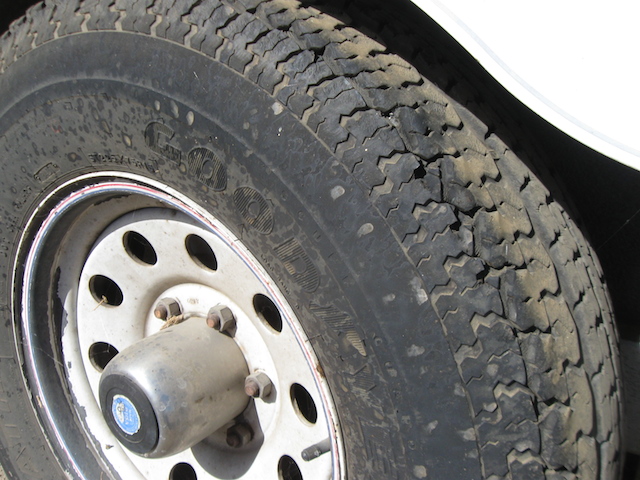 *that* would be tread separation (but still air holding) tire. Bad enough separation I'm not going to drive the trailer to the tire shop and I have an appointment for them to come out and replace this tire, and then I'll haul in and have the other 3 replaced.
I lent the trailer to my Dad three years ago to take a cross country trip with his horse, and as part of the deal he had the bearings packed and replace 2 of the tires that ended up with slow leaks on the trip. So, 2 of the 4 tires on the trailer are 3 years old. I'll keep one of those as a spare.
I swear the tires were on my list todo next week when I was on vacation. BEFORE I went to the ride and tie championships. Of course, they were on my list to do before picking up Merrylegs……
Well, that was depressing. Quick!  Time for a pony picture!
OK. I think I have found the courage to go on.
Just one more
It's been 4 weeks since my last trail marathon.
FOUR weeks. That's like….a whole month.
Remember how I told you the problems I had with my right knee and hamstring? How I was scared that I did something serious, but then it got better so fast that I concluded it was some sort of soreness/cramp from doing a trail marathon on really sore hamstrings after a tough squat workout a couple days prior.
Yeah.
Turns out maybe I did pull something after all.
*sob*
More pony pictures needed.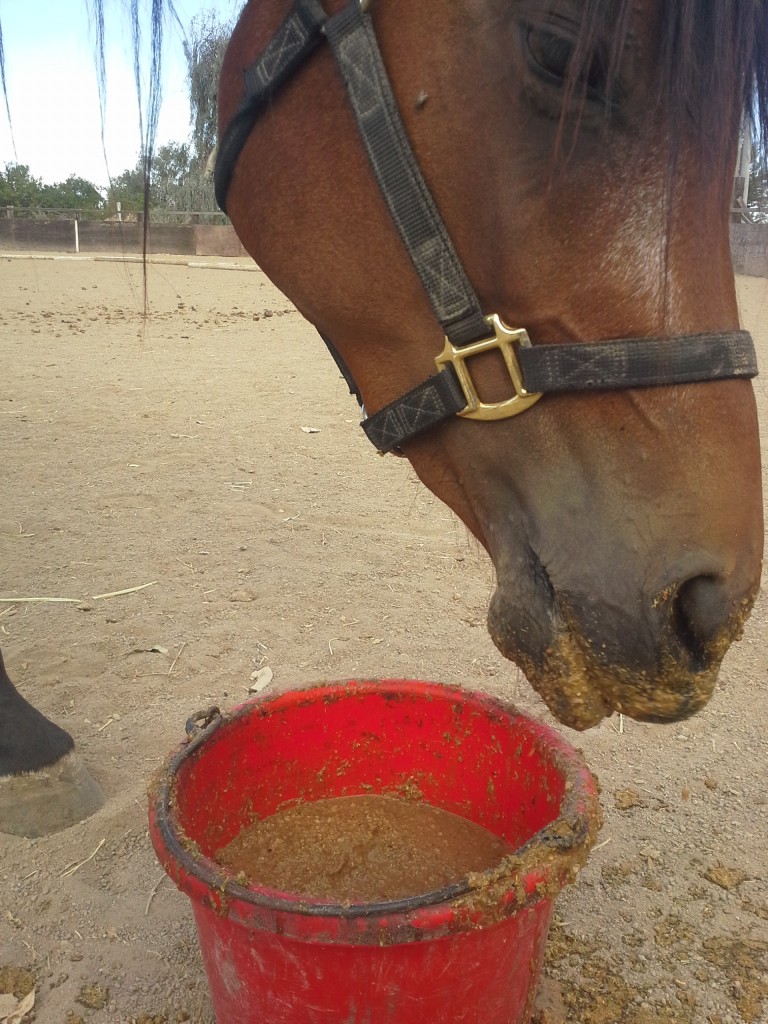 I've done what could be called "light activity" the last 4 weeks out of necessity of life events. Which in hindsight was a really good thing. The inside of my knee has felt sorta "funny" when I stand for a while but overall, the stiffness went away. I have been walking normally and when I've run over the last couple of weeks (short and easy) there hasn't been any pain.
Sooooo……time for intervals right?
But Monday I went out for a ride and while all the other soreness resolved in a day, the right hamstring stayed sore….
And Tuesday I went for an easy run and while it didn't hurt during the run….it was stiff after the run.
Trimming on Wednesday went OK, but then this morning (Thursday) I woke up and it was SORE – not on the inside of my knee where it hurt during/after the race but in the muscle itself.
Something was going on. I wasn't working hard enough to justify that kind of muscle soreness, especially not something so targeted to one spot.
I finally got around to foam rolling my hamstring this evening….and it was *immediately* obvious what was wrong.
One of the medial tendons of my right hamstring is REALLY inflammed.
Ruh Roh.
It's obviously calmed down quite a bit since the race,  and after doing a bit of research, since I can walk and jog without pain it's time I start gradually returning to normal work anyways.
Too bad "normal" means a 35 mile ride and tie in 2 weeks.
*sigh*.
I've NEVER had hamstring issues. Which is why I didn't recognize the medial knee pain as related to the hamstring muscle. But what I experienced is classic for it.
Why did I get hurt? Because I ignored my cardinal rule and ran through muscle soreness.
Obviously time for another pony picture.
    *sigh*.
Well. I guess I can be thankful I'm already 4 weeks into the healing process and I haven't done anything stupid (yet).
The plan is to take it easy for the next 2 weeks and arrive at the start line of the ride and tie as sound as possible. Going up hill is going to be the hardest. As for the back-to-back marathons in the beginning of August and the 50 mile run I had planned in early October….I'll take it one event at a time and see.
I'm hopeful that because this isn't a re-injury and I did do a lot right in those first few weeks (including ice!) that I haven't done anything that is going to haunt me like my IT band has. Just properly rolling and stretching it tonight has made it feel much better.
It looks like Farley wants to say something.
"You mean I have a pregnant lady AND a cripple for ride and tie partners?!"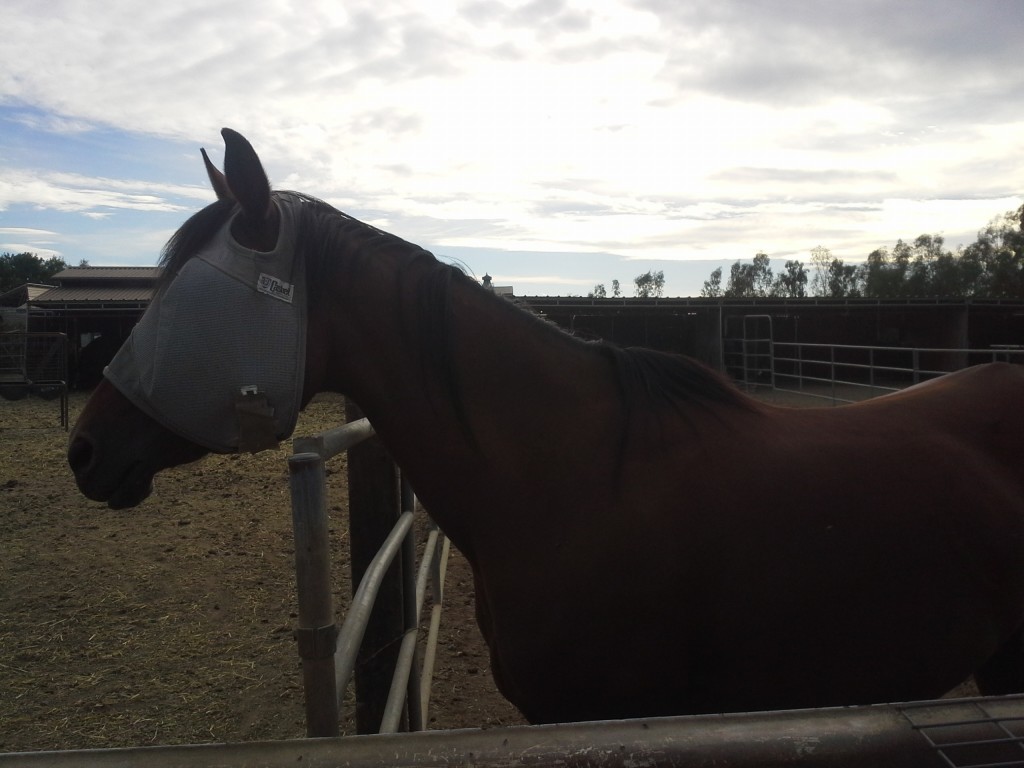 "Unbelievable. I deserve more mash. A lot more mash".