Farley's first ride

Today I normally wouldn't post. It's a Saturday, I've given you a TON of stuff to read this week, and there are many things calling my attention this weekend including a long list of tasks for my upcoming wedding reception.
But I've posted every day in November so far and so technically still sorta participating in that NaBloPoMo thing and it seems silly to let it go when I am capable of posting something today.
The other day I was digging through my emails trying to find anything I may have written about Minx's first ride in 2007. Unfortunately, at one point I purged my email account and deleted everything prior to the summer of 2008. I haven't given up looking for that real time account of exactly how that first ride went, but in my search I came across a number of ride stories. Before I blogged I used to send out a mass email to friends and family post ride with a ride recap.
I thought my Dear Reader might enjoy the story of Farley's very first ride. It was an October ride in Livermore, at the Del Valle Regional park and gives some glimpses into my training program, electrolytes etc. I haven't edited a thing, but may have inserted a snarky comment or two, which are italicized and set into brackets to differentiate them.
———————————————————————————————————————————
OK everyone – Here's the ride story for the Del Valle Vulture Venture LD day one, on Farley!!! Now, I have sent this to a lot of people, anyone who I thought might be remotely interested. I do not have a mass e-mail list, this is NOT everyone in my address book. Each one of you I selected individually to send this to. Even so, I may have guessed wrong about your interest…..if so, hit the delete button now…because this is long and you are about to waste a lot of time.
Pre – Ride: 
My week before the ride has been so hectic! I barely saw the horses as I was too busy picking up on the packages of used horse stuff I had ordered off the internet for awesome prices. I am officially DONE buying tack for a while. [Oh if that was only true……It's an addiction. Otherwise how is it that once again I own at least 4 saddles for one horse?] One of the tubs of horse stuff was dropped off at Bethany's apartment in Davis, so Thursday I drove up to Davis to pick up the package and take her to Dinner (the sushi was DELICIOUS!).
So, needless to say when Friday rolled around I was tired. I had gotten Farley out only once that week and hadn't electolyted (I usually electrolyte the night before the trailer ride to an endurance race to insure the horses drink well at home). Friday afternoon I loaded up Farley, jumped in the truck and drove to Livermore. I like to get to ridecamp before its dark, which is harder and harder as winter approaches. Camp set up went well and Farley vetted it with all A's. She was little excited (pulse 48) but I explained it was her first ride.
I don't get to use my new toy: 
I purchased a spring tie for my trailer (long rod that extends above the head of the horse off of the trailer that you tie the horse too like a high line) that came in Tuesday. Very easy to install…if you have a drill…which I do not. So the nice spring tie was in the bed of my truck and Farley was tied to the trailer. Occasionally she pulls back, which is especially not good when tied to a trailer, so I was a little nervous about leaving her, but she seemed to do fine all weekend.
The first night: 
The first night I slept in the back of my truck. "Slept" is a deceptive word. I was awake all night. Combination of too much caffeine and my worries for the next morning. I could imagine 2 scenarios.
1. The ride would be too much for Farley and she would break something
2. She would be a complete maniac and either she would
a. break something or
b. break me.
Morning of ride: 
Got up in the morning and tacked Farley up. Tried to make and eat breakfast. I never feel good the morning of a ride. I think probably because of my allergies which get worse at rides. I still haven't found something that doesn't make my stomach upset.
I noticed that Farley wasn't drinking her water out of the bucket overnight. This concerned me. To jump ahead – I was looking for my salt block after the ride and found it mostly dissolved in her water bucket….it was dark when I had filled up her water bucket and I hadn't seen it. Fortunately I gave her lots of chances at the communal water trough as well. But still, she went all night with only salty water to drink. Good thing I had decided not to electrolyte that day! I probably would have put her into metabolic distress.
The Start:
The start went well and she was controllable. It takes her about an hour to warm up and I fought her a little more than I would have liked that first hour. But no bucking, and she stayed at a trot at my insistence. She let people pass her and get out of sight. This is very impressive since she tends to be a "follower" and likes other horses. [Oh how times have changed. This is good to be reminded up since I had forgotten. If ML isn't a leader at first, don't panic!] The first 7 miles was an out and back so soon we had 2 way traffic on a fairly normal trail. Passing head on at a trot disturbed her at first, but she caught on. I want to ride her in a hackamore eventually (eat and drink better), but I was happy to be using a bit on this ride! Rode her in a french link baucher (or drop cheek snaffle it's sometimes called). A nice mild bit that I can pull on if necessary, with a slight upward/leverage motion.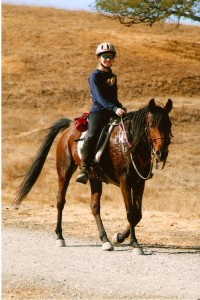 Leaving the lunch check with about 9 miles to go. 
The Ride: 
The ride had mostly hills – up and down – with very few flats. The footing was very good. After the 7 mile out and back it was mostly wide jeep trails to the first vet check (away from camp) at 21 miles. My plan was to walk/go slowly up and down hills and let her move out on whatever flats there was. I had a little over 7 hours to complete the ride with one 30 minute hold, so I wanted to finish the ride in 6 hours riding time (~5 mph). She was a little energizer (but controllable) bunny and did so well. She bounced up and down the hills (apparently forgot how to walk, but she did trot slowly. I decided that a trot I could sit counted as a walk) and moved out on the flats. I let her canter and gallop once. She really wanted to and I want her to have fun, so I allowed it just that once…..She's not built for the canter so although I canter in training rides to build muscle etc., I prefer her to trot in rides.
The whole time she was perfect. Never laid back ears at another horse (likeMinx), never completely ignored my request for a little less speed (like Minx), allowed other horses to pass and get out of sight (unlike Minx), would pass other horse (including her stable mate) without giving them a second thought (unlike Minx).
Farley is still learning how to be an endurance horse so it took her about 20 miles before she started to catch on – go easy on the down and uphills – and pretty soon I didn't have to demand, I just had to ask. Because of all this I was able to ride my own ride. I wasn't stuck with a group being pulled along at their speed, I left and fell in with groups as I saw fit. I mostly rode with 3 wonderful people (Nick, Karen, and Bill). They were all riding the 50 and ended up finishing. (Nick 1st place, Karen 2nd and BC, Bill ?).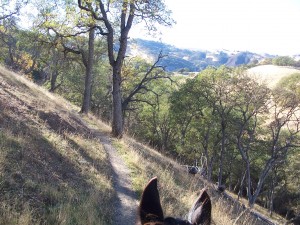 Minx ears on the same trail 
First Vet check: 
My plan was to finish in the bottom third of the 30 milers. I was right on pace at the vet check – ~5-5.5 mph but I didn't know what my placing was. Farley pulsed down right away and ate like the little piglet she is. She vetted in with all A's except a B for gut sounds. Her CRI was 52/52. And so we headed out again.
Back on the trail and the Finish: 
The last 9 miles was done FAST. Trot/Canter. At some point I decided to stop insisting on the trot and would let her canter for 10-15 strides before asking for the trot again. Normally she has to be going quite fast to canter but she was breaking into a canter sooner than usually so I figured her muscles were a little tired, so she was trying to break up her gaits. Our longest training ride had been a hilly 16-17 miler so she was working pretty hard. All day she drank and ate good.
Coming into camp and the finish we were trotting/cantering and I had PLENTY of horse. The 30 milers do not finish until the horse pulses down below 60. I came into camp, stripped tack, hosed down her neck and shoulders and she was down within a couple of minutes. Total time (including 30 minute hold) was ~5 hours 40 minutes (~6mph). Since I finished with a bunch of 50 milers, I had no idea what my placing was, but figured I was mid pack. There was a bunch of 30 milers around me in the last 3 miles and I didn't realize I had passed them.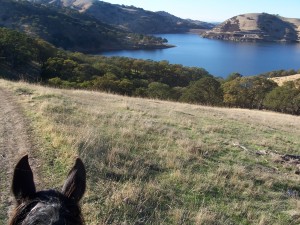 More Minx ears on the same trail 
Completion vet check and placement summary: 
I vetted in for my completion. All A's including vet sounds. CRI was 52/48!!!! Better than at lunch and we were going faster….
Turns out I came in first place…I guess she's ready for a 50…..Experienced people in camp told me that this 30 was equal in effort to most 50's….everyone wanted to see her breeding (which I didn't have with me, I figure a good horse is a good horse and I don't get too excited about the bloodlines)….I got accused of being a liar (good naturedly) when I told them that a year ago she had been a green broke brood mare that then bowed a tendon 11 months ago and that this was her first ride.
My plan was to do the 30 again the 2nd day (as insurance that if she was a nut she would learn she had to go out a second time), however, since she was so willing, had a great attitude, and was ratable all day, I decided that she didn't need to prove anything else and we went home Sunday morning. [See I DID learn something on Minx. Like don't get greedy].
Post ride: 
She had slight filling in both fronts overnight and first thing in the morning. Partly because of being tied to the trailer for an extended amount of time, partly because the ride was hard with lots of hills, gravelly footing (a little slick going down hill in shoes) and rock hard jeep roads.
I walked her overnight (she learned that with a cute little nicker, I would get out of bed and she would be walked for 15 minutes). [BWHAHAHAAHAHA don't try this today Farley. I might throw something at you.]
All the filling was gone by the time we got home Sunday afternoon. I could hardly keep her at a walk when I was walking her. She would trot beside me at the slightest indication so I know she was feeling good (usually this horse will get bored and LAG behind me at a walk).
All in all, a very successful weekend. Saturday afternoon I rode her bareback into the Del Valle resivoure and played in the water a bit. She went right into the water (basically a very broad river almost belly high ) without any fuss, so I think this ride was a turning point in her trusting me.  [As I've said in the past, this was always a nice horse, but a stand-offish horse. Gaining her trust and building a solid relationship took years and a lot of miles. Even after that first ride, I could start to see that difference].
Lessons learned: 
1. Always offer alternative water to my horses (like opportunities at a trough) even if they have a water bucket. Something could be wrong with it. [BTW this wasn't the only time that stupid salt block fell into my water. It happened AGAIN at the Death Valley ride a couple months later]
2. Things will go better if you ride your own ride. No matter what. I know this and I try each time to do this. I am more successful each time. [I would echo this.  Even to the present, each ride I do I get a little better at this and it perhaps defines what learning endurance is all about].
3. Be conservative with electrolytes. I am a firm believer that you can inadvertently do as much harm by electrolyting as good. And it's easier to do harm. I saw more than one horse not finish this weekend because it was over-electrolyted for the conditions and water availability.
4. Don't fight the horse to maintain your planned pace. Be flexible and willing to compromise. Be flexible in your race plans. Farley made a good effort the first day and it was the best decision not to take her out again (even though it was the PLAN).
5. Be polite. Several 30 milers around me were trying to win. The rule is when you find a gate and a person opens it, everyone waits while the gate is closed and the person remounts. Several times a fellow 30 miler that was going hard opened a gate for me. Each time I let them go ahead of me on the trail. That way there is never any hard feelings or mutterings if the placings go a certain way.
6. I need to find something I can eat during rides. I barely ate ANYTHING the entire time. Maybe one granola bar? You can away with stuff on a LD ride that won't fly on 50 or 100 miles. [This continues to be a struggle, even today].
7. I need a second saddle blanket (~$100 :0). If I had ridden the 2nd day, I would not have had a dry saddle blanket. It did not dry out over night. [From the picture it looks like I was using my old woolback].
 Future plans: 
Mariposa LD – 25 miles – (November 8) – Farley  (happened as planned)
Mariposa LD – 25 milese – (November 9) – Minx (weather was so awful, even though she went with me to the ride, I didn't actually start the ride).
Desert Gold 50- November 28 – Farley (Happened as planned – actually a 55 mile).
Desert Gold 50 – November 29 – Minx (Didn't take her. Not sure why. May have been that her gait was NQR in the weeks leading up to the ride – her hocks were an issue and I should have injected – or I had some sort of family commitments or I decided that I needed to just focus on Farley that weekend.  Can't remember).