Science of Running

One of my favorite running blogs, Science of Running, has published a book by a similar name.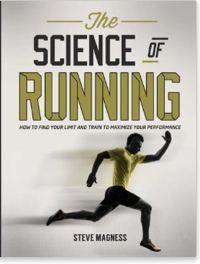 (Kindle version is $9.99)
I'm extremely busy this week with 2 exams on Friday, 1 on Monday, and another cow surgery to prepare for tomorrow afternoon.  However, between my angst of managing my time for all of that…I've been sneaking some minutes here and there in this book.
I've said it a hundred times, and I'm going to say it again.
Horses are not the same as humans.
Humans are not the same as horses.
Interpreting the exercise physiology between the 2 species has to be done with caution.
But, that doesn't mean that it is an exercise in futility to do a bit of cross species reference.
This is the book for running that I wish was available for endurance. Maybe some day I'll be lucky enough to have the privilege to write a book called "essential principles of exercise physiology for the endurance horse", but in the meantime I will bore you with blog posts on the subject and tell you to go read this book instead.
With a caveat.
I think you do need to have some connection to running to appreciate and find this book enjoyable.
However, the philosophy of training and conditioning outlined in this book is very very VERY applicable to endurance riding.  I find myself practically leaping off the couch and running to my computer to make notes for future blog posts on every page.
If you've been a reader here on this blog for long enough you know the chorus I keep repeating over and over over – it's important to understand the underlying mechanisms of how our endurance horses do what they do – only then can you critically evaluate the methods/programs/philosophy we apply to our horses and then interpret the results.
There are no cookie cutter approaches for preparing an endurance horse.  

What is left to us? –> An understanding of the fundamental science behind real life training concepts and the ability to mix and match techniques to fit the individual horse and goals of the training. <–
This is a book all about that marriage between science and real life training.  For running. But I would argue that it gives me the blueprint for how I should be thinking about endurance horse training.
I promised myself I would put myself to bed at 10pm, which gives me exactly 2 min to say something that will make the time you spent reading this post so far worth your time!
In the beginning of the book, Magness outlines his "Rules of Everything". They are concepts that guide his philosophy of training and I have to admit, I may have made little squeals of delight of just how true they are in the running world, and just how true they are in the ENDURANCE world.
I'm pretty sure I would be violating some copywrite law by writing down all his "rules of everything" here, but I'm going to give you a preview of some of the most endurance relevant ones.
1. Hype cycle: this is basically the concept that when some idea is new/popular, it gets overemphasized until it eventually falls into it's "rightful" place. All sorts of things pop to mind – electrolytes, BCAA's, interval training, barefoot. Anyone else have anything obvious? A little brain dead right now.
2. Research is only as good as its measurement, which is highly correlated with #3: "we overemphasize the importance of what we can measure and what we already know, ignoring that which we cannot measure and know little about."  And that folks, is our vet checks in a nut shell.  The emphasis on HR (resting or recovery) springs to mind.  The exact age a horse is put under saddle. What the magic "numbers" are for endurance horse longevity. There's a lot we don't' know about endurance horses doing endurance. Some things we can easily see and measure – and as a we result sometimes forget or ignore everything we don't know in favor of a flawed measurement that we are using only as an indicator for some process we can't see or measure. Does a low resting heart rate *really* correlate to better recoveries and performance? Is going above 10mph during a ride *really* reducing the longevity of a horse's career?
4. We think in absolutes – either/or – instead of the spectrum. Like I've said here many times – if I think something is black and white, it's only because I don't know enough about the subject. Do you have an absolute opinion about an issue in endurance? Or about horses? Is it impossible for you to see the vadality of the other side's opinion? I would encourage you to at least consider the greyness of an issue. There are many hot topics on our sport – and they are hot topics for a reason.  They are nuanced, complicated subjects that deserve more than just a gut reaction. This goes hand in hand with #8 – taking the extreme view is seldom good.
7. Everything works in cycles – whether you are a ride camp reader asking yourself "is it that time again when we talk about loose dogs, carrying side arms, and LD vs endurance", or if you are an old timer who has seen the pendulum swing from too must rest, to too much conditioning, and back, everything works in cycles. There is likely nothing truly new – just rediscovery of things once done, and forgotten.
Evaluate our sport with these concepts in mind and I think we are primed to make better decisions for our horse and rider fitness and preparedness.
—————————————————————————————-
I haven't even gotten to the good part – the "rules of training". And they are so good. "Build and maintain", "never leave anything behind", "progress everything", "balance" etc. They are concepts that allow you to build and individualize whole programs to YOU and YOUR horse.
I agree with Magness when he says in his intro that knowing the tools and philosophy and ideas allow trainers/coaches to be "artists".
When I gave myself permission to break away from published running programs and told myself that I *knew* how to get *me* to a marathon better than the cookie cutter 12 week program, it was the most freeing feeling in the world. I've never had as much fun running as the day I stopped following a program.
When I stopped training my horse according to the "shoulds" and instead gave myself permission to adapt my ride conditioning to whatever I thought me and my horse needed to reach our goals, I started to have a lot more fun at rides because my horse was having more fun too and started performing better.
So there you have it. It's what is on my reading bookshelf for now and I'll probably be making lots of references to it. Like I've done in the past, when I find a particularly exciting revelation or concept I'll discuss it here on the blog – and hopefully you'll find some tidbit that you can apply to you and your horse. If you are a new rider hopefully you have a glimmer of understanding why the question "what is the best plan to get me and my horse conditioned for our first 50 miler" is impossible to answer with any sort of accuracy.
10:26pm. I'm about to turn into a pumpkin.