Endurance 101 Book Review

A year ago I reviewed the book "Endurance 101" written by blogger Aarene Storms of the Haiku Farm.  The review was printed in AERC's EN extra edition last spring and today I got permission to reprint the review here!
So if you aren't an AERC member, or you missed the review the first time around, here's another chance to take a look at what I think is one of the best introductions to the sport of endurance.
———————————————————————————–
Original article can be found here
Endurance 101: A book review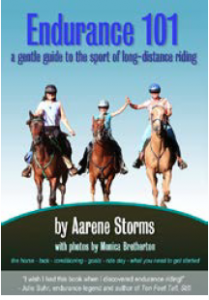 Think back to your first year of endurance riding. This may be easier or more difficult depending on whether you count your mileage in the thousands or the hundreds, but I guarantee you this – there was a Bad Idea Fairy (BIF) riding on your shoulders.
In fact, don't look now, but it might be sitting on your shoulder at this very moment! I listened to my BIF a lot when I first started endurance. What rides should I do my first year? What should I set as my goals? What should I do when that first ride goes oh-so-very-wrong?
Fortunately for my horse, as time went on I learned to listen to my BIF (and those people around me who sounded a lot like her) less and less and started to finish rides and have FUN!
Wouldn't it be nice if there was book that accurately identified that pesky BIF? Something that described how to be successful and have FUN in endurance from the very beginning?
Endurance 101: a gentle guide to the sport of long-distance riding by Aarene Storms does exactly that. Taking to heart the philosophy that one must either laugh or cry when experiencing the inevitable obstacles to a worthy goal, she guides the reader through the the basics and beyond with a sense of humor.
As a vet student who is still desperately hanging onto the illusion that I can both ride endurance AND pass my classes, I rarely have time to read a book from cover to cover any more. If you find yourself in a similar time-crunched-state, do not fear! Endurance 101 is filled with inspiring pretty pictures and a layout that encourages browsing. The BIF makes many appearances throughout the book and is given her own space to make her arguments. I found myself laughing at her, not because of the complete absurdity of the scenarios, but because of the familiarity of her words. Even if the new endurance rider did nothing but browse the pictures and chuckle at BIF, they would be more knowledgeable than many first time endurance riders.
Endurance 101 introduces the sport of endurance riding, preparing the horse and rider for the first ride, do's and don'ts for the first year, as well as introducing a long term perspective that includes different types of "winning" in endurance. One might be tempted to write this off as a book for the new rider just starting in the sport of endurance riding. However, I have discovered that I have "started" endurance riding several times, whether it is with a new horse, a new distance, a first ride after significant time off, or trying to remember what it was like to be a newbie so I can function as a better mentor. Additionally, the Appendix includes many resources and links that can be used as a starting point for additional research on many relevant topics including electrolytes, nutrition, conditioning, safety, and history of the endurance sport.
The comprehensive table of contents and descriptive chapter headers make it easy to find a section of the book that suits my mood. It's been a while since I've been able to tear myself away from my studies and get a real conditioning ride in, and I suspect that Chapter 6 (How Long? How Far? How Fast?), which includes such sections as "Jabba the Hut", "Real Life gets in the way", and "The Weekend Warrior" will be my bedtime reading tonight, both to inspire me and remind me of what the BIF would do.
Should you get the ebook or the print copy? I must admit that even as staunch "real" book lover, I have almost entirely converted to ebooks. The ability to take them with me everywhere, make copious amounts of notes and highlights without permanently altering the book, and read books during particularly boring meetings has made me a solid convert to the ebook world.
However, if you plan on lending this book to new endurance riders, or keeping on your coffee table as an inspiration to you and your visitors, the print version may be more your style.
The good news is that the formatting of Endurance 101 lends itself well to both versions. Neither version will disappoint.
———————————————————————————————-