Dec 2014 IRL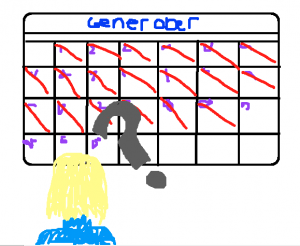 Farley
2 rides. A dressage ride, and an almost-midnight bareback jaunt on New Year's Eve. One nice little leadline jog. Not a particularly auspicious end to a rather unremarkable year.
But, she's sound, we got our 50 mile completion this year, and she is still a horse I can haul out of her paddock at midnight on a cold, moonlit night admist the booms of gunfire celebrating New Year's and announce "we are going for a ride" – and survive to tell the tale.
Hard to complain and I've decided to stop feeling guilty about periods of unplanned down time. My horses only come back from these periods better and better. The only thing taking a beating during those times is my psyche and periods of no riding are tough enough without piling guilt on top of it.
Pro tip: if you want to be discrete about your poor decision-making abilities and wanna keep the late night ride on the "down-low", don't tell yourself yesterday's jeans are clean and wear them in the morning. They aren't. Look at the butt dummy.
Merrylegs
A big fat nada. Some antibiotics, some turnout, and some scratches.
ah well. Such is life. No wonder she's been a bit "up" on her turnouts! She's eating and growing and hopefully completely recovered from our nasty fall surprise.  She's off to the trainer in a couple of months. What are we going to do? I guess a little bit of everything and probably a whole lot of nothing. It will be just fine.
Rider Fit
6 runs, fairly well distributed throughout the month (yes, I'm shocked too).
All the runs were "easy" except the final run, which I did on New Year's Eve. Without access to hills locally, I was intrigued by a "hill" treadmill run. It worked just as well as promised and I'm looking forward to more of them.
~23 miles
—————————————————————————————————————————-
I'm un-injuried, still running, and not burnt out.
Farley is sound, healthy, and looking good.
Me and Farley? We did good this year.
MerryLegs probably had the roughest of any of us and even she seems to be OK – although even now I have a hard time saying those words. I still want to completely freak out anytime there's something just the tiniest bit off about her – even if it's my imagination. Today after she ran around in the arena and then came over to me to eat mash, I bent down to pick up her foot. My ear was close to her girth…AND I HEARD NOISE. IT COULD BE A HEART MURMUR. OR HER LUNGS ARE TOTALLY SHOT. OMG WHY CAN I HEAR HARSH BREATHING SOUNDS.
Ummm…maybe because she's out of shape and breathing really hard?
But that didn't stop me from running around like an idiot pressing my ear into her chest and girth area and wishing for a stethoscope and having a brief moment of complete panic.
She's fine. Really she is. I haven't been perfect with the antibiotics and she hasn't died. She's ran around in the arena like an idiot…and hasn't died. She was an IDIOT about mud and rain and standing outside and freezing during the last big storm…and didn't die. So really. It's time for me to get over it.  Today she was uppity with just a bit of sass, and "talked back" to Farley in a healthy way, while being respectful of me. She's fine. I'll still feel better once the vet sees her Tuesday and I get the blood results.
At which point I can stop holding my breath and say that Merrylegs defied death. And I can truly move on to 2015 and leave 2014 behind us.
BTW, I'm not going to bother doing a vast 2014 IRL post. You've all read it, and if you haven't, that's why there's archives. 🙂 Knock yourself out. I want to live it again about as much as you want to read about it!