Hoof over time project – Conclusion

Project finished!  3 weeks of hoof growth after a trim on Farley's right hind hoof. 

It's hard to appreciate how much wall and sole has been added in 3 weeks, except if you notice how "far down" the frog looks in the hoof on day 21. The frog WANTS to touch the ground, which is one reason the back of the frog gets long, it's seeking contact.
You can also appreciate how the side of the hoof with the injury (medial side, which is on the left of these pictures) doesn't quite behave "normally". I don't think it flexes quite the same way and it's one reason why it tends to retain sole. When trimming this hoof, the trick is to trim the normal side of the hoof heel (lateral side) according to my normal landmarks, and then try to match the abnormal heel in terms of height etc. I will admit to sometimes being more conservative then I probably should be at taking down the medial (injuried) side since it gives me NO warnings or hints on what height it "should" be, and as a result, because balanced heels are important, I'll often look at the lateral (outside, normal) heel and wish I had taken it down further.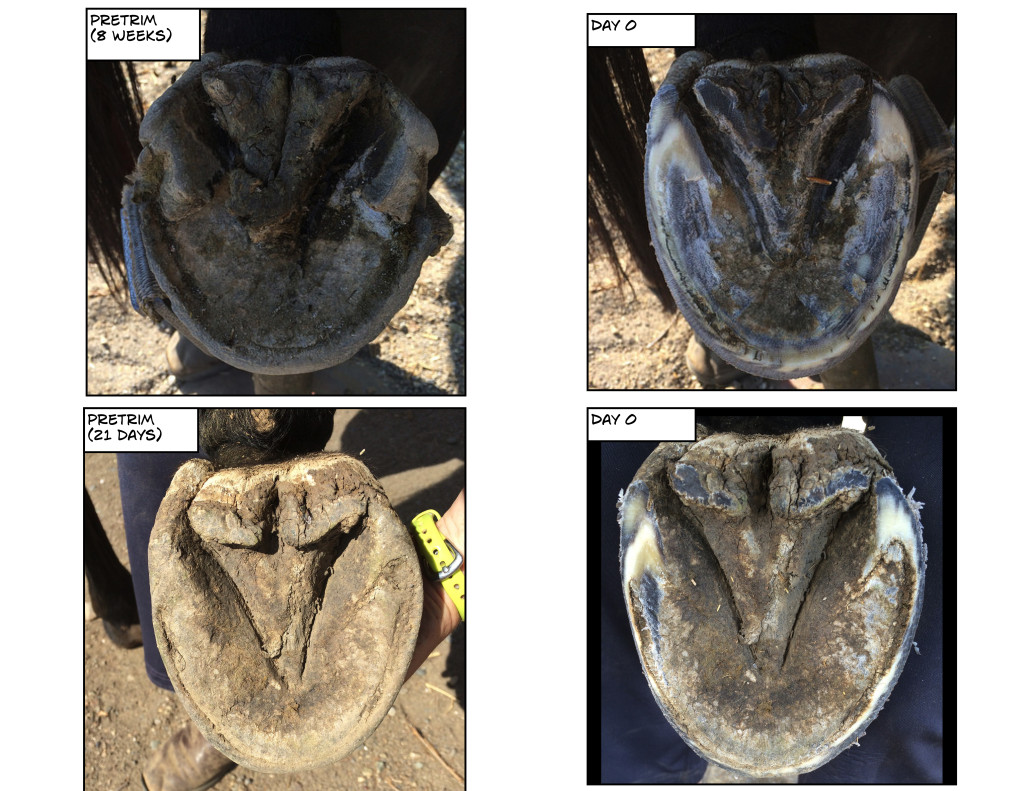 3 weeks is my "ideal" trim cycle and you can see why. 6-8 weeks is a LOT of growth. Not only is it a lot of work to trim, the whole angle and mechanics of the foot is different with that much extra hoof. Three weeks requires just a touch up with the grinder (or rasp in this case since much to my dismay the grinder battery was dead after doing the front feet) and is a good balance between having enough hoof to work with to make small improvements, and so much hoof the flares are being re-established between trims, and the mustang roll is totally gone, and you are starting all *over*. Knowing I'll be back in 3 weeks also allows me to leave more hoof on – whether I'm short on time, the horse is short on patience, or I'm just unsure how short to go. I'll be back soon enough it won't be a big deal if some extra hoof got left.
In the above pictures, look at the two "day 0" trims. Besides my earlier point of how I could be more aggressive about taking the heels down, look at the white line on the toe quarter in the bottom left of the picture. See how it's already tighter? It's why I didn't get too aggressive at trimming down to a clean white line in the first trim. I knew by taking down the heels and doing a mustang roll it would encourage proper hoof wear and growth. The gap in the white line was a combination of a little bit of flare and stretched white line, and wall height that was a little too tall with a retained rim of sole.
The same process is happening at her quarters. As I keep the heels short (and NOT allow 2 months between trims) and the mustang roll refreshed, the retained sole there will come out, the wall will get shorter and that dirt line will disappear.