Rio 100m 2019 aka "Report from Back-of-the-pack"

The day before Rio was a crappy stressful day in a long line of crappy stressful days that week (at one point tried to stick my lunch in the freezer to heat it up instead of the microwave, so yes, exactly that sort of week).
After a bunch of ~~stressful crap that would tedious and boring to recap~~I set up a tent in a campground next to the race start, picked up my packet, and then drove back home to await my ride back to the campground, thus neatly eliminating that pesky second car at my finish. The problem is I usually drive myself to the start and my husband drives separately to see me finish. Doing a bit of driving on Friday night meant that getting home post race was as simple as hoisting my sweaty, stinky body into the car with the man who is married to me, who pretends to be interested in the tales inevitably generated by running on a trail for almost 30 hours, but really just keeps sneaking the windows down, directing the vents in my direction, and pointedly pulling his shirt over his nose as he frowns whenever some part of said sweat-crusted body dares touch some unprotected part of the upholstery…..Anyways. I think I'm getting distracted.
Focus. The race. Rio Del Lago 2019 100 miler. My third attempt. I had one finish (2016) and one DNF (2018). My last chance to qualify for Western States this year (already used up my once in a lifetime bye last year because you know, brain tumor and all that).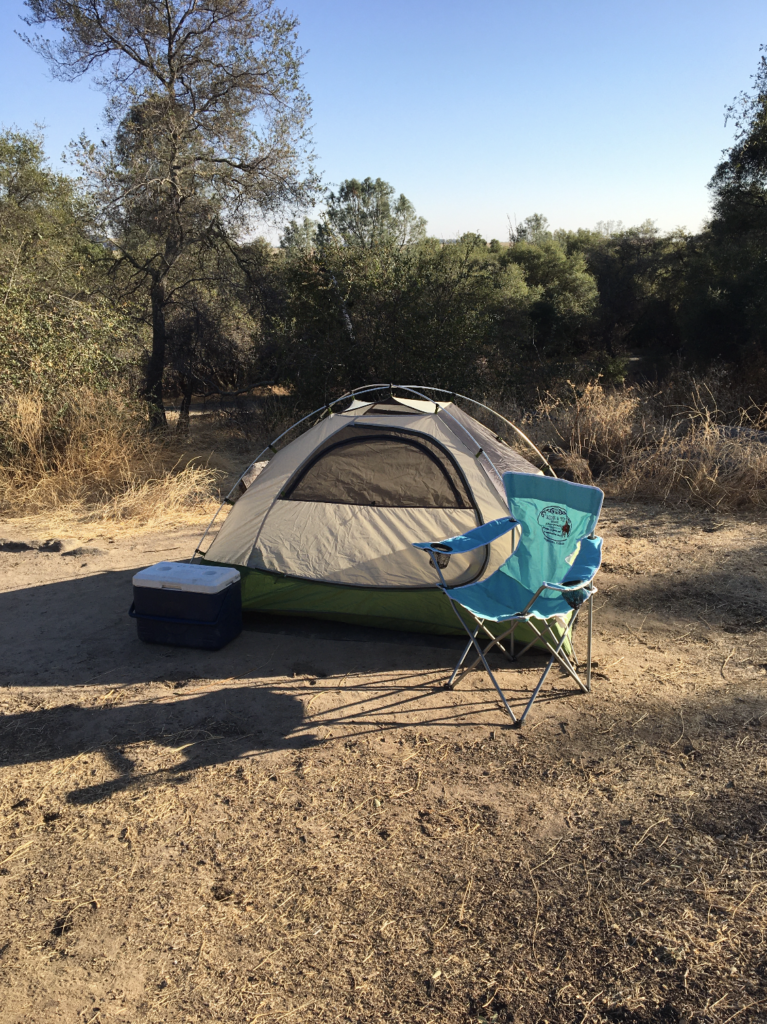 I went to the start this year feeling unprepared, under-trained, and very nervous. Exactly like 2016. If that's what it takes for my brain to respect the distance then I'm OK with that. Let's Dance.
The first part of the course was an 18.5 mile mostly flat pavement bike trail. I was determined not to go to fast and planned on doing it in 14 min/mile pace. If it ended up being 14.5 min/mile that was even better. This was the only part of the course that I wore a GPS this year. I was absolutely determined not to burn my legs out on this section, and it's hard to rely on internal indicators of effort on fresh legs, in the dark, traveling on a smooth bike path that has lots of slight downhills. I held myself back every step of the way, but still was horrified to see that I was going to come into the 18.5 mile checkpoint under 14 min/mile. I walked the last 1 1/2 miles chatting with another runner, used the flush potties on my way there, and sauntered up to the aid station at exactly 14 min/mile average.
18.5 miles was the point I knew I had a real shot at finishing this race. That's how good I felt coming off the loop, which ended up being at the same pace as both of my previous years.
The really weird thing was that I was at the back. Not just at the back, but REALLY at the back. In fact, I was the last eventual finisher to get through the aid stations for the first 35-ish miles. Everyone else that would end up finishing the race this year was ahead of me as I ran the first 50+k. It was wild. People went out fast.
Let me tell you a secret.
The first 18.5 miles of a 100 miler won't make your race, but it can break it.
Rio is deceivingly hard. It looks very runnable on paper. It looks very runnable when you train all the trail sections separately. There is nothing especially hard about this race. Plenty of runnable stuff, nothing too steep, no super long decent, no super long ascents. The technical single track is sorta technical? Nothing is going to move under your feet, and the likelihood of skidding out on your bum is practically nonexistent.
But yet, it is a Western States Qualifier. It is not an easy race. Why?
Here's what I think. Rio is a psychological race. At Rio you are your own worst enemy. There are so many opportunities to make a small mistake that compounds into a massive mistake. Rio does not reward the specialist. It rewards the smart runner who can run some asphalt, has some leg speed on the flats, can be nimble on a single track, and can do some climbing. All in one day and under 30 hours. Rio forces you to execute a plan, have good impulse control, and not give into either panic or cockiness.
Let me take you on a tour.
Running Rio's first 18.5 miles or "That Bike Loop": For God's sake don't blow your entire race (and your legs) and keep it down to a dull roar. But yes, you do have to bank some time so ignore all the advice about how you shouldn't start 100's any faster than you plan to finish them and choose your pace accordingly.
The next section is forgettable on your way to Auburn. Passes in the blink of an eye. Meatgrinder? What is that? You mean this relatively flat trail with some pesky rocks? Bah! This is nothing!
Let's call it, "Rio's Revenge": This section feels like nothing when you run it the first time towards Auburn. Miles 18.5 through 41 are barely noticeable. Oh sure, you will probably have some sort of mental bonk on this section, but physically this trail seems easy.
This year I SAT DOWN on in this sectionfor five minutes when my brain just needed a break from thinking about where to put my feet at about the 40 mile mark. My feet really hurt (had hurt all day and would continue to hurt until the end, more on this later), I had vague GI not-quite-rightness for most of the race (no effing clue why except it just didn't want to play that day. Maybe I still have ulcers?), and after using up all the tricks in the tool chest I resorted to sitting down to try to get a reset. It didn't really work, but I eventually did get through it and that marked the low point of my race. I really focused on problem solving for the duration of the race. Not whining, not complaining, not self-pity, not an inventory of my faults.
Here are two truths in a 100 miler:
a. It will hurt
b. Your limits are set by your ability to problem solve
Bonus rule:
Running ultras is an exercise in denial and optimism.
Actually. Now that I think about it, the bonus rule is really extension of rule b.
Anyways.
My point is, you don't really notice the unrelenting physical-ness of Rio's Revenge trail until you come back through it to the finish. For now, scoff at my ridiculous name for such a pleasant trail and try to avoid making your next big mistake of the race: You assume because you are 1 1/2-2 hours ahead of the cut offs (which are all 30 hour pace and are sprinkled throughout the entire race) you have plenty of time! YOU, the epic back of the packer…HAVE PLENTY OF TIME. What a novel feeling.
I'm going to give you a table that will show you exactly why you cannot get complacent.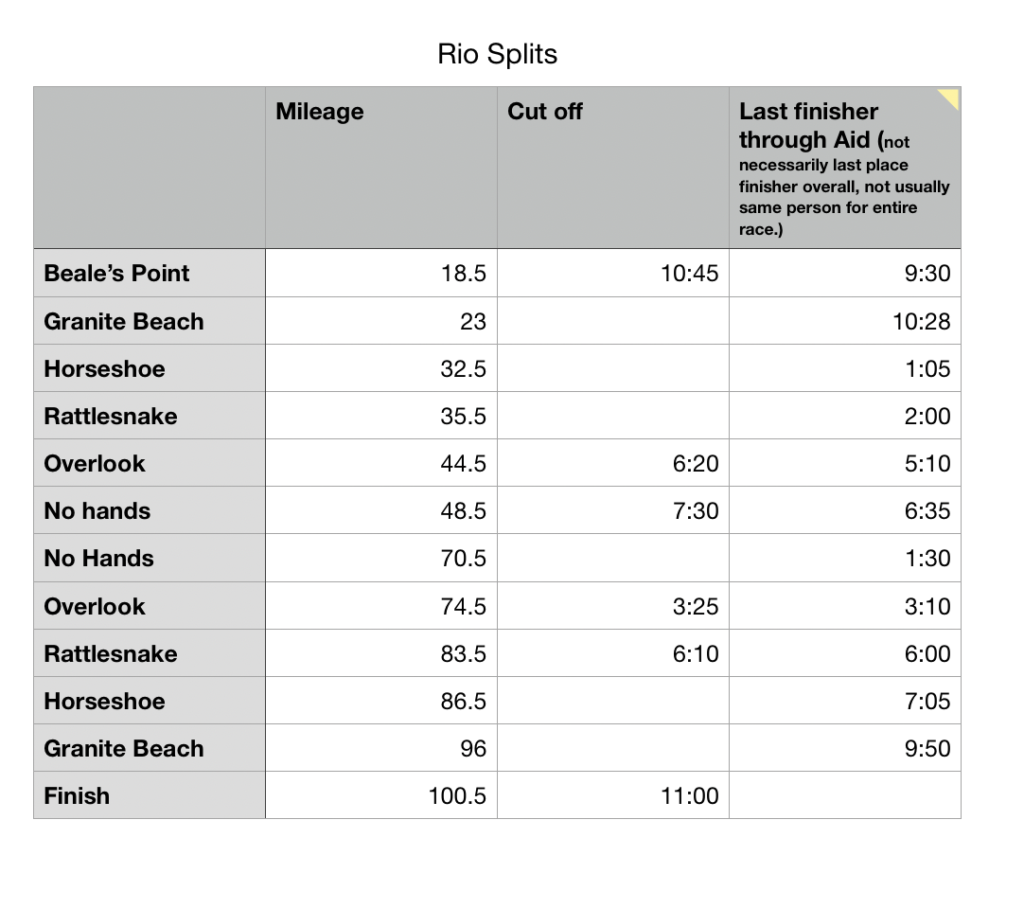 This chart compares the Race cut-offs (all are within a couple of minutes of 30 hour pace) with the average time that the final eventual finisher goes through the aid station. Put another way, that last column represents the latest anyone went through the aid station and still ended up across the finish line within 30 hours. Does this makes sense? It doesn't mean that person finished last, in fact, if someone is the final eventual finisher through an aid station they don't usually stay there – they speed up and someone else takes their place of honor as the last eventual finisher through the aid station. What this chart represents is the bench marks a back-of-the-pack runner should be considering in order to be on track to finish.
Rio's Revenge culminates in a 3.5 mile uphill climb to the Overlook and hopefully you have 2 things in your favor at mile 44.5 as you head into the next section:
Enough leg to climb well for the next 9-10 hours, and then run it home for another 7-8 hours (Did you blow it on the Bike Loop?)
Enough time to get back to the Overlook before the 3:25 cut off, which means you have at least 1 hour and 10 minutes between you and the cut off right now (did you get complacent on the northward Rio's Revenge trek?)
I arrived at the Overlook (44.5 miles) with plenty of leg, and about 15 minutes behind my previous attempts, thanks to taping some hot spots at Rattlesnake Aid, and sitting down for 5 minutes on the trail. Aurora (redheadedendurance.com) was my rockstar crew from the very beginning. She's crewed this race so many times she could probably do it with her eyes closed, all while shutting down my predictable BS at each aid station ("I don't want ice." "You have to have ice. Here's your ice." " I don't wanna put on sunscreen." "Here's your sunscreen.")
A 5-ish (pm) pacer Bryan and I headed out onto…
"The Dark Night of the Soul"
The Dark Night of the Soul is where the race gets real for a lot of runners. It's where it got real for me last year. A back of the packer can reasonable expect to do this 30 mile section in 9.5-10 hours. There's long sections without aid, it's dark, and basically all the climbing happens here. Whatever you thought was a comfortable cut-off cushion relentlessly grinds away and all your previous faults come out to play. It's great.
The only mistake on the Dark night of the soul that you can make is to not keep moving. Your only goal? Survive with enough gas in the tank once you get back up to Overlook (74.5 miles) to run it in under cut-offs.
This year went GREAT. Even better than 2016, which was pretty dang awesome. Bryan was great company and when you are in the dark for 30 miles that makes a huge difference. I did it in the same time as 2016, maybe a little faster, but I felt GREAT finishing it. Sure I was tired, I had just ran 74.5 miles, OF COURSE I WAS TIRED, but I wasn't done. What a far cry from the great death march of 2018 on this same section,  barely squeaking through the cut off after doing a panicked sprint up the hill into Auburn.
Bryan handed me into the every-loving arms of my next motivator, "Cyd the negotiator" and into Rio's Revenge round 2.
Rio's Revenge round 2, or "BWHAHAHAHAHAHA!!!!!"
Remember that rather pleasant, forgettable trail you transversed earlier? It's back. With a vengeance.
Cyd positioned herself in front of me, keeping a pace that she promised would take me into the finish in time, without going any faster than necessary. I did my best to walk/shuffle fast enough to keep her in sight.
Rattlesnake is where I DNF'ed last year with the sun already above the horizon. This year I came in while it was still dark, before cut off, still exactly 15 minutes behind my 2016 time.
Then the meatgrinder, not even noticeable on the northward trek, stretched on and on and on and on and on and on and on and on and on and on and on and on now that we were southbound for the finish.
I know I posted last week (facebook and instagram, if you are curious) that comparing myself to some past rendition is a thief of my present joy blah blah blah but I took great satisfaction at the time that my IT bands and hip flexor pain that was absolutely crippling during this section in 2016 hadn't even given me a twinge this year. But then, when I got home and actually started to do the math on my splits, it turns out that I ran every single section – even this one – in exactly the same pace as 2016. Even though I don't remember running anything after Rattlesnake in 2016. I felt so much better and faster this year on every section except where lost the 15 minutes in the first half of the race, but didn't actually run faster. 100's are such a mind f*ck.
Anyways. Back to Rio's Revenge Round 2 somewhere on the trail between horseshoe bar and granite beach.
I tried to do panic math. Cyd told me that was her job and to keep moving.
I told her I didn't think I could do it any more. Cyd ignored me and told me later that she was giggling because as I was saying I couldn't, I still was. I'm still not sure what I meant by it. Run? hike? finish?
I told Cyd I was worried about the never ending bike path. Cyd told me that was her job to worry about pace.
I told Cyd I hated all my food. She told me I still had to eat.
I told Cyd I thought that hydration was bullshit and I was incredibly tired of peeing. She suggested that we could stop and let me pee. I may or may not have used this as a delaying tactic.
I told Cyd my brain was tired. She fed me some bullshit line about how when the sun came up I'd get a second wind.
Cyd had promised me she would plan enough time that I could hike the meatgrinder without having to worry about shuffling between technical sections. But I was getting antsy. My mind was convinced that if I didn't get to Granite beach, the last aid station before the finish 4.4 miles away, by 9:30, there was no way I could make the 11 am cut off at the finish.
Then Cyd suggested that I pick it up and took off, my only job to follow her into the sunrise over Folsom lake.
And that's when I really panicked. She had asked me to move faster. She just prodded me. THAT MEANT WE WERE IN TROUBLE. She hadn't prodded me once. Just told me to keep up with her and she would get me there.
I found out later that she had decided she needed to bank some time in case I had decided to sit on a boulder and have a good cry for a couple of minutes. LMAO.
Finally the meatgrinder ended and the bike path begin.
In 2016 I remember the bike path making me frantic. We don't take a direct route to the Granite beach aid station and it goes on far longer than I, as a local runner, anticipates. Its lazy loops wound in and around the hills and trees and, just like 2016, I found myself staring at the minutes slipping by on my watch, 9:00. 9:05 and at the infernal bike path that kept going on forever. If I didn't get to that aid station by 9:30 I wasn't going to make it.
I fell into a rhythm that has served me well this year when I need to move forward as fast and effortlessly as possible. Ten strides (only count one foot) running, a few walk steps, 10 more run, a few walk. I surged ahead. Cyd laughed and said that I was doing the "Scout's march" or some such nonsense. Turns out my body naturally found something that other people have written about and used to cover ground efficiently for decades. Cool.
In and out of the aid station at 9:20. It was time for…
"The trail of tears"
I say "in and out" because I literally ran through the aid station screaming my thanks at the volunteers, doing my 10 step run shuffle repeats towards the trail. Cyd stopped to chat with the volunteers but I knew she could catch me, so whatever. I couldn't control my breath and it was pretty close to hysterical breathing and moist eyes for a full 5 minutes after I exited the aid station. Some might say hysterical crying. Some. But my pacer, when she caught up, politely refrained from calling it that and instead pointed out my food timer had gone off.
Me: I'm done eating.
Cyd: You have to eat.
Me: I've been eating every 30 minutes for almost 30 hours. I don't care. I'm going to run the last 4.4 miles on love, community, and by the grace of…
Cyd: here's an applesauce.
Me: fine. But we are totally re-negotiating eating at the next timer. This is the last time.
Cyd: mmm…..
Me and Cyd actually got to visit in the last 5 miles and it was the start of a wonderful finish. It had taken all the focus of my remaining brain cells to churn out the pace I needed to through Rio's Revenge earlier. It didn't leave a lot of left over energy for conversation. I had specifically chosen Cyd to run the last 25.5 miles with me because she's really good talking, not talking, managing a back of the pack pace, and problem solving. She's not squeamish, keeps her word, and has the experience at Rio to get me to the finish if a finish was at all possible. We've run a lot of miles together so she knows me as a runner. I felt guilty for basically shutting down for 20 miles, but I also knew that she understood, and to have the last 1 1/2 hours of the race to spend time with a friend that I only get to see once or twice a year was incredibly special.
We talked about how harmful the lies are that we tell ourselves. In the past when I've had problems during a race with muscle soreness, I immediately chalk it up to being fat and undertrained. Guess what it actually was? Electrolyte deficiency. Easily corrected. Hard to identify when you are embracing lies that aren't true and they are getting in the way of your problem solving.
I asked her, with a cracking voice of course – this is after all the trail of tears – why everyone says I look so good at aid stations. "I'm so slow. I feel terrible but I don't look terrible. Am I suppose to be running faster? Do I look good because I'm not tough enough to push myself like everyone else? Or am I just better at faking it?"
She thinks I'm better at faking it, but I'm still not sure. My crew tells me stories of the really tough ones she sees going out into the night. The ones that are puking and miserable but still allow themselves to be led out into the darkness. The ones I see a mile or two from the aid station leaning hard on their pacers but still moving ahead. I'm not tough enough. I couldn't do it. What happens when I can't keep smiling? I don't know. I guess that's a question for a different 100 mile race.
And then the damn thing went off again.
That blasted food timer.
I shut it off really fast. Maybe Cyd hadn't noticed.
Cyd: how about some mentos?
Me: how about you go jump off that cliff. How about 1 mento.
Cyd: three mentos.
Me: Three mentos is insane. Two mentos.
Cyd: two mentos.
Me: You wanted me to eat 2 mentos the whole time didn't you?
Cyd: eat your 2 mentos.
And then we RAN BECAUSE THERE WAS THE FINISH LINE!!!!!!!
Finish Line
It was a party! With gifts!!!! and people! Bryan stayed to watch me finish, my daughter was there, my husband. Two people I work with that I'm proud to call friends. One had actually dragged her husband to this crazy thing called an ultra, and the other had made a BadAss sign from the cardboard of a beer box.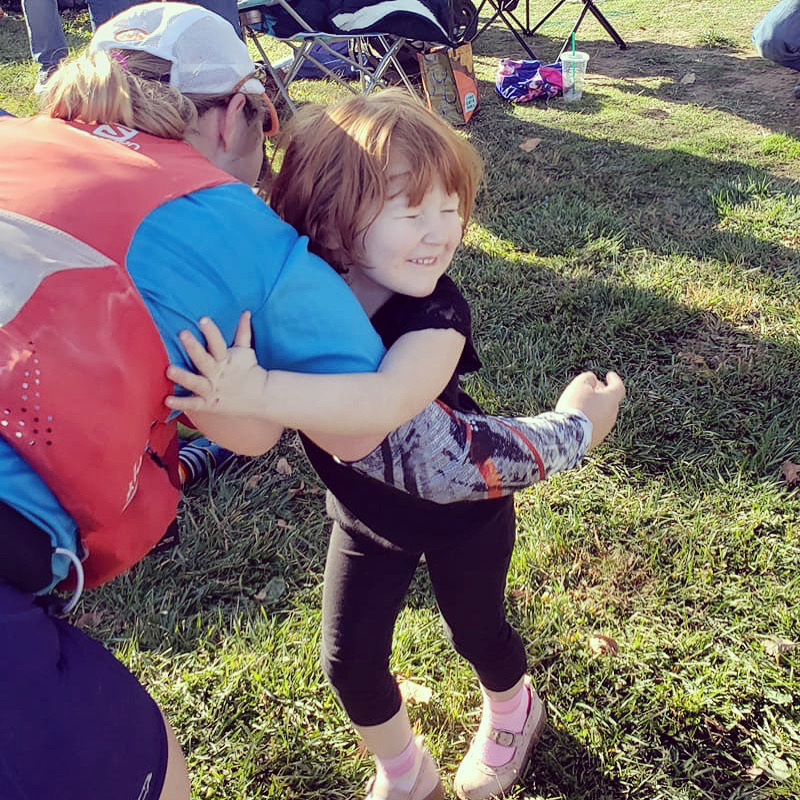 There were friends there from past Rio's, this year's training, and facebook. People who had seen me on the Dark Soul of the Night Loop who recognized me and wanted to tell me congratulations.

It was better than any party I've ever thrown myself.
Thank god it wasn't a fluke. I actually can run 100 miles. 100.5 miles.

And of course, my crew Aurora was there. The constant that had been there since the beginning more than 24 hours earlier, who had worked tirelessly to make sure all my stuff was ready to go at each check, and who managed my anxieties and worries throughout the race with a pragmatic no BS attitude that was exactly what I needed.
I'd like to end this post with some words from my friend and crew Aurora that she wrote after crewing Rio last year. I've come to think of it as the taps of my 100 mile experience. A reminder of what this all about, no matter what the outcome is.
"Hours spent staring at a space in the darkness, willing your runner to appear. Crewing your first run your heart leaps at every headlamp beam threading its way through the night–could it be her?!–but a few events in you realize that you have learned your runner's night height, shape, and gait, a mental dialogue of "nope, two people..that's too tall…only one light…too small a stride..there!!!"
You cluster close to People that you've never met and will likely not see again until the next event–but you WILL likely see some there then, even with years in between, it's a strong community. You share stories of the iron human that you're awaiting and your Cutoff Time anxiety reaches out and embraces these other runners too, willing them all to make it, cheering with their crew when they do arrive even as your own runner hasn't emerged.
The Best/worst moment that I witnessed at RDL 2018 was in the long hours of early morning at Rattlesnake 2, 84.5 miles in; 3 am, 4 am, the hustle subsides and the gang of hopeful crew grows ever smaller, clustering tighter near the time mat, watches checked and rechecked. Finally, only two of us remained. He was of my parent's generation and asked who I was waiting for; our subsequent chatting revealed that his wife was attempting to finish the Ultra again this year after rolling her ankle mid event and being unable to complete last year. This year she was chasing cutoffs and hadn't been feeling well and his concern was palpable. The Rio crew does a fantastic job running this event and kept us appraised of remaining minutes and Must Dos…but 6:10 passed in silence, no runners. It was over. Some time later two headlamps bobbed into view up the hill and a few minutes later the man's wife and pacer emerged from the darkness. Wordlessly he put his arms around his wife as she collapsed into them and sobbed with every last morsel of her exhausted being(84.5 miles, people!). Sweeps, volunteers, and family circled her and literally upheld her, and gradually the tears ceased and the grudging laughter of injuries categorized and future plans came forth. The power of the human spirit, in the best ways.
All my respect to all who toed the line on Saturday. Things do not always go to plan but may you run long and collapse into loving arms✊"
~~ Aurora, redheadedendurance.com