Buy Quality

If you buy quality, you only cry once. 
Those would be the wise words of my mother when I was seized with paralyzed indecision over whether to buy a rated you-most-definitely-probably-won't-die-if-you-fall-off-and-get-run-over-by-eight-horses-while-getting-beat-with-mallets-on-the-way-down helmet.
Except…then I forgot that I hadn't exactly told my husband how much it had cost at the time, just sort of laughed nervously and changed the subject and I'm sure he decided that meant it was definitely not over $500, which is our mutually agreed upon monetary limit for buying items independently.
😬
And then 3 months later I let it slip that it had cost $800.
The choking sounds.
The wide eyes.
The sputtering.
And Boom. Now I get to relive paying $800 for a helmet a second time. 😂.
You see. Matt decided to buy a riding helmet because he's been riding more and at 40 years old (oh I'm sorry. 39. 40 is NEXT week and apparently helping him get used to "being 40" by calling him 40 as soon as he turned 39 wasn't as helpful as you might have imagined) he's finally decided perhaps I would prefer him around rather than his life insurance (yes, yes that's true) and he's been cramming my old helmet on, making it fit by removing some of the pads.
He's a Large. I'm an XS/S.
So he buys a helmet. THE MOST EXPENSIVE TIPPERARY HELMET, which I do not own, since I am a cheapskate and buy the cheaper one figuring I'm going to have to replace every 5 years.
And because my brain is always going a mile a minute and the filter between my brain and mouth sometimes (not often) and sometimes doesn't (who are we kidding. I live in the latter state)) work, I thought and said several things in quick succession.
1."OMG, you spent twice as much money on your helmet as I did on my new one and Paige's."
2. "OK, well I guess it's okay because my polo helmet was $800."
3. "Actually, I think that the helmet you bought is a good choice because you hate heat and sweat and that one will be lighter and cooler."
Do you see how life might be a little easier if I had just skipped over the first two things and stuck with that third.
Folks, it didn't take me long to get to that third point. We are talking maybe five seconds to blurt all that out.
It was at this point I realized that no, I never did get around to letting him know how much that polo helmet cost. I quickly pointed out that 1.  I had used birthday and xmas money for enough of the cost that it did not technically violate the 500 dollar rule, and 2.  really if you broke it down the face mask was $80 of the cost so technically it wasn't an $800 helmet and  3. look honey, I make more in one shift doing ER and wasn't my head worth it? Since no one will give me a life insurance policy because of the whole brain tumor situation.
Again. Should have just led with the last thing.
Things number 1 and 2 that my brain wants to say….never the right thing.  Thing 3? That might have merit.
In the end we agreed that the $150 helmet he bought was a good thing, we would both pretend my polo helmet didn't cost as much as it did, and I decided to keep the cost of polo mallets to myself.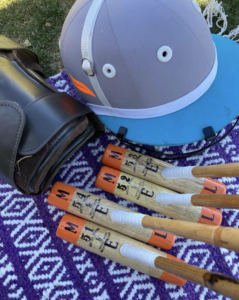 Next conversation. The cost of polo ponies and how many I need to play polo….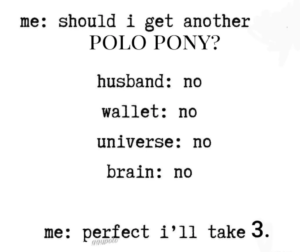 "Honey? I'd like to lease a (some) polo ponie(s) over the summer…."
I think I'll lead with "If you buy quality….the horse will just die a terrible death anyways because it's a horse…" so never mind.