Plethora of mini-posts

Only 4 or 5 days until I leave for championships and 35 miles of awesome ride and tie for Team Hot Mess.
Between preparing for championships and planning what the heck we want to do for our wedding (hoping to have a semblance of a *plan* by next Sunday), I'm not sure how much blogging I'm going to be doing in the next week.
Although, since I'm actually forcing myself to do the dreaded taper in prep for the event, the opposite may happen you may be flooded with innane and pointless posts.
My Dear Reader, we need to be prepared either way – so in today's post I'm going to clear out as many drafts as possible in a fabulous blow-out, no holds barred style.
Yep, I'm tapering.
Speaking of tapers – I had the perfect plan to enforce the idea of tapering during my ride on Farley.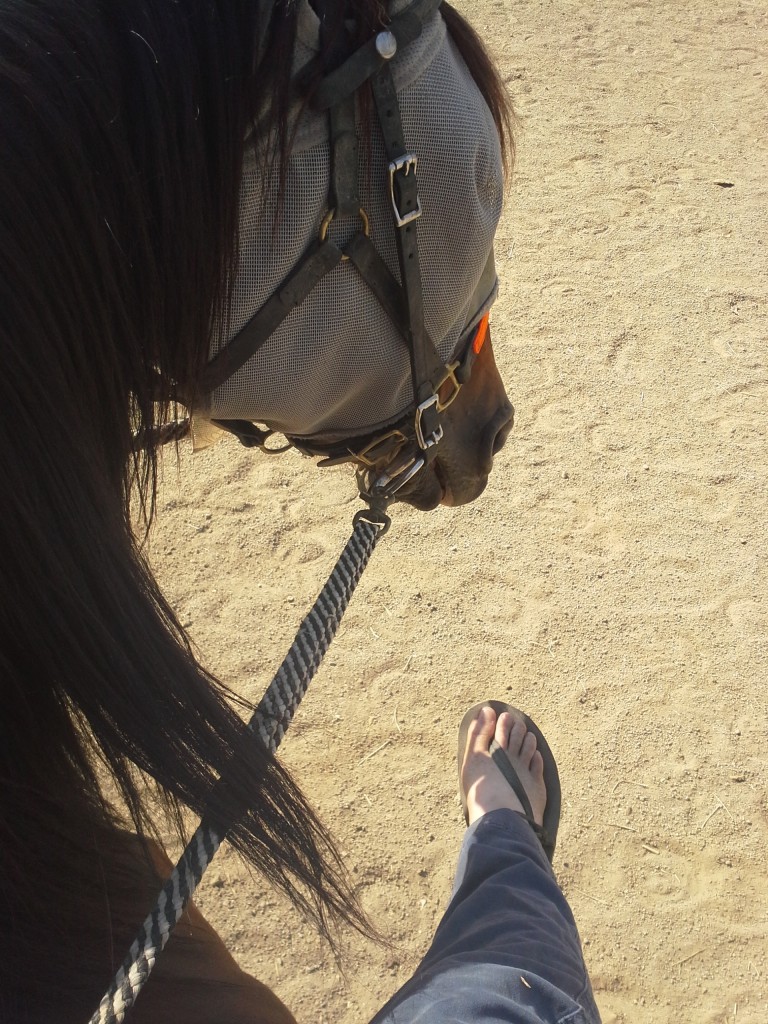 Having been sent to the stable yesterday strictly to verify they had not actually perished in the previous night's apocalypse, and to re-park my trailer and unhitch my truck, there was not actually time to ride.
Which meant there was plenty of time to ride bareback in the arena and still make it back to the house before Matt finished his errands. To make sure I didn't get myself in too much trouble, I decided to ride in sandals, no helmet, and to bridle over the fly mask.
Thus reminding me that both me and Farley are tapering.
Ten minutes later we were doing extended canters down the longside.
*facepalm*.
This was my first bareback ride since switching to primarily treeless and I noticed a huge improvement in my seat when doing the trot-canter transitions either up or down.  Learning to ride bareback on Standardbreds taught me how to "stick", dressage gave me the ability to ride all 3 (4….) gaits bareback, and apparently going treeless gave me the transitions.  It was very interesting, since sometimes you don't realize what you struggled with until suddenly its not a struggle anymore.
I can tell my taper is working because my hamstring feels absolutely fine, and I'm already slowly going insane.
Meme time!
Meme's I really like but have not found a way to justify plopping them in a post.
I call this one "everyone's a runner at heart".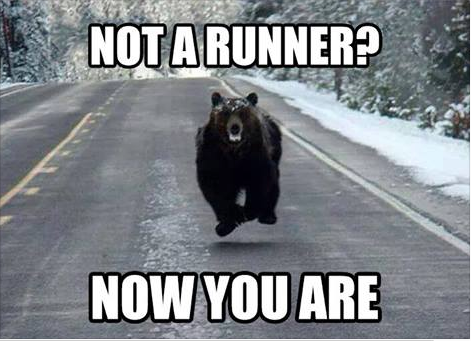 I'll call this one "some people are trying improve their chances of being the fastest runner in the above scenario".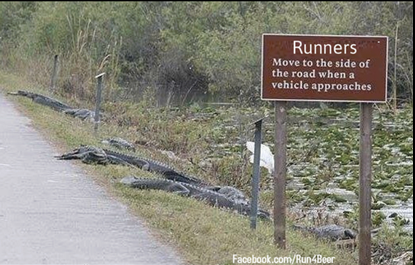 Up until this morning I thought tumblr was stupid. But apparently is was because I had not yet found this one. Which is obviously way more funny than ourlifeinvetschool which mostly just makes me roll my eyes since the last thing I want to do with my downtime is to spend yet more time thinking about my "job".
But Tumblr has redeemed itself with specifically these 2
Got Belt?
Still looking for a belt for your 100 mile buckle? Too lazy to do my own research, apparently this company comes very highly recommended for and "get" the intracacies of making a belt specifically for an award buckle.
I still haven't found "the belt" to put my Tevis buckle on and as I collect more buckles that mean a lot to me (RnT championship buckle I'm looking at you!) it would be nice to have them on a belt I love.
The Extra Stuff
There's a really good article over at Ultrarunning by Ellie Greenwood that lightheartedly comments all that pesky "extra stuff" that we as runners (and riders) have to do in order to achieve our endurance goals. Endurance more than just running or riding miles – it's about balancing it with our "real" lives and all those little decisions and choices that support the miles. Greenwood says it better than me, so here's an excerpt from her post:
"…the more I run, the more I realize that it's the "extra stuff" that all goes towards truly fulfilling one's potential as a runner, which is hard, as all I really want to do is run, and all I often feel I have time for is to run.
What do I mean by "extra stuff?" Well, the list really is endless: nutrition, the amount of sleep one gets, strength and conditioning work, stretching and flexibility exercises, cross-training, regular massage and the list goes on….You could compare it to a good Thanksgiving feast – a great turkey is one thing, and probably the most important thing, but to have a really top notch meal you need the potatoes, the veggies, the gravy and the dessert."
Read more here
More Auto Decisions
I'm really into auto decisions lately – auto decisions are protocols and plans that are put into place so you don't have to expend any willpower or mental energy in order to make them happen.
Willpower is a finite resource – you can spend that willpower throughout the day on innane decisions that aren't important, or you can save that willpower up so you have enough of it when it counts – like refusing the chocolate cake offered after dinner, or heading out in the evening to get in that tempo run. Decision making can deplete your well of willpower, just like resisting something you really want or making yourself do something you would rather not. So, the more "auto decisions" you can implement in your life that allow you to passively make decisions throughout the day, the more willpower you have at your disposal when you need it!
I've thrived the last couple years on maintaining a very flexible riding and running schedule. I moved from a very structured plan to a loose commitment to ride or run every day I can, alternating pony and running sessions. This worked well with one horse and no big run goals. Now that I've added a 2 year old and have goals again, it's time to introduce a bit more structure into the routine. May I introducing Tuesday through Friday – a name for every day and a way to keep me honest.
Tuesday tempos
Wednesday weights
Thursday trims
Friday Fartleks
Auto decisions and structures are most beneficial for things I find hard.  And since they have to get done, no use spending any more mental energy than I have to getting them done, eh?
There are 2 types of workouts that are hard to convince myself they should be done *today* instead of *tomorrow*. Strength training and interval runs.
What I do like is the results that strength training and intervals get, so hopefully naming the days will help them get done more consistently.  Same with trimming. Now that I have 2 horses it's really important I stay on top of the trimming – it's going to be a LOT of work if I get behind!
Low mileage training
Speaking of training, I found Stephanie's (winner of the WS100 women's race) Western States run (nearly identical course to Tevis, but for runners and held about a month before Tevis) report really interesting.  She has self identified as a runner that does better through relatively "low mileage" training and talks about some of her strategies for doing endurance based on this.  Farley does better with low mileage, and I've found what I do for cross training is way more important in my running than the actual number of miles I'm running. Nothing like a little reassurance that it's still possible to achieve your goals by training smarter and paying attention to what works for me as the individual, and not blindly following the standard programs. Her report provided some of the impetus for the increase in structure of my training program I described above – make sure the workouts that I don't particularly like but I know matter the most – actually get done.
Confessions of a skeptic
Here's an article written by a doctor who did some of the medic work for WS100 one year. It's hilarious, it's funny, and it's an easy read. Highly recommended reading.
Run Go App
Remember Craig, the guy I ran most of the trail marathon with a month ago? Well, he's the creator of a really cool app called "Run Go". It's this really cool running app that could replace ribbons and trail markers (or provide a back up in case there was sabatoge) – it was that good. As of the beginning of June it is only available for apple iphones, not androids so I haven't personally used it, but got to see it in action during the marathon.  it's designed so you don't have to look at your phone while you run – but it also wasn't telling you annoying things you didn't care about and disrupting the run.
The day before Craig had looked at the course map for the race (available at most of the long distance trail races I have run to date) and plotted it on a map for the app. The app would notify him by voice
which direction to go whenever another trail intersected with ours
when we were getting close to an aid station
when we were almost to the top of a long climb (very handy for those hills that you think are *almost* finished, only to have a nasty surprise).
The quickest, best way to get back to the course if we went off course.
I'm not sure how many of these features are beta that he is testing, and how many are available on the app that is being sold in the app store – but this is definitely an app to keep an eye on. I've been skeptical about electronic GPS devices being able to replace the ribbons – but this app gave me a lot of confidence. It wasn't just navigating you through a series of points – it was keeping you on the trail, and you didn't have to look at it constantly.
The magic bullet bullet
A lot of commentary and discussion occurs in endurance on the longevity of our horses' careers. Everyone parades their own version of the magic bullet, trying to convince others that if you *just* do (insert the blank) that your horse will remain sound and capable of endurance throughout it's teenage years and beyond.
Some of the most popular ones seem to be:
Never go above 10 mph
Don't start a horse until they are 5 (or 6 or 7 or….)
Don't ever canter
Take cantering breaks
Bloodlines
Find perfect conformation
never trot on hard surfaces
take dressage lesosns
make sure that your horse travels down the trail "properly"
Don't intefere with how your horse chooses to go down the trail
Do at least a year of LD's before trying a 50
give "x" amount of weeks off after a (LD, 50, 100)
Is it the amount of rest a horse gets? Miles? conformation? Management? Pure luck?
The longer I'm in this sport, the more humble and less "judge-y" I am about how people manage the horses and how it relates to the horse's longevity.
IMO rest and luck are probably the biggest factors. With a small sprinkling of "other" management……but the most important thing I've realized is…
…there is no magic bullet.
As I was reminded very recently (a friend's situation), going slow and back of the pack certainly seems to not be a guarantee of future soundness.
Neither is barefoot/shod, treed/treeless, bit/bitless, bloodlines, riding style – or the multitude of other things brought forth.
The success of a horse in this sport seems to be so often "something extra". More than just miles. More than bloodlines. More than your talent. More than the conditioning plan you decided to follow.
It's part of my reluctance to give a concrete plan for someone wanting to condition their horse.
It's why I've stopped beating myself up for every little thing that happens with my horses – because it's not always my fault.
It's why I celebrate my successes – because luck plays a role, and may work equally as hard for a long time before seeing another success.
It's why I give the benefit of the doubt when recognizing other's success or failures. This is an excellent post by Mugwumps that we would all do well to remember when we are tempted point fingers or assign blame, or attribute motives.
Conclusion
That's it for now folks!  I didn't quite get through my draft queue (only 20 to go!) but I made a hefty dent. Hope you enjoyed one of the mini topics here and were able to discover some interesting links and blogs – and maybe was even a wee bit entertained.