An experiment

Best as I can recall, this is the first time I've really posted about my saddle dilemma with Farley. It's long, it's whiney, it has too many details – but it will put into context some of the post that are likely to come later this week.
A recap of Farely's saddle history is in order:
Her first saddle was a piece of junk jumping saddle that I eventually gave away to a 4-Her, much the same as it has been given to me as a no-saddle-kid.
She was the wrong shape for my beloved Mclellen saddle that I did most of my miles in on Minx
The 34 cm Duett saddle lasted us 9 months before we had wither clearance issues. To be very clear, when I say "wither clearnance issues" – I mean that the saddle is TOUCHING AND RESTING ON HER WITHERS. This isn't a matter of "it's too close for comfort".
The solstice that replaced it was perfect for me as long as I didn't add fleece (17″ seat) and an "OK" fit for her. ie – not perfect, but serviceable up to including 100 mile rides.
That solstice was sold when I entered vet school because it wasn't really perfect for either of us – I wanted a slightly larger seat and the panels were not the perfect fit for Farley and took "managing".
I bought an aussie saddle, that had wither clearance issues in 3 months and sits in my tack room to this day.
I couldn't do even short rides in my wintec dressage because of *my* clearance issues (trotting down hill was torture…)
A-brand-I-can't-remember was borrowed and was "meh" for both of us. And put me in a really poor riding position.
I borrowed an AP wintec and did the 2013 season in it including Tevis. Her back was fine for 50's – but my knees were totally trashed. I persisted. At Tevis we pulled at 85 miles – me in agonizing pain because of my knees and as a result of my poor riding, there was a big 'ole rubbed HOLE in her back (and it made her lame). Not cool. Not cool at all. I learned the hard way the saddle HAS to work for both partners.
I bought a 17.5″ solstice last summer. I knew it fit her "OK" and it was the perfect fit for me. Knowing I had managed the saddle successfully before on her back, it was worth the trade off. The wither clearance was less than my other solstice for some reason, but there was a enough to be OK as long as I used my equipedic pad.
Over the winter gradually the equipedic wasn't even enough and I started to double pad with a woolpack + insert type "riser" pad with spine and wither "gullet" that elevated the saddle enough to continue to ride in the solstice.
That brings us to today.  Here's the issues I've noticed in the last couple of months.
I constantly feel twisted in the saddle – feel as if I canNOT get straight. I don't feel like the saddle is lined up with her back and I'm not lined up with her back and I cannot get straightness. I can stick my fingers in the gullet on the side of the wither/shoulder and feel that there isn't even space no matter what I do.
The saddle is slipping significantly more when I mount on the left side than when I mount from the right side. How much does it slip on the left? Enough that the girth has to be VERY tight and you have to be very agile to mount from the ground. This might be normal for some saddle+horse+rider combinations but it's not normal for us.
After long rides I noticed (and my friends noticed) a patch on the right shoulder on the side of the wither that just looked different.
My gut feeling is that the amount of mounting/dismounting I do from the ground during a ride has warped the tree or compressed the flocking or a combination of both.  I also suspect that this solstice was originally a narrow gullet that was widened to a medium which might be causing issues.  I dunno.
I need to get the saddle checked out and probably have some work done on it. Fine. I get that. I'll get the work done.
The bigger problem is what I saw when Farley shedded out her winter coat.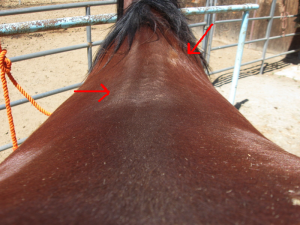 2 white spots. In a line along her spine on the left side, and a patch on the right side of her wither above her shoulder (where I've been seeing the "funny" patch after rides).
Undoubtedly some of the pressure is being caused by whatever issues are going on with the saddle. I don't think it's a coincidence that these pressure points coincide with where the most pressure is put when mounting, and with the "twisted" feeling I'm getting in the saddle.
But here's the larger problem. The issue isn't going to go away completely even if I get this saddle as perfect as I can. Because these are EXACTLY the same areas I had problems with in my last solstice.
My philosophy when it comes to saddles is that while it may be impossible to get a perfect fit for rider and horse, the issues need to be manageable.
I can't manage pressure areas AND wither clearance issues. I just can't.
Here's the other thing I keep in the back of my mind – Farley *always* performs better dressage bareback than in a saddle. Saddles that she seems perfectly content to move down the trail in don't make the cut when I'm asking her to do real work in the arena truly on the bit and round. Which tells me I've never had her in a saddle that she was truly comfortable in unless she's allowed to hollow her back slightly.  As a result in the last couple years I've gone to doing 99% of my dressage sessions on her bareback.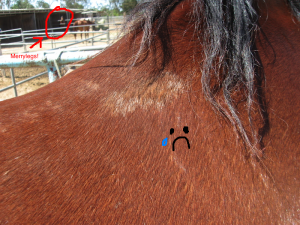 I'm not selling the solstice – it's my go-to saddle for security and comfort and I'll not give that up easily. I KNOW it works for 100's, and as long as I'm not using it every day I can get away with it on Farley occasionally when needed.  I don't know that it won't work on Merrylegs, who will be under saddle before I know it. I'll not make the mistake of getting rid of a saddle that is perfect for me again.
I'm especially frustrated because I feel like I've exhausted most of options.  The "saddle history"above  doesn't include the multitude of other saddles that I put on Farley but never bought or rode in because they would never work.  Or the saddles I rode in and instantly hated. And yes, I've gone through most of the major branded specialty and non-specialty pads. (I'm great at finding good deals on used tack 🙂
How desperate am I?   Desperate enough that I'm ready to try an option that I decided a long time ago was NOT an option for Farley – Treeless.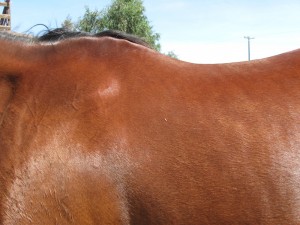 Farley has a large wither. This picture doesn't do it justice. I've asked friends who do the treeless thing and they look at her back skeptically.  And I agreed.
But now, frustrated to the point of tears over trying to make treed saddles work, I've decided what the heck?  What do I have to lose? Maybe it will be a complete failure – maybe it will be immediately obvious that just as I suspected, it will never work. But maybe, I'll be surprised.
When I was shopping for a solstice last summer, I had several people tell me to consider a freeform because the flap under my knee was similar to the solstice. I kept that in mind in case I ever wanted to try treeless (on a different horse).
So today, knowing I could make it to the local consignment shop both today AND tomorrow during business hours (no small feat in the middle of clinics), and remembering that they had a freeform in there the last time I was there…I drove to Auburn.  This shop lets you demo saddles and return them the next day if they don't work.
It had sold. No other treeless in the shop.
Bummer.
In a last ditch effort I posted this on facebook:

Less than an hour later an endurance friend posted this:

AND she lives in the town that I was currently having lunch in.
*sob* endurance really is the best community ever.
And that is how I found myself in procession of a freeform today, and that is why Farley and I spent THIRTY minutes cantering in NINETY-FIVE degree heat in the middle of the afternoon.
It's the classic model.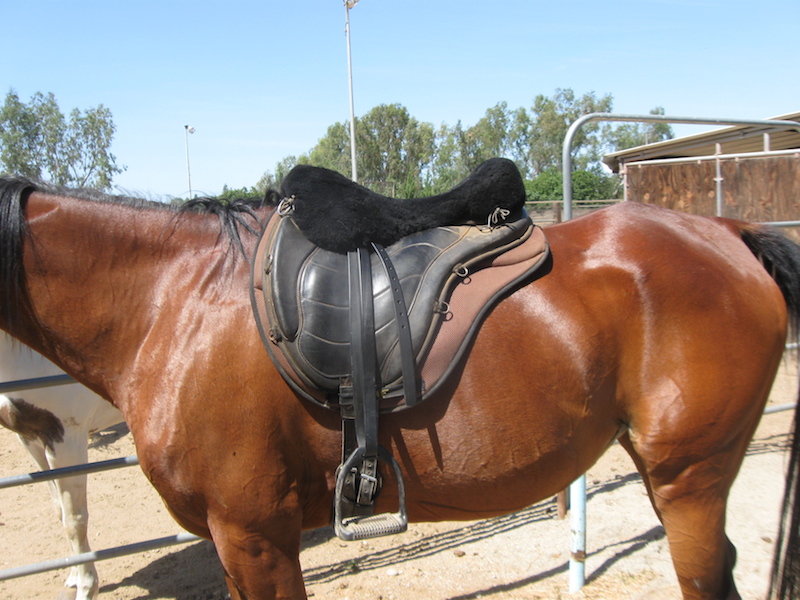 My first impressions
It's a really LONG saddle back to front. It covers most of the Haf pad.  I know how much pad sticks out behind/in front of the other saddles I've put on this pad and this saddle covers a much greater surface area than my other saddles.
Farley has a long back so this isn't an issue.
It's super light weight.
The way the stirrup leathers attach is going to be an issue because it's a loop instead of a bar. I'll likely have to use my caged stirrups.
It fit Farley's back and wither better than I thought it would
I like how it fits her shoulder.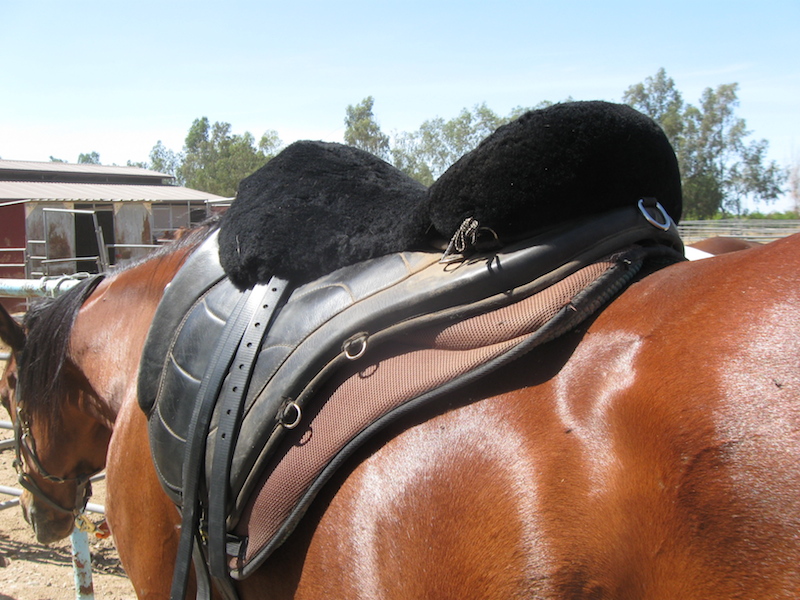 I did my planned dressage session in the arena – mostly canter because Farley said "let's go!" and I would be a fool not to take advantage of impulsion at home when offered!
Here's what I noticed (once I figured out that my stirrups were a hole too long and shortened them!  Ah, that's better)
At both the trot and the canter she was more solidly on the bit and round and through – more similar to our bareback work.
Near the end of the session she was going above the bit during down transitions less than usual.
I had no problems riding straight.
It is NOT as secure a saddle as the solstice. I'm not sure if I could ride out a good rodeo buck in this saddle.
I felt a little tipped forward as if the saddle was too far forward – but when I got off it looked fine. Once I shortened my stirrups and got used to the seat the feeling disapeared.
The flap does NOT feel like a solstice – but I think it has the elements that mean it would be OK for my knees.
I had ZERO issues mounting from the ground, even without an overly tight girth.  Way easier than my solstice. Didn't budge.  Didn't have to wrench it back into center.
I got what I wanted to accomplish in the dressage session and don't like to drill Farley once she "gets" something (today we practiced walk-canter transitions and canter lead changes) but I feel like she still had a lot of go left and I wanted some more saddle time so we hit the trail.
Again, here are my first impressions.
Not as secure as the solstice – but I think OK for Farley. Probably wouldn't ride a greenie in it.
Farley offered a REALLY big long stretching canter stride. She's not a horse that loves cantering so that she was offering such a huge stride is very positive.
I have to work harder to keep my position. I didn't realize how much I was using the saddle to keep me centered :).  It's easy to get behind her movement without a big solid cantle. On the flip side….I also wasn't getting thrown forward like I have a tendency to do in other saddles.
The saddle seems to put less pressure on the withers than I expected.
By the end of the ride I felt much more comfortable in the saddle than I did at first. Treeless (at least in a freeform) is REALLY different from either treed or bareback and it took my body some time to adjust and find where I should be in order to be the most efficient and effective.
Saddle stayed absolutely put. Didn't move forward or back.  It was flat ground, done at mostly a canter.
Saddle pre ride (pre-dressage or trail)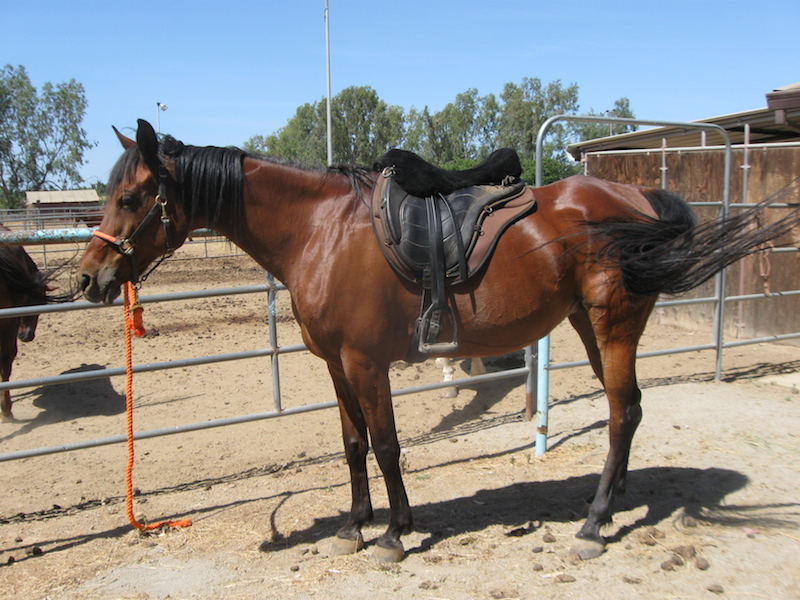 Saddle after coming off the trail work, which was done directly after the dressage session.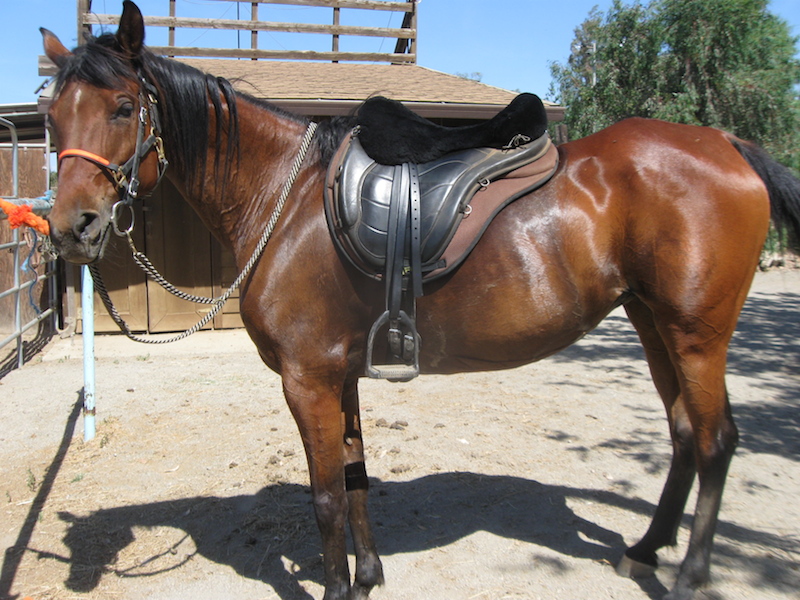 Was really pleased with the sweat pattern.
I used my haf pad as "worst case" since it doesn't have a lot cushion, no inserts, and doesn't have a dramatic channel for the spine.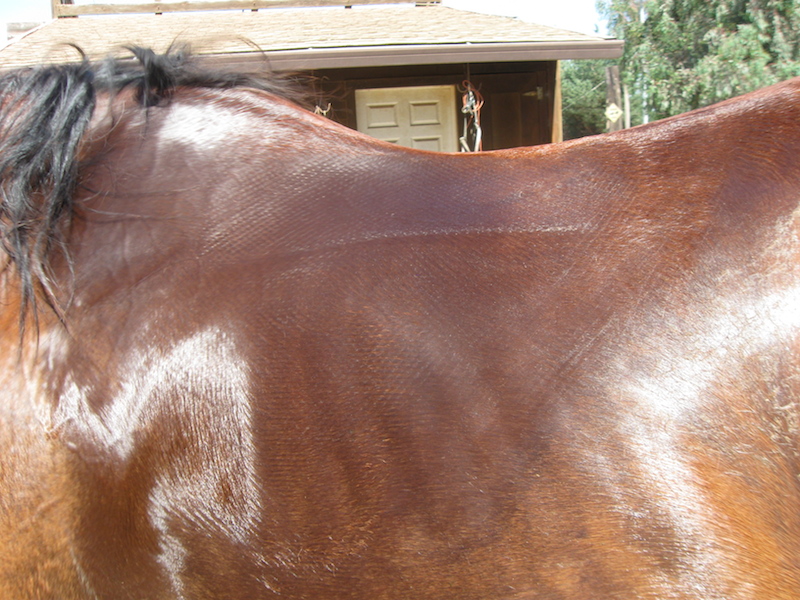 PS – do you see the glint of ribs above? It can be really hard to tell body condition score from a picture, and Farley is an example of how a horse with a well sprung rib cage that can easily fool you into thinking they are fatter than they actually are.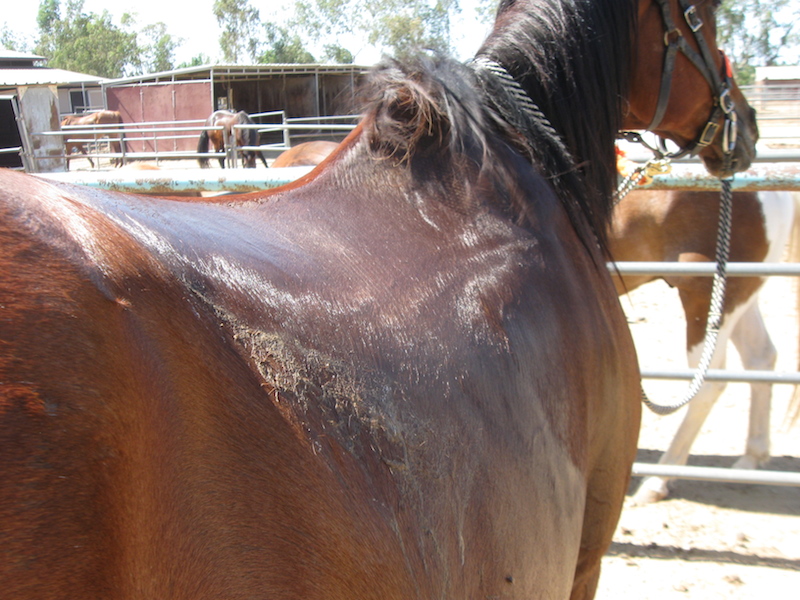 There was a dry strip running the length of her spine and wither which I don't know what to make of…..
I get a dry line using a treed saddle too which I've always considered a good thing.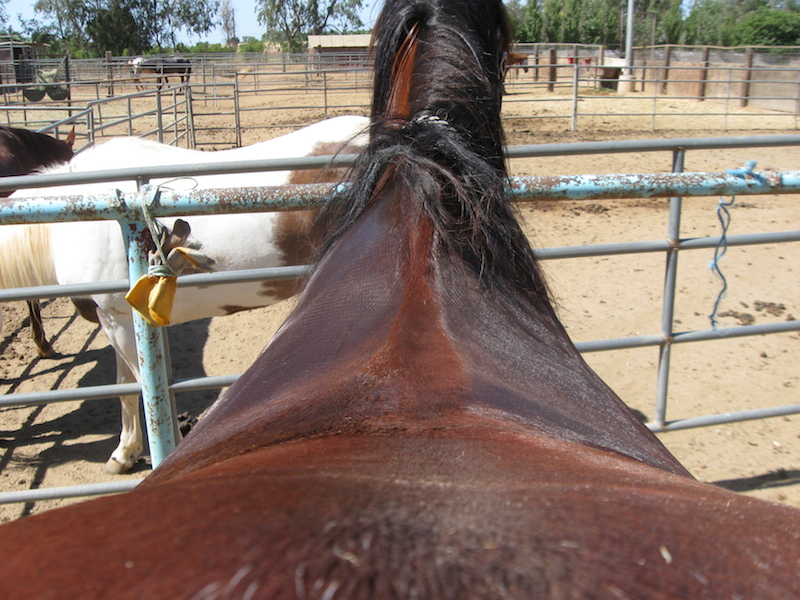 I like the saddle. I don't love it. I don't know what Farley thinks about it. Short term it was a very positive response – but whether that was because it was "different" or actually good I'm not sure.
Farley isn't overly "concerned" about wither pressure. I keep an eye on it for obvious reasons, but she's an honest horse who usually tells me what and where she's being bothered. Ideally I would be looking at a "cutback" Freeform that gives more wither relief, but they are hard to find used and a new free form is not in the budget. I'm doubtful that a classic will work for her long term, but an endurance friend who is my size uses her classic on all sorts of "withered" horses (LOL – I crack myself up) for long hours and miles without an issue – including some that look suspiciously like Farley. So, I'm keeping an open mind.
I'm borrowing the saddle until Wednesday so I'll get a couple more rides in and use a variety of pads and see what happens. If nothing else, I'll know more about treeless than I did before!
Now that I have bored you'all to tears, those distant relatives at your memorial day BBQ you have to entertain will seem like an almost enjoyable reprieve!