I'm doing *what* on Saturday??????

I'm not at all sure this is a good idea.
Most of the time whenever I'm going to do something wild and adventurous, I'm a little scared, a little trepidacious – but underneath it all is a conviction that I really can do this if I just keep my head down and keep bull dozing forward.
I'm not at all sure that is true in this situation.
This morning I had this conversation with a friend (identities hidden to protect the innocent).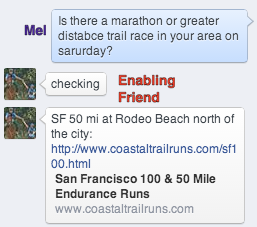 Upon realizing that the fifty (Cool Moon) next weekend just wasn't going to happen (or at least happen easily) due to clinic scheduling conflicts – and at best I would know the night before whether I could do it….I made a decision to find a semi local trail race that was something between a marathon and a 50 miler for *this* Saturday.
Being the lazy sort, I texted a friend on the drive to school
After considering the choices, I weakly said…..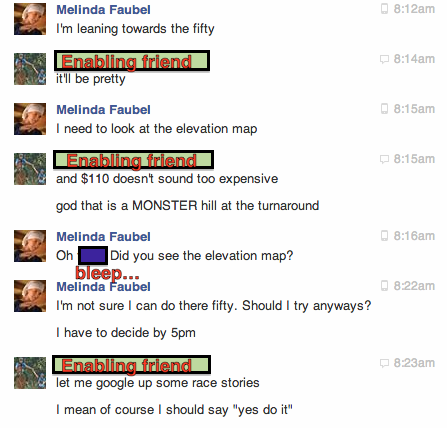 Let's do a quick detour to afore mentioned elevation map.

I swear, if endurance rides published their elevation maps, we would probably *not* do some of the rides we do.
Being an out and back 50, the whole idea of "I'm not really doing a 50, I'm doing 4 loops out of base camp and I can quit anytime", doesn't really apply any more.
I tried to reassure myself.
I did some math

And I didn't allow certain inconvenient truths slow me down

(Update: no one will trade with me)
and in the end……..


The purple is me. The orange represents the additional loops the 100 milers have to do.
I've got a crew (thanks Funder!), the blessing of Matt, and a semblance of a plan.
Pack and go grocery shopping tomorrow night (Friday night)
Get up at 2:30 or 3ish am Saturday morning and drive to San Francisco for a 5:30am packet pick up. Parking is 1/2 mile from the start.
Walk the uphills, try not to trash my quads on the downhills.
FINISH
Get out of the city before I have to start pulling over and taking naps.
Make it at least as far as Davis before I really have to crash. Sleep at the hospital if necessary.
Be at the hospital at 8am Sunday ready for a 12 hour shift.
Start my farrier rotation Monday morning…
I might very well crash and burn. This is the first time I have not been able to visualize the full distance that I'm riding or running prior to the race. Every time I try to think about running 50 miles, I feel like my mind will implode. Even riding 100's, I've always had a stalwart conviction in Farley that she could make it. This is a whole 'nother ball game simply from the stand point that my mind is sorta rebelling against the idea I'll still be upright 45 or 48 miles in.
It seems utterly ridiculous to try and anticipate what I want from my crew beyond 35 miles.  At 35 miles I'll be done right? What do you mean I'll still be moving forward and have hours left to go?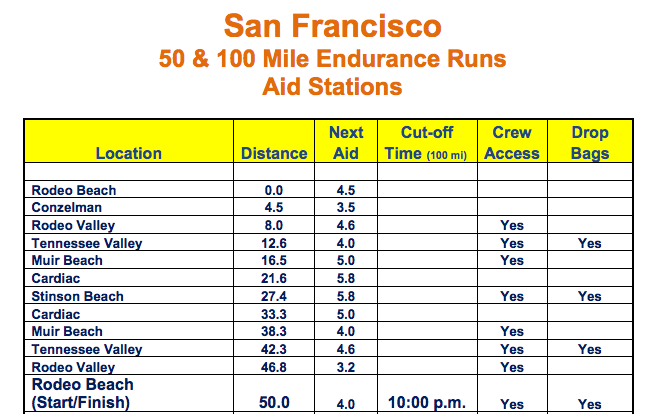 After Saturday, even if I don't come away with a finishers buckle, I will:
Know more about myself than I did.
Have a better understanding of what I need to do at my next 50 (next opportunity comes in mid October probably).
Probably NOT feel like I'm missing out by not riding Tevis this year on my perfectly sound and fit horse next weekend.
Have a really good story.
Heads up: Since I'm working a 12 hour shift the day after, am still on rotations in the clinic, AND finalizing the details of the wedding (Late August!) I'm not sure I'll be able to post more than just a photo and whether I finished after Saturday.
I'm hoping if there's a good story, I WILL tell it here eventually (*cross fingers*), but in the meantime,  I give FULL permission to Funder to publish *whatever* she wants after this event, no matter how whiney or ridiculous it makes me appear.
Wish me luck. My hope is to finish in under 12 hours, but because of the monster hills, I'm not putting any pressure on myself beyond finishing.