July IRL 2014

I know, this isn't the post you wanted to see.
You want to see MEL'S FIRST 50 MILE ULTRAMARATHON story.
Well. I have sad news for you. Because the timeline of my ultra looked approximately like this….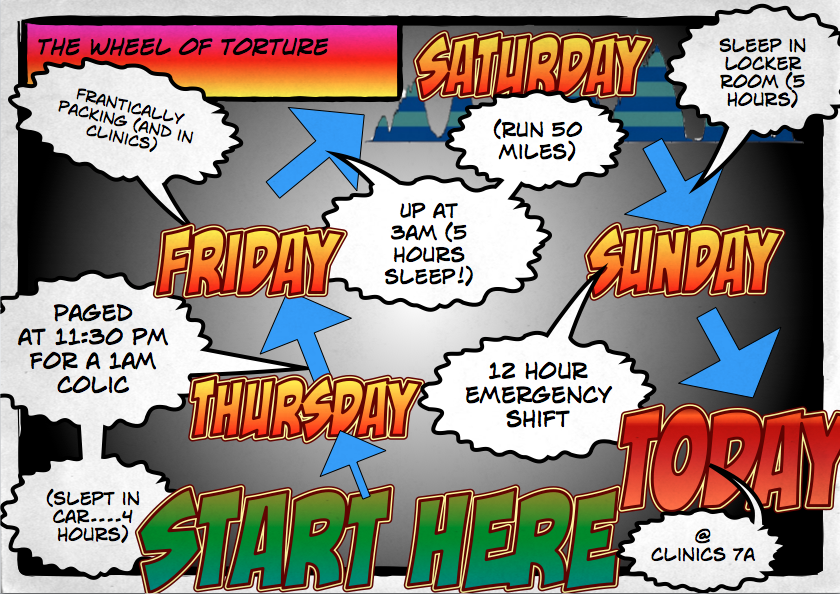 …it's going to take me a couple more days to put it together.
*Cue impatient sobbing and whining*
This post is infinitely easier to put together and write – and I swear has relevance to the things you care about…..like showing you how my running training looked leading up to the fifty mile ultra that took place last Saturday.
Let's review July!  (otherwise known as…..The Month of the Ride and Tie Championships)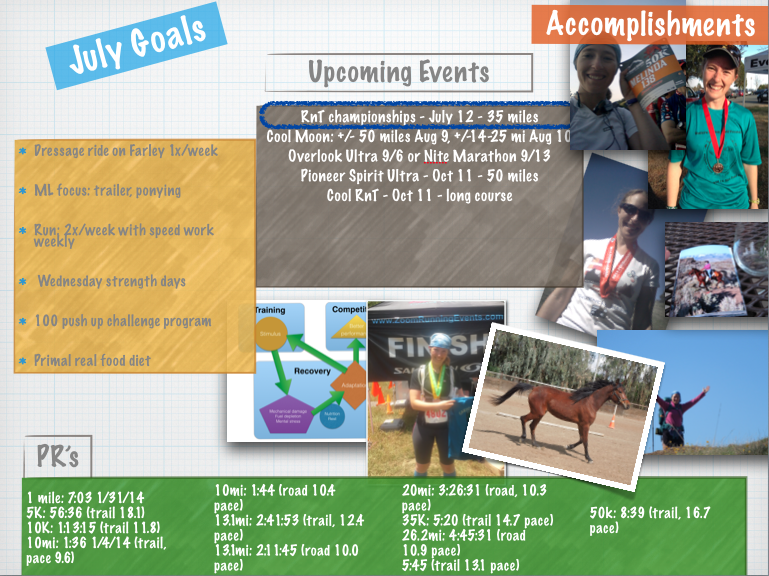 Merrylegs
ML was fly sprayed, hoof trimmed, ponied, and loaded in the trailer. Very low key month for her, but not ignored (and plenty of time spent scratching and bonding and just saying hi). Looking forward to spending more time with her in the month of August!
I think she's now over 14.3 and approaching 15 hands, but I can't remember exactly – I taped her about 2 weeks ago. She went through a very awkward teenager looking stage in July, but has started to fill out again, so it wouldn't surprise me if there was some growth there!
Farley

Here's the break down for Farley – the dates are sorta out of order….
Managed a paltry ONE dressage ride (one is better than none?) which as I recall was done bareback, in a flymask with me sans helmet. But, it was good solid work so it counts.
1 trail ride, 2 trail runs (no, she doesn't get mileage credit for them in her yearly totals….) and the RIDE AND TIE (which she does get full mileage credit for).
At this point, with the ride and tie over and the 2014 season 50 miler in the bag, Farley's job is to hang out and give me the occasional recreational, mentally refreshing ride. (Farley, are you taking notes? Riding you should REFRESH my mental health, not question it)
Goals?
Perhaps we will do a Thanksgiving weekend 50 if there's a local one that works with my schedule. Otherwise we are done until it's time to do a 2015 season 50!
Here's a break down of what Farley has done so far this year: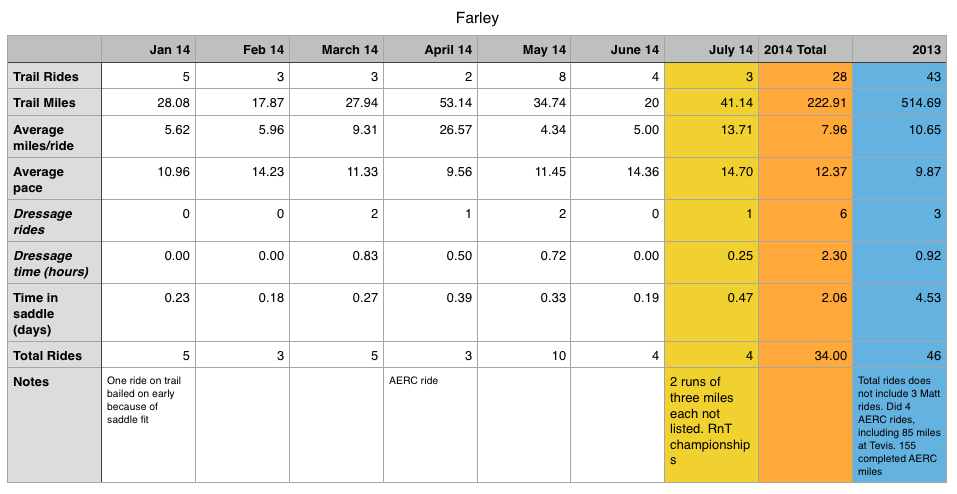 Rider Fit

It's tiny and hard to see.
Here's the break down.
5 runs with one actual honest-to-goodness cross-training session (road bike ride).
2 tempo runs, 2 easy runs…..and one massive ride and tie!!!!!
The Rnt was mid month. I did 1 easy/1 tempo before the rnt, and 1 easy/1 tempo after the rnt.
Over mileage 48.8 miles.
Why yes I *am* giving myself the FULL credit of the rnt mileage.
Which means I did ~13 non-rnt miles last month.  (which is apparently perfectly adequate to do a hilly 50 miler…)
Here's what my YTD mileage and running training looks like. I know most of you are bored stiff of my little charts and graphs, but some of you might wanna know how the heck I trained for the 50…and the answer is somewhere in here.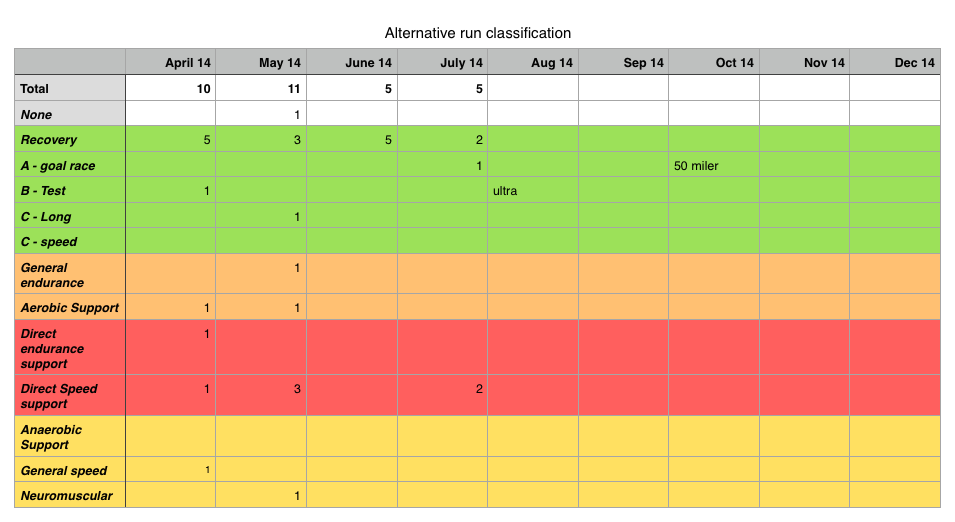 Looking to (the rest of) August!
(did NOT have time to change the look of the board….but I added accomplishment pics!  And new goals!  And new upcoming events!!!)

First time visiting my IRL posts? Wondering why I blogged about the mundane?
These "In Real Life" posts are designed to show how a conditioning program is being applied "real life". It's one thing to talk about the ideal program – it's quite another thing to see how an actual person is applying it real life horse.  Maybe you are a new rider that is trying to find the balance between rest and miles. Or maybe you are like me – you've been doing this for a while with varying levels of success and you are interested in seeing what other riders are doing.
To view previous IRL posts, go to the category "Conditioning" and look for the tag "IRL".