March IRL 2014

If I ran today, would I be a Badass or Dumbass?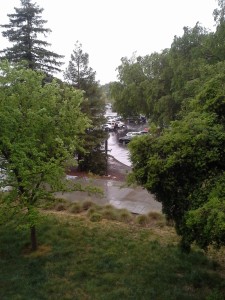 (pic taken from the upstairs window of our class's homeroom in the lecture building)
The decision of whether to run in the rain today is what is keeping me from finalizing my March IRL report since I'm certainly NOT riding either horse in today's weather/footing.
But considering that "weather" I run today or not doesn't change the dismal amount of times I *did* run today, I suppose I can report on March well enough.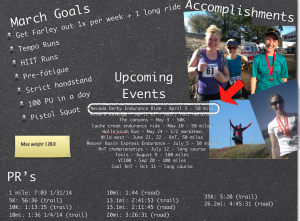 These "In Real Life" posts are designed to show how a conditioning program is being applied "real life". It's one thing to talk about the ideal program – it's quite another thing to see how an actual person is applying it real life horse.  Maybe you are a new rider that is trying to find the balance between rest and miles. Or maybe you are like me – you've been doing this for a while with varying levels of success and you are interested in seeing what other riders are doing.
To view previous IRL posts, go to the category "Conditioning" and look for the tag "IRL".
Farley

Same as last month I got 3 trail rides in – but additionally I managed to sneak in two dressage rides too!
I spent 10 more trail miles and about 2 more hours in the saddle than last month (a combination of adding in dressage, and making my trail rides a bit longer).
I didn't quite hit my goal of being in the saddle 2x per week, including a weekly dressage session – but considering that I was sick and out of town more than usual this week, coupled with continuing with some wet weather – I'm happy with it.
We have a 50 on Saturday and I still feel like Farley has enough base on her to complete it without an issue – the 18 mile trail ride on the 16th was "ain't no thang" for us and was a good workout even if it was cut a little short by an injury in the group.  Especially because I'm planning on getting off and running as much as I can on Saturday – not because I have to for her, but because I have to for ME.
Which is a great segway to the rider fit portion!
Running

Total: 5 runs (might be 6!)
All easy runs
18.25 miles total (if I run today that will only bring the total up to just beyond 20)
Average pace: 10.07 min/mile
Pace range: 8.76 – 12.18 min/mile
March was a rough running month for me. It took me at least 2 weeks to recover from the 35K at the end of February.  About the time I felt ready to go….I went to the AERC convention.  And came back sick. And then went to Tulare for school. And then the month was over.
I started tracking some additional parameters for my runs to shift my focus beyond just time and distance and number of runs.
I'm not really worried about my 50k mid April.  But I'm kinda worried. I've been doing some reading that is reassuring in the Science of Running book about how distance/base training tends to persist longer, especially in older athletes with some seasons under their belt. And when you consider the individual athlete some people hold onto distance training longer (which I think is probably the category I fit into – I lose speed much faster than endurance), and after  a super long run (like a 35k….) it can take like 4 weeks (? can't quite remember but it's a substantial number of weeks) for the full benefits of that training to show up, it makes me think I'll still be OK (I'm busy writing up these concepts that I'm reading about for a post in the near future). Knowing how I've done in similar attempts, I think that I really need to get out this week for some easy runs this week, do some substantial running at the 50 mile horse race this weekend, some HIIT's and tempos the next week assuming minimal muscle soreness, and then back to a couple of easy runs right before the race :).
Summary: Overall it was a really easy month for my running.  Considering the challenges physically and stress-wise, I think this was appropriate. I got the long ride in on Farley I wanted, and did a mix of trail and dressage (important to separate the dressage from the trail riding based on some physiological stuff of muscle strength versus endurance!  A post is coming!!!!!).
Next month will be focused on two substantial events (one horse, one running) and lots of rest and regrouping as I enter clinics.
Looking forward to April