May IRL 2014

These "In Real Life" posts are designed to show how a conditioning program is being applied "real life". It's one thing to talk about the ideal program – it's quite another thing to see how an actual person is applying it real life horse.  Maybe you are a new rider that is trying to find the balance between rest and miles. Or maybe you are like me – you've been doing this for a while with varying levels of success and you are interested in seeing what other riders are doing.
To view previous IRL posts, go to the category "Conditioning" and look for the tag "IRL".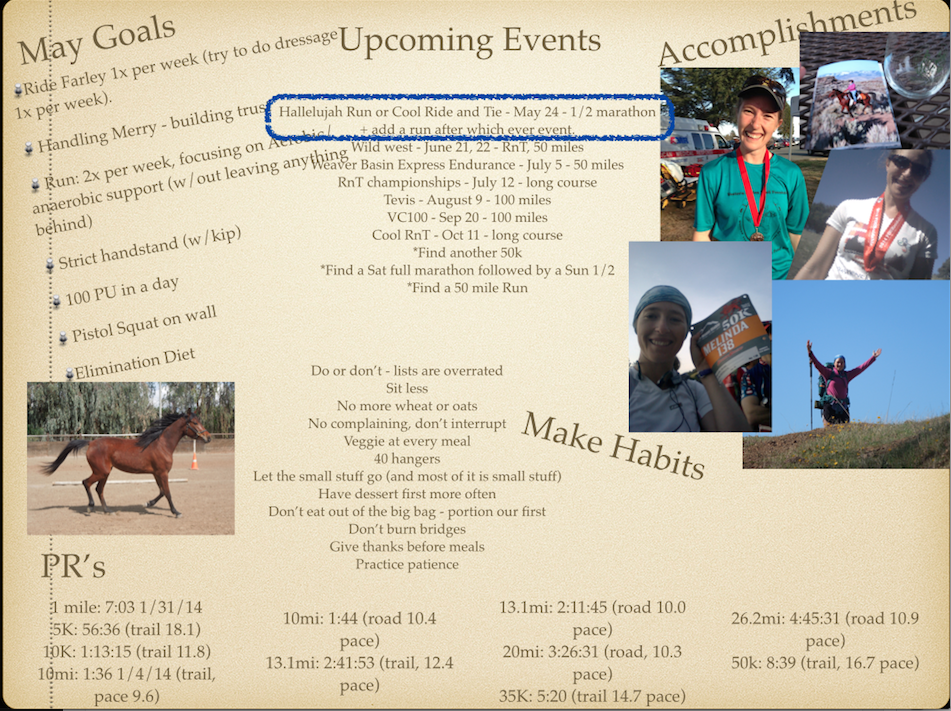 It took me until we were half way through May to realize we were even *in* May.
Fortunately I didn't let the fact I didn't know what month I was in distract me from living life every day and as a result I'm quite pleased (and a little astounded) at the sheer volume of fun that happened.
Merrylegs
Things we did this month that were *new*
Went on a solo trail walk
Ponied at a "at home" trail ride with Farley.
Handled inside of her mouth
Trimmed all 4 feet
Full bath
Threw a leg on top of her from a mounting block
Still tapes at 14.2 hands @27 months (no change from last month)
Farley

10 rides

2 dressage rides, the rest trail.

34.74 miles + arena miles (43 min)
7 hours 50 min of saddle time.
A dang good month considering that the time and mileage does NOT include an AERC endurance ride. Overall I ended up with slightly MORE rides this month, but less mileage per ride because of 2 reasons.
I was saddle testing.
I ponied Merrylegs out twice this month
Crunching the numbers and going off the averages isn't fair so instead I'm basing my success this month on 2 particular rides.
I got in a longer very hilly ride, which she performed FANTASTICALLY on.  Nothing like some hot hilly gallops and some long slow climbs to instill confidence in her level of fitness.
Farley's first ride and tie practice.
Combine that with me actually getting in 2 dedicated dressage rides that went beyond "I'm bareback and I may as well do some token walk/trot dressage" and I couldn't be happier with how this month went for my Farley-girl.
Now that she shares a larger paddock with ML I've had to bump her ration up a bit. She's the dominant one, so it's not a problem of her getting pushed out of the manger, just extra movement as the 2 horses interact.
Have I mentioned how fantastic she looks right now? Totally muscled out, sleek, shiny. Getting off the high mileage volume train was the best thing I've ever done. I do just enough to maintain her base between the occasional AERC ride. She's lost a bit of topline since I stopped doing regular dressage lessons, but other than that my teenager horse looks as good as she did as a "preteen".
Running
BWHAHAHAHAHAHAHAHAHA. As I looked at the numbers Friday night I realized that even without my spontaneous decision to do a marathon the next day I had more miles than Farley this month. And, by doing the marathon it would kick me over into doing one more run than Farley had rides.
Yes, I feel like I'm in competition with my horse.

Total: 11 runs (technically 12, but I'm not counting the "zero mileage" run on May 9th)
3 easy
1 tempo
4 interval
1 race
1 "trail" = ride and tie practice
1 long
70.42 miles total (record monthly mileage this year)
Average pace: 9.76 min/mile (pretty dang fast for an average, considering that not all the runs were done for speed)
Pace range: 8.49 – 14.65 min/mile
Fun fact – my fastest run last month was a 8.49 pace tempo run.  This month I did a tempo run at *exactly* the same pace even though it wasn't on the same course or distance.
That 14+ paced run? That was a brutal interval run that I did 2 days prior to the marathon that involved me stopping every 3 min (after "sprinting") and doing 25 full range squats……
There were 2 runs that didn't go well for me – and I bailed out early and went back home. Obviously cutting those runs short weren't detrimental since overall I still had a fantastic month.  So, I feel totally justified in listening to my body.
My last minute marathon went really well.  I did end up with a really sore/injured hamstring that means I modified my goals for June to make sure it's 100% by the time I do the ride and tie championships in early July.
Looking forward to June.
I've noticed that after a busy, full "successful" month the next month tends to be a bit low key.  Just the natural order of things as I listen to my body and my horse.  I'm out of town for 2 weeks for an equine externship, want to make sure I go into July's Ride and Tie championships well rested and uninjuried. That wild west event that is circled in blue is more "wishful thinking" since I have a wedding to go to the day before.
I've fallen off the wagon the last couple of weeks in terms of diet, and it's been noticeable in terms of GI issues and rhinitis/mucous production. Based on the couple weeks of elimination diet I did in May I have a better idea of what's important to keep out of my diet on a regular basis, and which things I should cut out prior to a big race where I need to run without choking on my own fluids.  Focus this month will be to go back to a mostly unprocessed, "primal" type diet and reestablish some of the habits I let go during the last 2 week externship.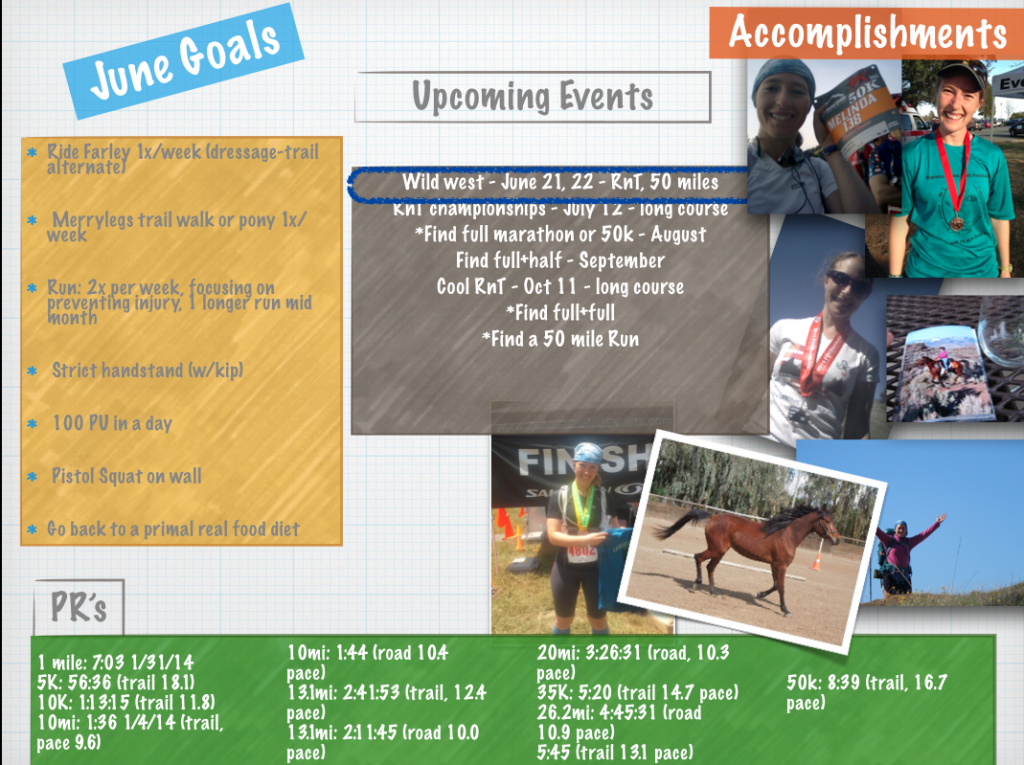 Stay tuned for the rest of my freeform saddle story, and the marathon event report!