MerryLegs, 2 years 8 months

MerryLegs is looking quite….recovered.
Last week I turned her and Farley out together, figuring that MerryLegs could finally handle being pushed around exercised and be reminded of social niceties.
I think it will be awhile until I house them together again. There are both logistical reasons (medicated twice daily mashes) and herd dynamic reasons.
I really want to reduce stress/ulcers risk and promote weight gain. The latter is difficult when Farley's hobby is to push ML around the pen. Nice to have the horses moving…..not so nice when trying to reduce the younger horse's stress level.
I sorta wonder whether my quiet laid-back 2 year old wasn't gaining weight as well as I would have liked over the last couple months because of low level ulcers from the stress of all the changes?
My compromise is to turn them out together regularly so that ponying remains a non-issue and I can use Farley as my secret babysitting weapon and keep an eye on the dynamics.
I have a feeling that as ML matures and gains some confidence and Farley ages more, ML won't let Farley push her as much and a better equilibrium will occur.
Let's take a look MerryLegs at 2 years, 8 months. More crappy cell phone pictures at weird awkward angles while ML eats her morning mash….
Her weight is finally starting to look darn close to pre-sick.
It really does take as long for the weight to go back on as it did to come off – 2 weeks of being inappetent and/or critically ill, and now 2 weeks of her having a really consistent good appetite.
The muscle mass and definition is still lost, but the sacrum is smoothing out when you look at her from the side, the wings of the ilium are filling in and the sides of her hindquarters when viewed from the back are no longer concave. I'll call that progress.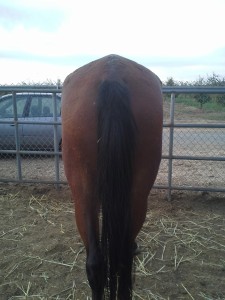 When comparing her to where she was 2 months ago, obviously this is a situation where we took 2 steps back and  1 step forward but I'm just happy to see the weight going back on and that we ARE moving forward instead of back.