A Gray MerryLegs?

ML really really wants to be gray.
The grey hairs on her face, body, and legs have multiplied as her winter coat grew in.
Her baby pictures didn't overwhelming suggest that she was going to be grey.  At two years old she doesn't look like she's going to be grey.
But she's a weird bay.
Who knows. Maybe in 5 years I'll have this!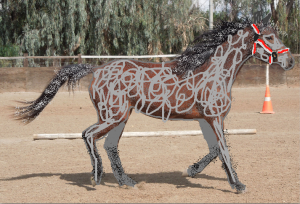 This would not be an improvement. I think grey is a fine color for other people's horses. I personal would prefer to not own a grey horse.
Then I would have a tall, grey horse who very sneakily squeezed past my major requirements of SHORT, DARK, FEMALE.
Can you imagine me with a 10 year old grey MerryLegs trying to tell people I thought she was a bay? No one would believe me that she was bay at 2 years old. I can visualize it now….Pssst….don't you know grey horses gradually develop as they mature.  But she was BAY at TWO!  I swear!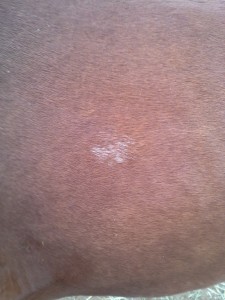 If you missed it on my October link love post, here is a really interesting link on some of the more unusual coat patterns in horses, as well as links to the stories some of the more famous examples (like the chimera brindled QuarterHorse!)
Obviously the white marks on her back are the result of trauma, but I'm curious what is causing the other grey hairs in an otherwise ordinary bay coat. I'm only half-way jesting about her turning grey, could she at this late age still actually be a grey? Seems unlikely.
Arabs do not carry the "roan" gene but can have the white hairs that resemble roaning through other genes. It's a dominant trait (does not skip generations). With many of the horses on MerryLeg's dam's side being greys, it's possible all of them would have had this "roaning" gene and not be noticed.
I looked at the possibility that she has the Rabicano gene….but it seems to manifest mostly on the flanks, sides, belly etc and in this case it's most noticeable on her head.
Any other thoughts out there?