Spray Bottle lesson

Having neatly escaped a spray bottle lesson on *Sunday night, Monday I went out to the barn with renewed purpose.
No tricks this time little Miss MerryLegs! We shall proceed with the lesson as planned!
——————————————————————————————————————————–
Spray bottles are on the short list of things MerryLegs has objected to in the short time we have been together so Sunday night I went out to give her a medicated mash and do the spray bottle thing, only to see her laying down.
I did the logical thing and panicked. OMG MY BABY HORSEY IS DYING. Because, as you might remember the *only* other time I've observed her laying down (she's a sneaky sleeper) was during the first part of the PF crisis where she went from looking fine to not being fine and was down, grunting in pain while I did a physical and frantically called the vet only to be told that we were at the end of the line in terms of managing her in the field and our current diagnostics…yada yada yada.
So you'll understand if I over-reacted just a *teensy* bit. She did *not* get up when I drove up, or when I walked up to her pen (she's in a perimeter paddock right now, but you still have to go all the way around and into the ranch in order to get into her pen), so obviously she was dying. By the time I had leaped over the fencing unlocked and ran through the gate (hey, my pants were new and the top of the fence was pointy) she was calmly standing and looking at me in a puzzled fashion that clearly said "Where is my mash?".
No longer in the mood for any sort of lessons, I threw mash at her and left.
———————————————————————————————————————————-
The plan was to do a spray bottle introduction "Aurora-style".
Oh sure. There were some small changes.
For example, Aurora's lesson looked like this.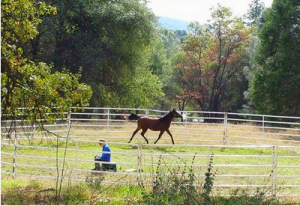 Mine looked like this.

Oops. I mean this.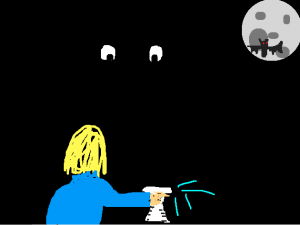 After all, I was lucky enough to have some moonlight.
(Can I digress for a minute and say that for all our sakes I really really REALLY hope I get a little electronic drawing tablet for christmas so we can stop with the ridiculously hand-cramping inducing pictures drawn with a laptop click and drag touchpad in a "paintbrush" program??????)
Being the lazy sort, we did the lesson in ML's pen, which is about the size of a small roundpen.
What was ML's motivation for playing my reindeer games?
1. Mash Mash MASH. That girl does like her mash.
2. And of course *ME*. (so ego-gratifying that one of my animals actually wants to be in my presence. Are you listening Farley/Tess/Connor?)
3. And….her natural curiosity.
The session started with me carrying in her evening bucket of mash while ML tried to bite the top off of my 'specially purchased empty spray bottle that was tucked under my arm. (Matt, while doing our weekly date-night grocery shopping: "Why do you need a spray bottle?" Me: "Ummm…stuff. )
Aurora explains the philosophy behind this lesson quite simply and elegantly so I suggest you hop on over and read it over there. Simply put, the annoying and stressful sound of the sprayer stopped when ML did the right thing.
At first the right thing was simple and easy.  All she had to do was stop moving and face me. The sound stopped, and she walked over and helped herself to mash.
Then the spraying would only stop when she actually started approached me and my bottle of death.
THEN the spraying would only stop when she approached me AND was close enough to reward herself with mash.
End result? Pony munching mash while I stood by the mash spraying and shaking the spraybottle in a direction that left both of our warm and fuzzy bodies un-sullied by the nasty cold stuff.
Total extent of ML's "fear-based" response? Walking slowly around in a circle about 15 feet away from me.
Total time? 10 min.
Seriously?  Did I end up with the best 2-year-old on the planet or WHAT. (and yes, I'm fully aware that pride goeth before a fall, but can we all agree that I deserve to bask in the awesomeness of my two year old for a while instead of cautioning against excessive optimism?).
I repeated the lesson last night (Tuesday). ML marched over to her mash and I added a bit of tactile stimulation and movement by scratching and petting her with one hand, while moving around her with the spray bottle in my other outstretched arm, spritzing away.
My horse? She's da bomb.
PS. Farley is most definitely not the bomb right now, being rather unamused about a sunrise trail ride yesterday.  So obviously I'm referring to a certain long-legged bay horse, not the short fat old one. Yes Farley, I just called you old. And fat. Redeem yourself soon please.