MerryLegs – at 2 weeks

These pictures were taken exactly 2 weeks (Wednesday) from when MerryLegs was seen by a vet for Pigeon fever the *first* time.
(I had taken my good camera out so that my pictures were actually pretty….and then it screamed CHARGE ME and died with the first picture. So…I did the next best thing the worst option possible and took these with my ipad. )
ML has gained back most of the weight she's lost (no more ribs! and I can't feel her cervical vertebra as prominently – scary….) but the muscle wasting is evident over her hips, shoulders. She's going through about 50 pounds of EGM stable mix per week. I prefer the bags since they seem fresher than the barrels and I've never had quality issues. I switched to EGM from the Beetpulp/calf manna/rice bran home mix I was feeding since EGM being a complete feed in a forage based pellet I didn't have to worry about how much she was eating.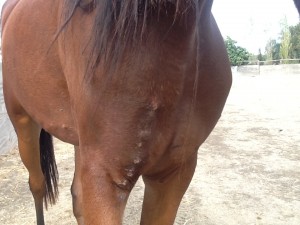 The abscesses – both those lanced and those that are rupturing on their own, are almost healed.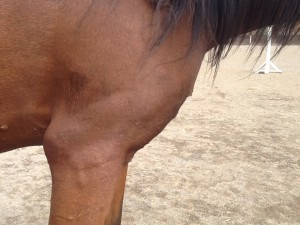 Not so pigeon-chested!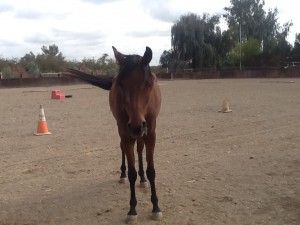 It's hard to get decent pictures because ML would rather solicit scratches for the itchy healing abscesses.
Or help me figure out how to take a selfie on the ipad.
Sometimes it's hard to imagine swinging a leg over your baby horse in just a few short months. Or starting that first endurance ride in just a few short years.
But ever since she got sick, I just can't stop thinking about this view that I'll have some day.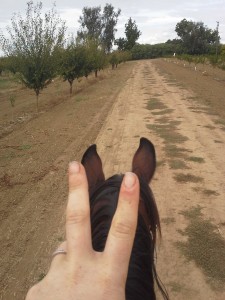 The next mile-stone, moving her from the stall to a small paddock, will happen sometime this week. I hadn't planned on doing it so soon, but my gut says it's time. And if I've learned anything in the last two weeks, I can trust my gut. I don't know how I knew that I had bigger problems 2 weeks ago when I saw those few, small little abscesses on her chest from a disease that is usually uncomplicated….but somehow I knew. Because as much as I tried to reason with myself, I still had this pit of doubt and fear that something wasn't right.
My gut is also telling me we aren't through with this yet. I'm still betting on my not-so-little horse with a lot of forta-tude, but there's probably a bump or two in the road yet. But I think we can handle a bump or two.
"I think what endurance sports teach you is to stay dedicated, stay focused, and also to understand you're going to have ups and downs, but you need to keep running right through them."
– Kyrsten Sinema