Vet students animals are cursed

Yes, they really are.
Pigeon fever.
This video was taken Sunday morning, almost a week after I saw the first abscess. Saturday I noticed that her right leg was really swollen. Desperately hoping it was just filling edema from the inflammation in her chest, I couldn't ignore it when it was still there and worse 12 hours later. After a phone call to the on call vet at Loomis that evening I was told if it wasn't significantly better in the morning she needed to be seen Sunday and not wait until Monday.
Sunday morning not only was it worse, but the lameness had returned. I haven't seen this level of discomfort since she was first seen by the vet last Wednesday. And yes, she's lost some weight in the last week 🙁

This is not normal progression.
I'll get back to MerryLegs but I wanted to first share with you some of what I've learned in the last week in my research about Pigeon fever.
We need to talk about antibiotics and pigeon fever. There's a lot of confusion, suspicion, and fear surrounding antibiotics and treating this disease. I'm going to try to help you muddle through it in case *you* ever have the pleasure of dealing with this oh so lovely disease.
Here's a good fact sheet on pigeon fever from AAEP that's worth downloading and keeping handy. You know I wouldn't recommend something that was a "fact sheet" written for 3rd graders torn out of a popular horse magazine, so yes it's worth reading. Here's an excerpt:
"Antimicrobials are indicated for horses with ulcerative lymphangitis and for horses with
internal abscesses. The use of antimicrobials for external abscesses is not necessary in
many horses and may prolong the time to resolution. Antimicrobial therapy may be
justified when signs of systemic illness are present, such as fever, depression and
anorexia, or when extensive cellulitis or lameness is present."
There are 3 forms of the disease, which any individual with the disease can exhibit one or all of them.
External abscesses (case fatality rate very low, 0.8%)
Internal abscesses (8% of cases. Case fatality rate much higher 30-40%)
Ulcerative lymphagenitis (rarest form, probably around 1%. Unless treated aggressively results in chronic swelling and lameness)
Antibiotics have no bearing on which form your horse gets or develops.
Giving antibiotics doesn't drive the abscesses internally.
But in the "normal" external abscess form they don't shorten the disease course and could extend time to recovery. Thus in horses not showing systemic signs that we suspect have uncomplicated external abscesses only, antibiotics are less likely to be prescribed.
Anecdotal evidence is powerful and in some cases is what the smart horse owner let guide their decisions. Especially if you suspect that there are huge gaping holes in our understanding in a certain disease process. Nobody wants to be the guinea pig or the victim of "oops we didn't have all the information".
However, from the research I have done, I don't think we need to rely on anecdotal evidence to guide treatment decisions for pigeon fever. Likely the cases that were treated with antibiotics, that went on to later develop more complicated abscesses such as internal abscesses or lymphagenitis, were cases that were presenting as more complicated or systemic illnesses in the first place.
——————————————————————————————————
Back to MerryLegs
The vet and I were both concerned about the ulcerative lymphagenitis form based on the swelling, but fortunately once we got everything cleaned up we think it's all dependent swelling and edema. The chain of abscesses were lanced. All of them had extremely thick walls and there was one higher up that was between muscle bellies that was probably causing a lot of the pain.  The vet also told me not to be surprised if she had some deeper ones brewing or needed to have the once we lanced today re-lanced in about a week.
She had a fever of over 105*F. The vet was quite impressed that she was still willing to nibble food with a fever that high, and I felt better having an explanation of why she seemed a bit duller this morning and off feed. A massive dose of banamine later and the temp came down to a much less impressive (and infinitely better) 102*F.
The best news is that because the swelling looks like dependent edema instead of something more sinister, she will go on oral TIMS antibiotics instead of one of the riskier big guns.
So, the plan is this:
cold hosing and walking her as much as is feasible
general clean up. Irrigation is not likely to happen and the vet isn't expecting it to happen.
Some serious twice a day bute for the next week with temperature checks morning and night and keeping an eye on her hydration.
Antibiotics for at least 2 weeks
Vaseline or destin on the leg to prevent skin scald from the draining abscesses
standing bandage on the lower leg to reduce filling as much as possible.
She wasn't *that* dopey when I put the standing wrap on her – her first "leg thing" ever in her life – and she stood there like an angel. The test will be whether she let's me repeat that feat as she starts to feel better. No time like the present to introduce baby horsies to all sorts of things that will be expected of her in an endurance career….I was going to get around to leg wraps eventually.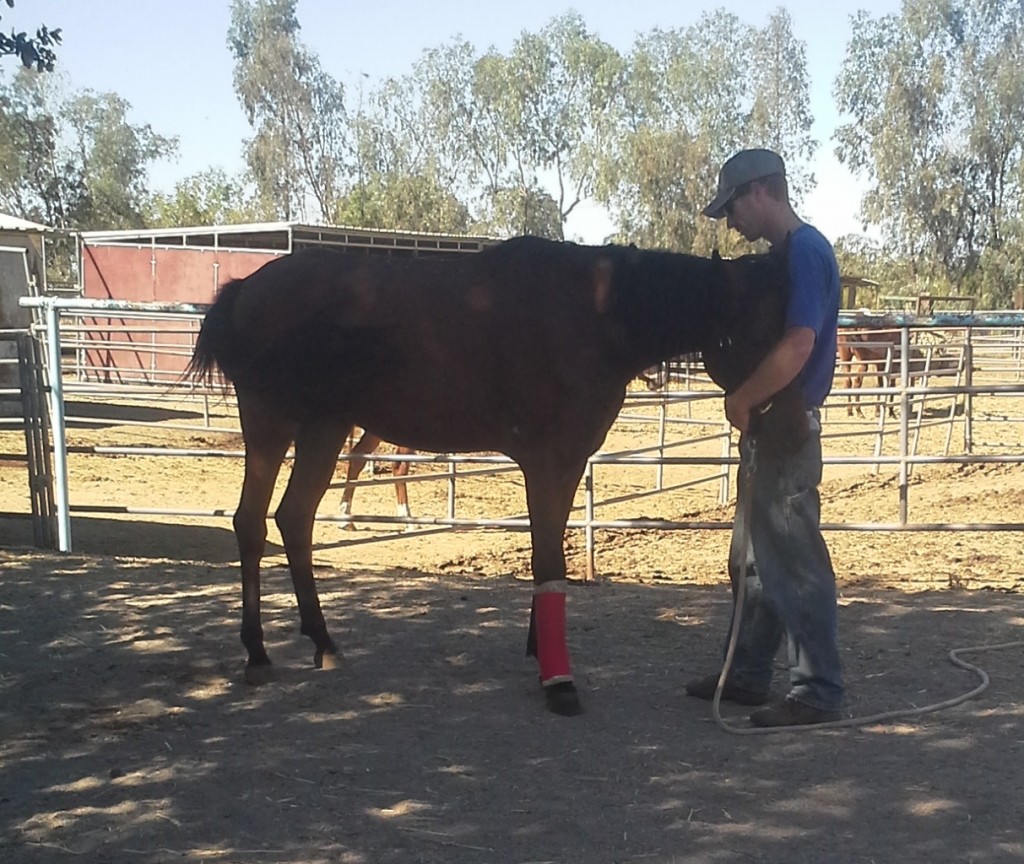 PS. Another important factoid about pigeon fever in case life gets busy again (ha!) and I don't do a full info post on pigeon fever.  Keep in mind is that a horse that has ever had pigeon fever is now at risk for purpura hemorrhagica. You hear it more associated with strangles, but pigeon fever sets the horse up for it too. So if you are ever dealing with vasculitis in a horse and it ever had pigeon fever, even 10 years ago, it's something that should be mentioned to the vet.
PPS. Even if I do practice equine medicine, I think I will always have someone else I trust vet my horse for stuff like this that I'm really stressed about. Loved being able to interact and visit with the vet, but really happy I wasn't the one actually practicing medicine on MerryLegs.