September 2014 IRL

Let's do this in the style of life…..Fortunately/Unfortunately. Ready?
Farley
Farley got out more in September than in August (YEAH!)
But, we only hit the trail 3x (and one of those was a very slow ML pony ride) because of enforced time off after her fly blanket made her withers sore. (BOOO!)
We did not meet our goal of doing dressage once a week (BOOOO!)
But, we actually remembered to squeeze a dressage ride in. (YEAH!)
Here's where we stand so far this year.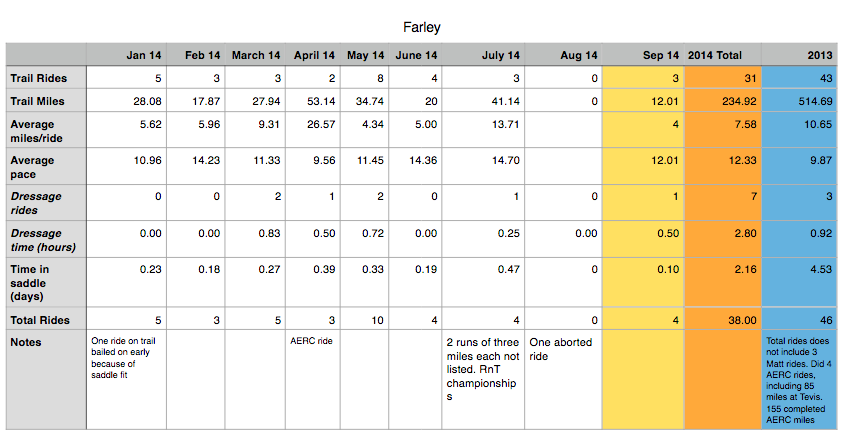 I anticipate that I'll meet or exceed the number of rides I did on her last year, even though our mileage will be drastically reduced.
Lesson learned this month
Riding does the older horse good. When I got on Farley near the end of September month after ONE ride in TWO months, she felt like…..an older horse that had gotten out once in 2 months.
A little creaky.  A little more time required to warm up.
Farley is totally sound for endurance right now. But now that I'm staring at her 16th birthday the beginning of next year, I got a reality check that she might not stay sound unless she gets out on a regular basis.
Farley has always endeared herself to me by being the sort of horse that could be not ridden for months and then put back under saddle safely and sanely from the very first ride. Her mind can still do that, but her body can't.
Even if it's just a quick bareback tour through the orchards I need to make a ride happen more regularly.
MerryLegs!
FORTUNATELY MerryLegs got a lot more attention this month.
UNFORTUNATELY…she now has pigeon fever.
Ah life. What a tease you are!
How is/was ML coming along?
We did a variety of things together this month – trail walks, roundpen, ponying.
We've made significant improvement on the feet – mostly because I made the decision to do *all* my work with her in the roundpen – grooming, trimming, worming, vaccination – whatever was on the docket for the day in the realm of basic horse handling got done in the roundpen. Trimming her feet remains her biggest hole, and until she's darn near perfect in the roundpen I won't try to take that outside.
We did our longest solo trail walk yet. And she was good. And willingly posed for selfies (Farley are you listening? Closing your eyes is not acceptable selfie behavior)
Our ponying ride was frustrating because she was hanging on the halter and being really slow….but that was the first day she broke with pigeon fever and I didn't notice it until after the ride, and she didn't feel good so she gets a pass.
I did some one side/one line long lining and we practiced lining up next to the roundpen panels while I climbed above her and put a knee on her back.
Biggest issue this month: every time I tied her to the hitching post she pulled back. I don't like that one bit. Some of it was some young dogs on the property that were sorta egging her on – but I saw her a couple of times deliberately do it too. Tying and yielding to halter pressure are the next big lessons.
Bonus ML update
Clinically the pigeon fever hasn't changed – draining abscesses, painful yada yada yada. But, in recent days ML seems happier. In the beginning I got the feeling she was really freaked out. She was pain, she didn't know why, she didn't know how to handle it and she was scared. After the first 24 hours, I got the sense that she isn't scared of the pain any more. Somehow she's found a way to deal with it, and while it still sucks and she definitely appreciates the bute, it's not debilitating for her. I'm not sure if all young horses go through this the first time something bad happens to them, but it was a really interesting attitude shift. Treatment update: we are cleaning the abscesses, giving her bute, and applying icthammol to any affected areas.
Rider Fit
It didn't feel like a good running month, but in retrospect, I didn't do too badly. A relatively high mileage month for me, with a good marathon effort.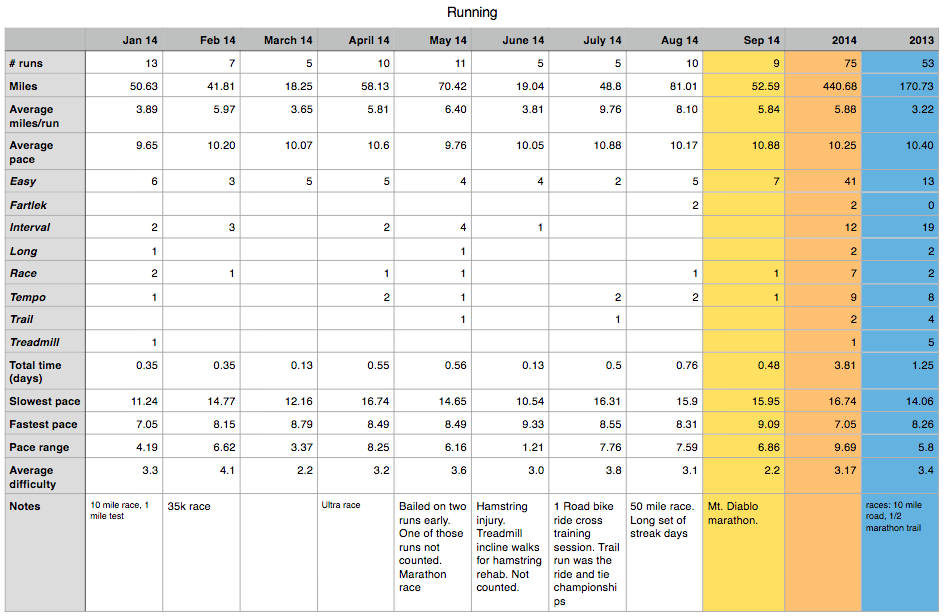 I've gained some weight which I don't like, but I think it's natural when you are coming off of a peak, and just went through a recovery cycle and are in the middle of tapering. I'll see where I am after my 50 mile ultra this month and adjust.

Running related goals for September was to qualify for the Coastal Trail Run Blazer awards – which I did! (although the website isn't updated so I can't confirm). I got a first place AG award at Diablo, which should give me enough points for at least 2nd place in my AG Full Marathon Division :).
The difference between Aug and Sep
I can attribute my success in September in getting both runs and pony time in because I've finally found the secret to getting up early.
This is not going to be shocking to anyone.
But it took me way longer than it should have to figure out.
Old way
Old way: Every night recalculate my wake up time based on trying to get as close to 8 hours of sleep as I could, and calculating to the minute, how late I could sleep in and still do a ride or run, and make it to clinics on time.
Result: I would hit snooze until I absolutely had to get up for clinics. Thus forfeiting any ride/run time.
New way
New way: get up at 5:30am every single day. Regardless of whether how many hours I get to sleep, or whether clinics start at 8a or 9a.
Result: sometimes there's time for a 30 min run, sometimes there's time for me to ride, run, and write a blog post. Sometimes I do get less than my coveted 8 hours, but that usually means I can go to bed earlier that night and get some make up sleep.