On the way to Derby

This was my "pre ride check" for whether it was a good idea to send my Derby 50 miler entry in.  Earlier in the week, during a conditioning ride at home Farley stepped in a hole and went down at a canter/hand gallop and while she seemed sound and none worse for the wear, I held my entry until Sunday when I knew doing 20 miles over rocky single track with hills would be a true test of if she had tweaked something.
I was holding off on posting pics from this ride since there are so many WORDS I need to write and it would be nice to have some fun pictures to break up all the WORDS.
But I have a migraine (sinus head ache?) and am feeling sorta maxed out on computer time so not sure how soon I'll get to writing more words for the next couple of days….so let's call an intermission and look at pretty riding photos. (Courtesy of Aurora at Redheaded Endurance. *waves* THANKS.  I whined and you gave me pretty pictures.  AWESOME).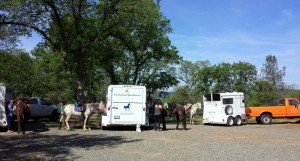 You know it's going to be a good day when the parking lot looks like this.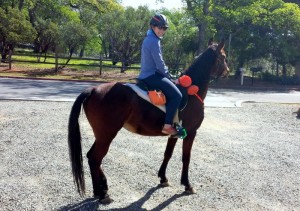 Of course that was BEFORE I realized that I had forgotten my saddle. 3 hours round trip.  There was no way I could go back and get it, and I wasn't going to be able to do a 20 mile ride bareback without making both of us more sore than was right. It was in tears (yes, genuine tears, as I threw myself a pity party) that I accepted my fate, decided to do the only reasonable thing – go for a combination of trail run and bareback ride on my own before slinking home and finishing homework as God intended.
And yes, this would be the second time I forgot a saddle for an Oroville trail ride.
Fortunately one of the other members of our group had an extra.  I literally had EVERYTHING else I needed – saddle bags, girth, STIRRUPS, breast collar…just missing the seat thingy….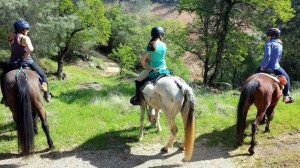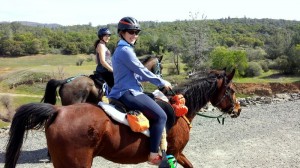 Above: now that is a picture in the perfect moment. Three people trotting along at a good clip, and both people manage to look at the camera and smile at the person taking the photo.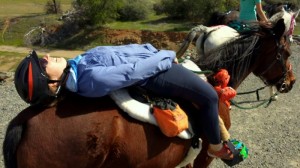 I've always wanted to do this. The borrowed saddle had a cantle short enough I could!  Note Farley's tucked tail as she wonders what the HECK I'm doing.  I love this mare and going to miss her terribly when she's gone.  She puts up with EVERYTHING if not good naturally, at least without causing me bodily injury.
Farley self sponges. My reaction "nothing to see here….I know the rules, NO SPONGING OUT OF TROUGHS".
Above – quite possibly my most favorite picture of the trip.  Maybe of the season so far.
Totally sound, totally happy.  Enough energy to take off at a dead run up a hill towards the trailers at the end. Derby here we come!!!!!!