Yet more spring break fun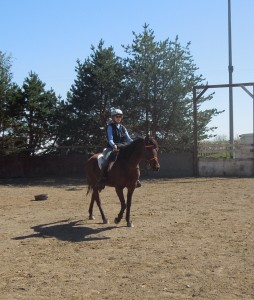 Today I got to spend *yet another day* on horse back and socializing with friends. N* offered to climb aboard Farley and babysit me on Tig.
Tig is getting fitter.
Tig is filling out.
Tig is getting stronger.
Tig is getting more powerful.
All of these are good things. It also means that I feel better if I have a safety net around when I swing a leg over…especially on a windy afternoon like today (which ironically, after our ride ended the wind stopped. GRRRRRRR). And honestly, I think Tig likes the company of another horse. She's young and easily bored and many of the issues that can crop up because of those 2 things can be solved by an unflappable buddy.
Enter Farley.  Although she tried her best to convince me otherwise on Sunday, she normally is unflappable. Especially in the arena.
The best feeling in the world is to be able to hand your horse off to a friend and say: Go have fun.
No caveats. No warnings. No worries.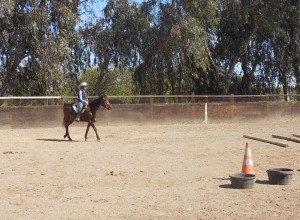 I let N* and Farley get acquainted before I joined them on Tig. I was pleased to see that Farley gave N* a nice walk (in the arena!  without a crop!  it's a miracle!) and then tried to assess N*.
Are you a western rider that needs a western jog to sit? Or can you handle my working dressage and endurance trot?
I think Farley gets bored of having me as her primary rider. She seems to enjoy figuring out what "type" of rider she has when someone new climbs aboard. In general she gives them a faster walk, and a smoother trot. (*envy*)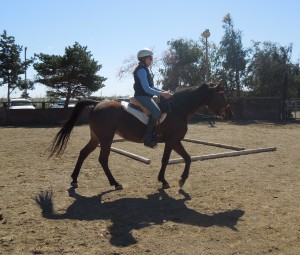 Eventually I climbed on Tig, confirmed that yes indeed her butt HAS grown and she is terribly downhill right now……and my exceptionally balanced pony is now having to figure out her new hind legs. Poor thing. With the support of Farley at our side, Tig gave me her first canter transition in the arena! only to promptly get her hind legs all tangled up a couple of strides in.  We go out to Oroville tomorrow where hopefully Tig can get re-acquainted with her hind legs – we will take it easy. Better for this growth spurt to come now than when she was in race training!
(Obviously there's no pictures of Tig's in this post because I was *on* Tig….I'll try to get some pretty ones tomorrow).
This has been an incredible spring break so far!  So much saddle time, so many opportunities to catch up with friends.