Pictures of pony stuff will make me happy(er)

Today we are going to admire pretty pictures of ponies and clean trailers +/- Tess photobombs. And you, My Dear Reader, are not going to expect anything brilliant out of me today.
Why? Because I've had a very bad day, most of which was my own doing.  The stable outing help tremendously and And now, after preparation of a nice hot cup of tea after boiling the water properly on the stove, it's time to write a blog post.
Let us begin.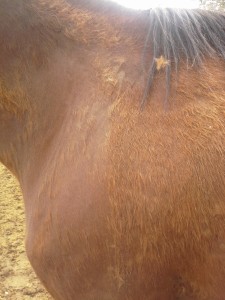 Every year Farley does this to me.  She holds onto her winter coat until the last possible second and then dumps it in a matter of days.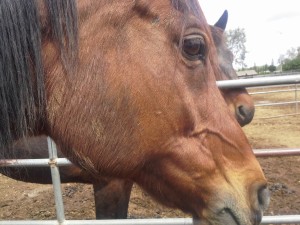 I swear she does it on purpose in order to shorten my life, as she tries to give me a heart attack as I rush over to her pen, sure she has some awful skin disease.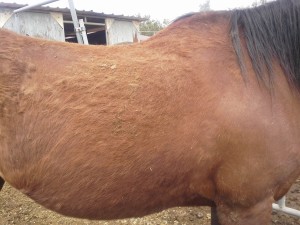 Nope, just my fuzzy arab getting naked.
For a horse that's basically bald in the summer time she has a tremendous winter coat.  I'm ALWAYS surprised how much muscle she's hiding under that hair.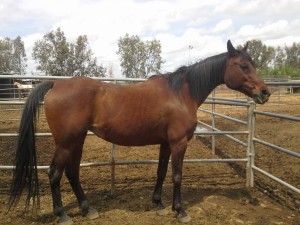 She has RIPPLING shoulder muscles! (this is a "post" grooming photo, which I bribed her during with mash, which she proceeded to slobber on herself and me).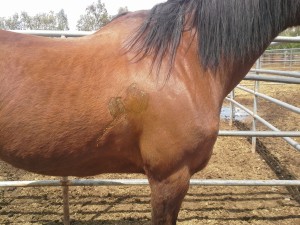 RIPPLING butt muscles (this pic does NOT give credit her her rippling butt right now).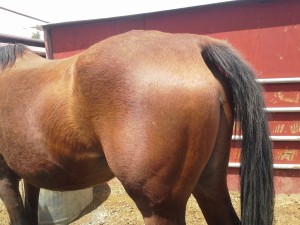 Her skin is SHINY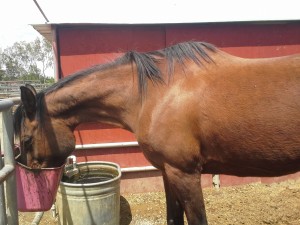 Farley shedding is always like unwrapping a present :).  So rewarding with the hair coming out in huge clumps, revealing a beautifully shiny fit endurance horse underneath.
Merry is coming TOMORROW. This means I should perhaps clean out the trailer.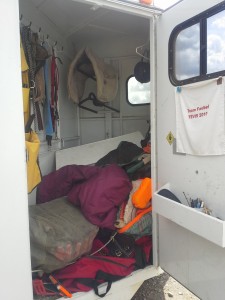 I was perhaps inspired by the hoards of other bloggers doing the same, but being lazy and a fan of prioritizing as much as possible I didn't bother vacuuming, or doing anything requiring water (ugh. Wet stuff).  But I did put everything up, rearranged some stuff, threw away other stuff, and made mental notes on "things needed" – a couple more buckets, a dump run, and another bento box.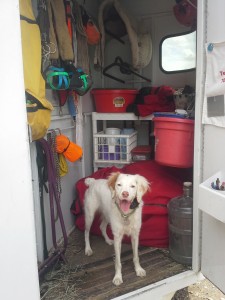 I've been using plastic boxes for organizing all sorts of things where I need to visualize lots of small objects quickly and efficiently.  Like aid stations and vet vet checks.  I also use them at home to organize small annoying things that I HATE digging through like batteries and electronic cables.
Here's my running bento box. It's a work in progress, as I figure out what the best organization will be for my running events (endurance rides, ride and ties, running etc.)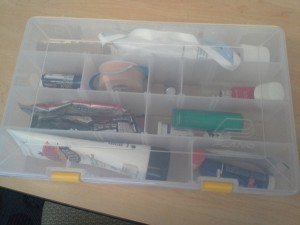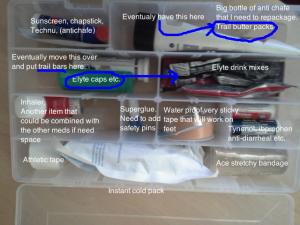 Tig went to her next stop in her career last Sunday.  At some point I will wax eloquently on the important lessons that she taught me – about horses, genetics, and myself – but on the off chance that mood doesn't strike me for a while (and being a fourth year along with a LOT of other stuff on my plate right now, that is the likely possibility), I'm not going to save these pics.  I'm going to show them to you now. The morning we left I put her halter on, turned in out into the arena and attempted to get some nice shots showing her development.
Tig and Farley have lots in common.
One of those traits is the inability to pose for a picture.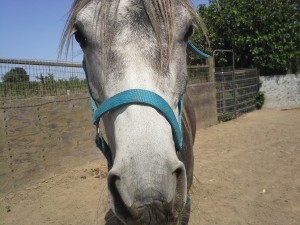 I could have taken 20 pictures exactly like this.
The good news – she's a pocket pony and totally wants to be my friend now!
I got some of her walking away from me and sorta past me at a diagonal.  So flattering…..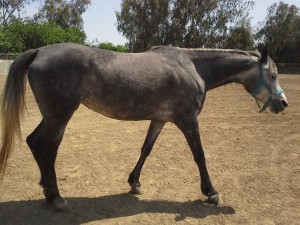 Eventually I gave up trying to get a perfectly posed picture from the side.
The good news. Considering she would ignore me during free lunging and completly zone out on a lunge line when I got her, I should be pleased that she was trying to figure out what I wanted and was reading my body language.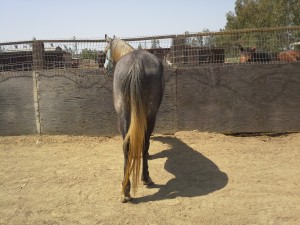 Instead as I moved around her I took multiple shots – If I couldn't get the perfect shot, maybe I if I took a lot of them I would get close…..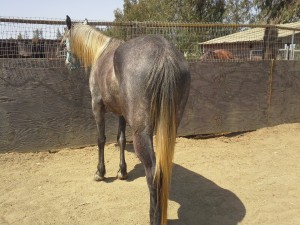 That's it……..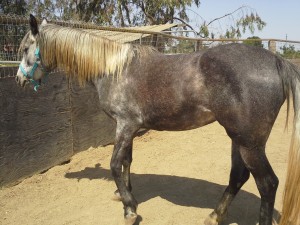 Eek!!!!!!!!  (Tig: "Do you want a turn around the haunches?")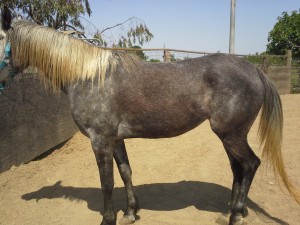 Ugh!!!!!!!! (Tig: "Do you want a turn on the forehand?")
Oh well.
She put on at least one body condition score (when I got her she had a long winter coat, so it's hard to see the difference, but she's completely slick shed now), and has some muscle on her she didn't have when she came here, and I think gained some height. The trainer complemented me on her muscling on her butt, and over her loin tie in when I dropped her off, which made me feel GREAT.
I really wanted to do right by this little horse, and while things didn't go exactly to plan, I'm hoping things went well enough that she's ready for her next step. Specifically, that period of growth or whatever it was set us back a couple of weeks. She is also an extremely smart filly and easily bored which made routine rides in the arena a challenge. But, I stayed flexible, learned a lot, and had some fun (and so did she).