Procrastination

Sometime last week, Monday-ish, I picked up a book that a reader and Dear Friend gave me and read:
"Procrastination is innate. It is an invisible force that drives rivers into serpentine patterns, underwater currents into sinuous paths, jet streams into winding courses – and you and me into a rambling mode. What purpose these convolutions serve, no one knows. For instance, we understand how the Mississippi meanders, but we don't know why. To be sure, there are, for people at least, definite advantages to meandering. For one thing, it takes you places you would otherwise have missed. It also gets you to do things that are long overdue. Instead of paying bills, for example, you decide to organize your sock drawer. Rather than fix the garage door, you give the new puppy a bath. How about working on your novel? First you want to strip the waxy buildup off the kitchen floor. Maybe procrastinating is nature's way of tidying up messes and cleaning up corners. "
I am not skilled in the art of procrastination. Procrastination is stressful as I flog myself for not getting done the *shoulds* even as I cannot motivate myself to do more then putter around the house doing nothing of significance.
Procrastination as a way to carve out more time for myself? To happiness? To getting more things done? To clarify those things that actually do need to get done today versus things that without harm could wait until tomorrow?
What a novel concept.
Even if all I did was change the context of my behavior, that shift in thinking of my actions as a meandering river that might take me somewhere unexpected immediately removed guilt and judgement of how I bounce through my day, one ADHD project to another. It removed the frenzied nature of having to get this project done because until I did I couldn't move onto another project that actually mattered.
Because all the projects matter. And whatever project I most want to do at any particular time is the right project to do.
On day 1 of my leave 2 weeks loomed in front of my like a giant waste land. The normal go-to procrastination activities were unavailable – Still on self-imposed PF quarantine, taking Farley anywhere was out of the question. I was tapering for a 50 mile ultra.
What to do?
That question was answered by standing in the middle of the room and deciding I wanted to do the most at that moment.
Or alternatively, what undone thing was causing the most stress right now.
And then doing it. Or at least, doing as much of it as was necessary before something else caught my attention.
Which household chores got done by determining what bothered the me the most right now instead of some check list in my head. In answer to that question, sometimes the floor got mopped and the dishes sat an extra day in the sink. Before I learned the art of procrastination, the dishes always got put away and the mopping was put off for another day (another day = never).
Projects that have been meaning to get around to for months got done (shims and panels on the underside of my Free Form saddle) and the car's oil change and smog was put off for another day. Some day the oil change and smog will be the biggest thing that needs to be done, but not today.
Then MerryLegs got really sick. Really really sick. And for a while all I did were things relating to nursing her through the illness because that's all I wanted to do. Eventually, after a couple of (very very long days) she was stable enough, and everything that could be done was done and I found the answer to "what do I want to do right now" changing to include non-MerryLegs stuff.
I find myself welcoming the little natural breaks in the day that prompt me to re-ask the question "what do I most want to do right now." My habit is to drink my first cup of coffee with my ipad and blog list on the couch. When I get up to refill my cup it's an opportunity to change directions – get on the tread-desk and write a blog post or walk the dog or ride Farley or do a household thing that's been bugging me. It's how I found the time to create that silly "shaming" picture on yesterday's post.
 In fact, I find a certain pride in setting up these breaks by *not* settling myself in with everything I need in one convenient spot. The tea-pot of hot water lives in the kitchen where I must go to refill my cup periodically. When working on the computer I don't plug it in, letting a low battery signal my need to examine whether I should leave this project undone and move on to something else….or not move on because…
The other face of procrastination is the focus it gives to a project when needed. Both my ride and tie essays were born out of procrastination. I had a topic well before the deadline, but it wasn't until I truly needed to start working on it – it became the biggest stressor in my life – that I was actually able to sit down, focus and create something that didn't sound entirely stupid on paper. And then spend the tedious hours editing it.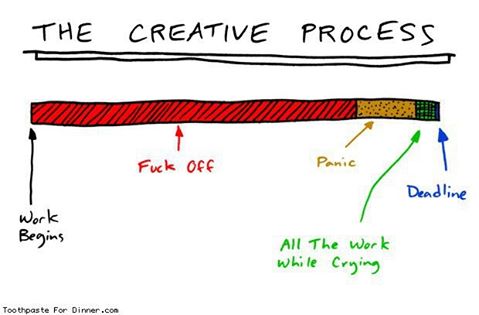 This revelation about procrastination and its way of sharpening the priorities in my life was important enough to add to my list of "one small change at a time". It joins the other small changes over the last couple of years that have allowed me to lose weight, be happier, ride more, and worry less.