Shoe Review: Altra Lone Peak 1.5

Ever have some really good posts that will practically write themselves, if you are only willing to invest a bit of emotional energy?
I just don't have any to spare right now.
I'm on an AWESOME rotation – it's a low-cost surgery service that students get to do the surgeries (supervised) – that is very doable and low-stress except for the hours required to be physically at the clinic.  I have treatments that need to be done prior to 8am, and treatments that can't start until 8pm. Which means I leave the house around 6am and get home at 9:30pm.
Which means today (Friday) when I got off at 1pm and managed to get home to ponies and dogs in the daylight and see my husband with his eyes open and vertical I sorta just want to sit here and not think too deeply.
So discussions of origin stories, rescues and the like is going to wait until tomorrow (unless MerryLegs or Farley does something fantastic tomorrow that is blog worthy…) and I'll do something easy tonight – a shoe review.
Altra Lone Peak 1.5
Summary:  A cushioned trail shoe with a roomy toe box and zero drop.
Laces stay tied
Adequate cushion for hard, rocky trail races.
Come in bright orange!
Ventilation
Cons:
Sloppy fit in heel and mid foot
Reduced ground feel
Clunky
First Impressions
I bought these specifically for 50 mile distances and above. When I first put them on I had a mini panic attack because they feel so much like traditional running shoes – something I haven't used in a while. But then I took some deep breaths and realized that there was plenty of room for my toes and even though there was a lot of "stuff" on my foot, it wasn't cramped and it indeed had the familiar zero drop feel. My first couple runs in them were unspectacular. I felt slow and plodding, but I consoled myself that the purpose of the shoe was to cushion my feet over the long slow miles, and they were definitely CUSHIONED. I figured I had to give up some ground feel and responsiveness in order to get the cushioning and  that was a fair trade. The true test would be a longer race – not shorter training runs where I was accustomed to an effortless, bouncy 9 min/mile pace. Early on I had to convert the laces to a "heel lock" pattern in order to make the heel slippage manageable (yes, I got the right sized shoe…), which meant using my elastic laces was impossible. I can't make the elastic laces tight enough to keep the heel from slipping, without causing too much pressure over the rest of my foot. Fortunately the laces stay tied and so did not burn the shoes in rage over untied laces.
Features
Zero drop. I only run in shoes 2mm-0mm drop right now and it's been tough to find shoes that my feet don't feel totally beat up in after a marathon type distance.
22mm stack height. Significantly taller than my former go-to pair of shoes for ultras, the Merrell Bare Access Trail with a 15.5mm stack height. That version of Merrell had 8 mm of cushion. I can't find a spec for the Lone Peaks, but it's MORE.
8.9 oz (pretty damn light)
Quick dry mesh stuff on the upper
Performance
On training runs I didn't love the shoe but tolerated them well enough that I wore them for the second half of my San Francisco 50 mile in August. As expected my feet were significantly beat up 27 miles in after wearing the Merrell Bare Access Trail shoes and even with some trepidation of how the Altra's were going to perform on the more technical portions heading back, I was IMMENSELY grateful for the cushion. I was already slow and ploddy by that point so didn't notice that the shoe made it any worse.
I did have to be very aware of catching my toes. It was reminiscent of running in my Merrell pace gloves which I also caught the toes in badly and had a couple of nasty falls. I've not had any issues in my last couple pairs of running shoes (Runamocs, Merrell Bare Access Trail, Merrell vapor, Unshoes). On that last half of the 50 mile, even being very aware and running conservatively, I had a couple close calls in the Altra's and tweaked my IT band on one mad scramble to stay upright and unbloodied.
But, it was the second half of a 50 and I was tired and so I was willing to give them a pass….
I deliberately wore them at the Mount Diablo trail marathon a couple weeks ago because I wanted to give the shoes a fair shot, and felt like I didn't have the miles in them in training to bitch about them not working in a 50……
The good:
My feet felt GREAT after the 26.2 miles on really really hard ground and rocks. Far better than if I had run with any of my other options. The cushion really did work.
The laces stayed tied.
The bad
Just about everything else.
In addition to all the more minor things that annoyed me about the shoe (lack of responsiveness, sloppy fit etc.) Mt. Diablo exposed an absolute deal breaker.
I COULD NOT keep my toe backed off from the front of the shoe when running down hill.
Mt. Diablo is mostly up…or down hill. Sometimes for long stretches.  Sometimes shorter. But mostly steep.
From the very first decent  knew I had a problem. I did all sorts of things with my laces and NOTHING helped. Time and time again the toes of my feet jammed into the front of the shoe, painfully. I found myself modifying my stride to try to keep my foot backed up, and nothing really worked.
I have NEVER had an issue with my foot jamming in my shoes. EVER. Not when I started running distance 10+ years ago. Not when I did my Mt. Diablo 50K this spring. Not when I did the first half of my 50 miler in the Merrells a couple months ago. Not when I run down hills with my horse in tow during endurance rides. NEVER.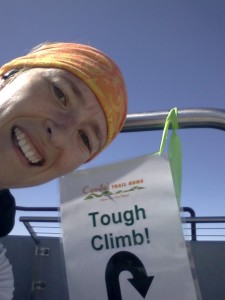 So. I have to conclude it's the shoe.
My feet felt great after the race, but my toes and toe nails were sore. It was a lot of energy – mental and physical to try to minimize the jamming and I was pretty done with it after 26.2 miles.
Now, instead of seeing them as a neutral option for more cushioning, I'm not so sure I'll be using these much. I'm tempted to see how they do in the saddle – but since I run a lot of down hill in endurance rides, I'm not sure they will work there either.
In addition, on fresh legs and NOT tired and being really careful, I was still catching my toes in technical sections. Again, something that has only been an issue in one other pair of shoes. The result was I was tentative and mincing through technical sections I should have been able to tear through.
Overall
Overall, the cushioning was adequate and welcomed for distances beyond marathon distance. However, the performance of the shoe was so deficient in critical areas, that I'm not sure I'll be able to use them much.
I have a 50 miler coming up in 2 weeks and I'm not sure what I'm going to do. Perhaps do what I did at SF 50 and change out my less cushioned Merrell's for the Altra's at some point around half way when I can't stand it any more? Buy these Merrell's that have slightly more cushion (8mm versus 12mm) than my Access Trails? Look at Mizuno or Saucony zero drop cushioned options? (Both brands are ones I used a LOT in my road marathon days, but the downside is just that – they are road shoes). UPDATE: both brands have a zero drop trail shoe, but there's not a lot of cushion).
I think on flatter, hard courses these shoes might be fine. Or at an endurance ride when I'm mostly riding and not getting off and running. Or perhaps on a person who has a much wider heel than I do (although one difference between men's and women's feet is that in general the women's foot has a more narrow heel with a proportionally wider forefoot, and a common complaint in the Altra's is heel slippage….).
Since buying this shoe Altra released the Lone Peak 2.0, however from the specs, I can't see that they have changed anything that would mitigate the issues I had with this version.
Overview of Use
1 tempo run
1 recovery run
1 "candy" run (what I call miles at an easy pace that would be a recovery run if I had done anything I was actually recovering from…)
1 trail marathon
24 miles of a 50 mile ultra trail race
Total mileage: 58.32 miles over 2 months