Oakland Hills 3×3

On Saturday I joined Birthday Gals Cyd Ross and Funder on a half marathon in the redwood park in Oakland. It was PRETTY and it had HILLS. I should learn by now. Any half marathon that is Funder's idea is going to be hard – Wildcat was no walk in the park (although how much of that was the fact I was pregnant?) and Oakland Hills had several cruel hills in the last mile or too that had me wondering if climbing up on my hands and knees would be more efficient.
The goals for this race were simple:
do not get injured
last nutrition and gear check for Rio foods
pace versus effort plan for first part of Rio.
Let's see how I did.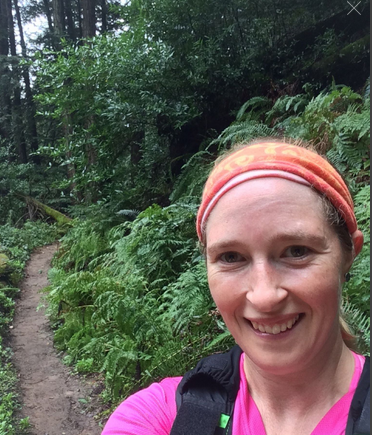 The Good
Food and Nutrition
..was spot on. Tried a couple of new foods that were FANTASTIC (those small chewy granola bars, 1/2 moonpies, and double checked that Hammer Perpectuem works since I haven't had a chance to run with it much). Goal is to eat 250-300 calories per hour, and to eat according to an alarm that I set – something in the 20-30 min range. I don't struggle to eat during races, but I was SO PLEASED with the constant levels of energy and mental stamina and how I didn't feel depleted post race AT ALL.
Pacing
I ran this 13 miles as if it was the first 13 of my 100. I never pushed and was very conservative while still moving efficiently forward. I really needed to find out whether running at a very conservative pace over hilly terrain would result in an acceptable pace (faster than 30 hour cut off pace) without pushing. And….YES, it does. I can comfortably do the miles in the first half of Rio knowing that I WILL make the cut offs if I relax and don't push and save something for the last 1/2 and last 1/4 of the race.
Organization
How things are organized in a pack can make the difference between having the thing you need when you need it, and wasting time and energy trying to get to or find the thing you need. I think I've dialed in what I need to carry and what pocket it needs to go into. Keeping the kit simple is really important – elytes, food, water, pace map, and perhaps an ipod. That's all I need to run 100 miles.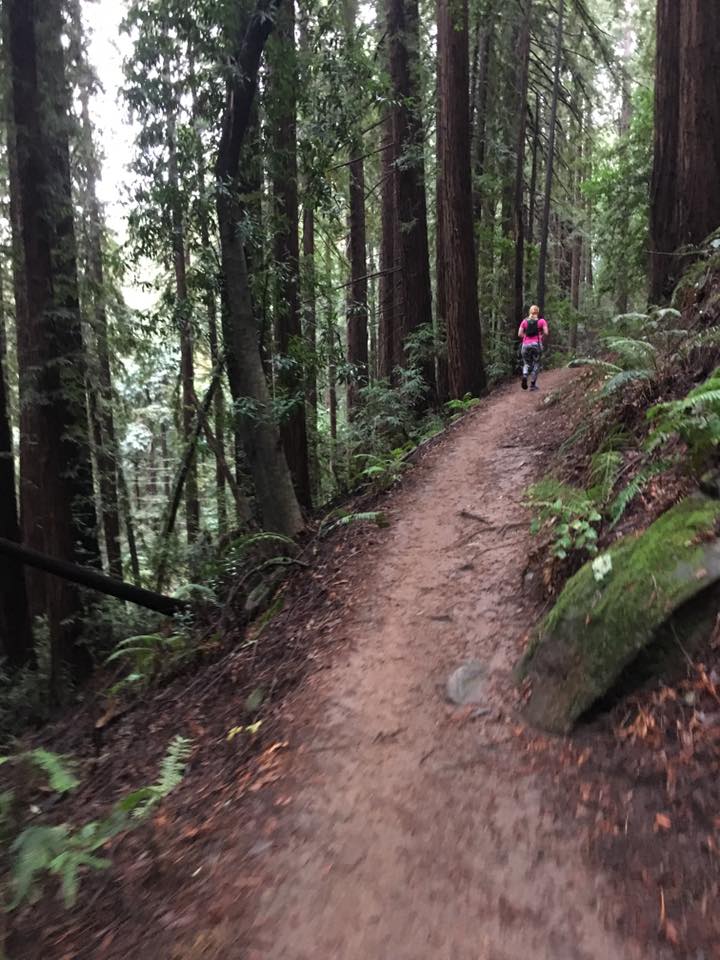 The Bad
Shoe laces
Fucking shoe laces. I'm such a shoe laces idiot. Once again I found myself in the early miles of the race fiddling with and retying shoe laces. Have GOT to get over this. I've used elastic laces for so long I've forgotten how real laces should feel apparently.
At least once I do get them tied and adjusted they aren't coming untied.
Wet shirts
Even at an easy effort, the air was so humid that nothing was evaporating and my shirt was absolutely SATURATED with sweat by the end. This could be a real problem in a longer race if I slow down and start feeling cold and clammy. We are getting a ton of rain here and even if it's not actually raining during runs, it's staying really humid. Even though I'm trying to keep everything really simple, I'm going to need to throw in a couple of shirts, especially for the night time stops, so I can change shirts if I get cold and wet.
The humming
If everything is going well, and the pace is appropriately easy, and I'm not listening to my ipod….I hum to myself as I run. LOL. It's really weird. And annoying. I guess it's good I can entertain myself?
Gear/Nutrition
Purple Hoka Challenger 2
Balgra enduro socks
Spandiets tights
Random race tshirt
Random Target bra
Smartwool arm warmers
Random knit gloves
Buff
Moonpie
Chewy chocolate chip granola bars
Hammer Perpectuem
Clif Sweet potato pouch (GROSS. Has been OK at runs but lately getting worse and worse. This time I gagged and coughed getting it down so I'm DONE).
PB jelly sandwich at aid station
Orange mud hydration pack with 500 ml soft flask