That's just a little deceptive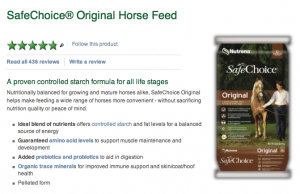 Here's the deal. You don't get to call your product "Safe Choice", and advertise on the label that it is "controlled carb"……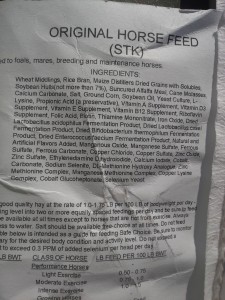 …And then have cane molasses be one of the top ten ingredients.
I was so confused by this apparent dichotomy that I actually spent time on the site, trying to figure out what the logic was.
Apparently the logic is that since this feed should make up just a small portion of the horse's diet, that the actual amount of molasses (and NSC's in the feed) contributed to the diet is relatively small, and therefore this counts as "controlled".
After all, (as the site points out), that forage hay which the horse is eating much more of contains much MORE absolute amount of sugar than the molasses in this product.
Here's the problem.
It's not just about the absolute amount of non-structural carbohydrates (NSC), even in non-insulin resistant type horses.
It's also about particle size and lactic acid producing bacteria and their association with ulcers, and a MYRIAD of other things.
The PARTICLE size associated with the carbs in the FORAGE part of the diet is COMPLETELY different than the particle size associated with your relatively controlled moderate carb pelleted feed.
As a consumer intending to reach for an ACTUAL controlled carb supplemental feed, I feel a bit insulted by their "logic" and more than a little manipulated.
It's FINE that your product includes molasses and even that startchy-small-particle-corn up there on the label.
It's NOT fine that you tote this as a controlled starch feed since "you only feed a small amount".
PS – wanna try your hand at some vet board questions? Here's 60 sample questions provided by the testing agency.  No cheating!  I got 19 wrong (~68% score), what was your score?. Typically scores in the 55-65% range pass.
EDIT
I truly thought I was the only one that was surprised by the SafeChoice label, so I didn't want to go into too much boring depth, but since it seems some of my readers feed this product and are also surprised, I'm adding some screen shots from the feed's website info that I didn't end up using in the above post.  (click to enlarge)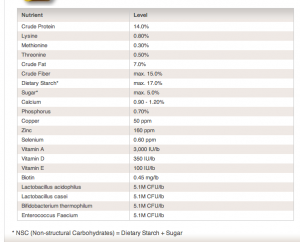 Above is the actually guaranteed analysis. Dietary Starch is max 17% and Sugar is max 5%. There's a note on both of these that NSC (Non-structural Carbohydrates) = Dietary Starch + Sugar.
This makes Safe Choice original NSC = 22
With some digging, I found this statement on their site:

Apparently, while "original" is a "controlled carbohydrate" feed, the company doesn't even consider it a truly low starch feed. That distinction goes to the "special care" version.
Here's a screen shot that comes for a page where I found out that apparently the company intends "controlled carb" to actually mean that it's a concentrated enough feed that you feed less of it, so the horse gets less molasses than feeding an equivalent nutritional profile of one of their competitors. Here they help us do simple math to help us understand why a NSC of 22 really isn't that scary:


I saved you from their calculation of how many carbs are in a flake of hay, since it mentions nothing about effective fiber length (and thus that discussion deserves more than just a set of calculations talking about grams of sugar in alfalfa), and IMO I don't want to hear the feed bag company blame my hay for the source of NSC in my horses diet – I want to hear how the feedbag company is addressing my need to not add any additional NSC into the diet that I can avoid – like in the supplements.
Bottom line: I'm not saying *you* have to take corn and molasses out of your horse's diet just because I've chosen to. Or even that this 22% feed is putting your horse at risk if being feed in small amounts. *HOWEVER*, I do think that they way this product is labeled is misleading and confusing, and that is what pisses me off.