The ML saga: The end of stage 1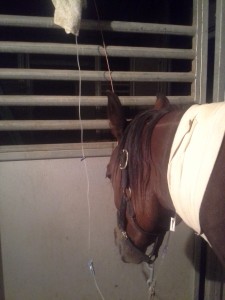 Last night was the last day of IV antibiotics for ML. She will be switched to orals today.
Thank goodness. I'm not sure I could continue to amuse the improving 2 year old for the hour it takes for the antibiotics to run IV.
If I wasn't sure she was feeling better, I could look at the difference between the first, second, and third nights that we did 1 hour IV antibiotics for evidence.
She alternates between napping and swaying – and subsequently freaking me out since running these antibiotics too fast will cause her to sway and collapse – and being, well, a 2 year old that's starting to feel better and is a bit bored. Last night the balance between the two was clearly shifting towards bored 2 year old.
Somehow she knows that during that hour she can't move her feet. Not when I climb up on lawn chairs to readjust fluid bags. Not when I drop my book in a flutter of pages. She's not fidgeting or being impatient. She's interacting. She's interested in me.
She's incredibly sweet and cuddly. Somehow I ended up holding her head in my arms and scratching behind her ears for a full 10 min last night, and at various points had my shoulder used as a prop for her head as we both chilled out. She's also a great expert at nuzzling. She's the best nuzzler I've ever met. Like the kind you see in the movies where the horse gently nuzzles the face and hair of the sad person and it makes your heart break. Sometimes she gets this gleam in her eye and she very gently attempts to use her teeth on *me* in a very baby-horse-michevious-way (that is absolutely not allowed, which she is reminded of each and every time). Just to let me know she has some spunk.  Occasionally she asks me whether the fluid bag is edible (no), or the fluid lines are edible (no), or my shoes (no) or my phone (no). If I read a book, she rests her nose in the pages and doesn't mind the turning of the pages hits her in the face.
So why did a spend a good portion of the hour last night crying?
Because this is the hard part. 
The part where the nursing care involves spending a LOT of time with the horse doing time-intensive things like running fluids or cold hosing. In those long stretches of boredom you get to know each other in a way that only happens when you can't do anything but stare at each other for an hour.
The part where she continues to be a perfect patient, even as she feels better, and how she remains so trusting, and willing.
The part where she is interacting with me in a way that makes me think she genuinely likes (and trusts) me, even as the illness drags on.
The hours spent together right now are bonding us as close together as logging that time out on the endurance trail. After 2 nights spent sleeping next to her stall, and 4 days of round the clock care, I'm bonded to this horse in a way I wasn't on Tuesday.
Why is this hard? Because as good as she looks, she not out of the woods. The vet and I remain "cautiously optimistic". There's probably a very good a chance of some complication down the road, and her survival will probably depend not on whether she can beat the pigeon fever (the antibiotics will likely take care of that) but which complication she ends up getting and to what degree.
A fighter?
I don't get the sense that ML is a fighter. When I thinking of "fighting" I think of inflexibility, and sheer stubbornness. ML isn't like that. I think she's survived so far because she's more like silly putty.
As a kid did you ever play with silly putty? It could be broken, but it took a lot of force applied very suddenly to cause it to fracture apart. But unlike playdough it stretched forever.
She's has an incredibly amount of flexibility and resilience. She's not wasting energy fighting against this, she's allowing herself to be stretched without breaking.  I think it's an important distinction. She's putting one foot in front of the other and doing the bare minimum necessary to survive without a lot of drama.
I don't know whether she's a particularly "tough horse". The vets spent the first week telling me that she was so sick because baby horses are wimpy. And yet, now that she pulled through what was probably an endotoxemia "shower" on Tuesday, I'm being told that she's quite a tough and stoic horse.
My opinion so far is that she's neither and is probably a lot like Farley – an honest horse. One that can be trusted to tell you how bad it is without either minimizing it or being a drama queen.
Looking ahead
Last night was the first night she was stable enough I felt comfortable to sleep in my own bed and drive to the stable every 4 hours during the night for the catheter flushes.
If she pulls through this, even with the probable abscess in her lung, the vets don't see an issue with her as an endurance prospect.
She's starting to get really soft stools. Not diarrhea….yet. The antibiotic we are using (IV up to this point, will go to oral today) is one that is the least likely to cause colitis in these situations, so the fact that we are seeing evidence of intolerance means we will not be adding in another antibiotic that was being considered. I'm thrilled since I was uncomfortable with the idea of a "just in case" antibiotic that was not only very expensive, but also once a day IM for a couple of weeks. Soft stools now meant I didn't have to have that conversation with the vet.
I'm picking up gastrogard and probiotics today.
The PCR panel was negative, which doesn't completely rule out "tick fever" – however the negative test combined with an improvement on the current antibiotic we are using makes internal pigeon fever a good choice. If she was a less sick horse I might be tempted to treat her for tick fever anyways. But, reality is she's simply not stable enough to throw another drug at her "just to see". Depending on her progress I might revisit the possibility of tick fever.
The next milestone will be taking out the catheter. The catheter is the reason she can't have access to the pipe stall area of the stall unsupervised. She rubs her neck on the pipe corral fencing and risks damaging the catheter. I've back off her IV banamine significantly to see what the fevers will do.
I'm considering writing this up as a case report for publication (not scientific publication – more like those stories you read in Equus). I think it was/is an interesting case with some twists and turns (and maybe even more of those to come) and because I did diagnostics along the way I have a lot of specific information – not just speculation and guesses.
How am I doing? 
I've tried to make a point of leaving the barn whenever I can. It's usually for just one or two hours but I think it helps.
Yesterday I went for a run (yeah!). Not the best run, but a run. I'm still tentatively planning on running the fifty tomorrow depending on where the fevers/banamine/catheter end up today.
——————————————————————————————————–
This wasn't funny at the time but someday it will be: Yesterday afternoon I had just enough time to run to the grocery store to buy dinner for my incredibly supportive husband. I picked out lovely food, got to the register and couldn't remember the PIN numbers on my debit cards.
The PIN numbers I've had for 10 years.
I didn't have cash or my check book on me and credit was not accepted so that whole fiasco ended with me walking out of the grocery store in tears with no food. And no time to go back because of catheter flushes etc that needed to be done.
——————————————————————————————————–
Matt and I have agreed this is a special horse and so we are spending more money than we normally would in a situation like this. We are taking it day by day and discussing things as they come up while still keeping an eye on the total bill.
——————————————————————————————————–
Let me know if you have any questions. I'm more than happy to go into specifics of any aspect you might be interested in.
As before, I'll leave any minor updates and milestones in the comments, and when I have time/energy/something-to-say I'll write up a bigger post.