The third bad thing

I was promised bad things happen in threes.
I was sorta hoping that my sister dying 4 months ago counted towards (1) MerryLegs internal pigeon fever fiasco, (2) Matt getting in an accident and wrecking one of the trucks….but NO.
Apparently getting married breaks the cycle of bad things and the count starts over. Thus leaving me one tragic event short.

Poor Earl Grey.
Victim of a Fate that can actually count to three.
Apparently the combination of new tires, an oil change, and passing smog this week went to his head.
And he decided it would be a good idea to arm the "theft-deterrent" device randomly while parked at the stable.
The theft-deterrent alarm and its associated ignition cut-off has been the bane of my existence. When the battery went dead 2 years ago (like not just in the not-charged sort of way but in the you-desperetely-need-a-new-battery sort of way) and the tow truck driver and I were trying to jump the car, it was a nightmare because the battery would charge enough that it reset the alarm, which activated the ignition cut off, which we then had to wait 'til it ran its course which used up battery…and then hope there was enough residual battery and it decided to cooperate with my key and then start it. Fun.
During that process we gently removed ripped random wires out and managed to at least silence the horn that went off when the alarm went off and thus preserve most of our sanity when working with it.
Fast forward to last night.
My battery was fine, and I haven't used the keyless entry fob for YEARS, which is how I used to accidentally set the system.
And yet somehow the alarm system was set, and somehow when my husband opened the door of the car it went off.
And completely ignored all begging, pleas, orders, shouts, properly-executed-per-owners-manual maneuvers to stop the alarm and release the ignition.
I had a key.
That went to THIS car.
And the key was in my hand and NOT locked inside the car (I know, a minor miracle) and yet…..this did not mean I could start the car and drive the seven miles home from the stable.
MerryLegs, 20 feet away, was amused.
Farley, within sight and hearing distance, was amused.
Matt and I were not amused. We waited 30 min for a tow truck.
Matt kept making snide remarks about my precious car. (and threatening to burn it when we got home. My response: Do all my corollas have to die a fiery death? )
Friends kept making snide remarks about my precious car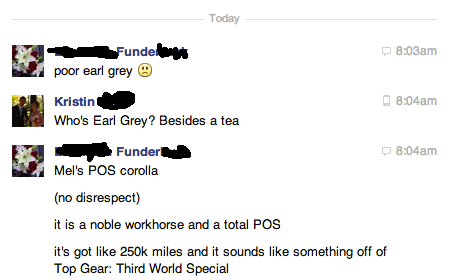 And me?
After shedding a tear since this is the FIRST TIME this car has ever truly failed me, and then trying out the ostrich theory (Mel: Can we just walk home and leave the car here and worry about it later? Her better half: NO!), I *finally* saw the humor and acknowledged that yes, Earl Grey is a POS and perhaps my next car will be both a definable color *and* not have so much personality they demand a name.
….But probably not, because I'm cheap and prefer to have too many horses, eat excellent food, a reliable truck, and money to pay entry fees for  torture endurance events.
I can count to three as well as anyone and I am at THREE.  A vehicle, a horse, and a person.  That's called "broad coverage" and should be sufficient to satisfy.
Project of the day is to find weird battery that gives life back to the key fob which I stopped using because I kept accidentally setting off the alarm, but that also DEactivates the alarm if one deciphers the buttoms correctly. If that works then I'll keep the fob in a safe place (ie glovebox) and we continue our march towards June, graduation, and possibly a new car.
Problem? I have this really cool idea to teach MerryLegs the concept of tying and my squirrel brain truly can't decide which is the bigger priority…..