What your vet student did on a Sunday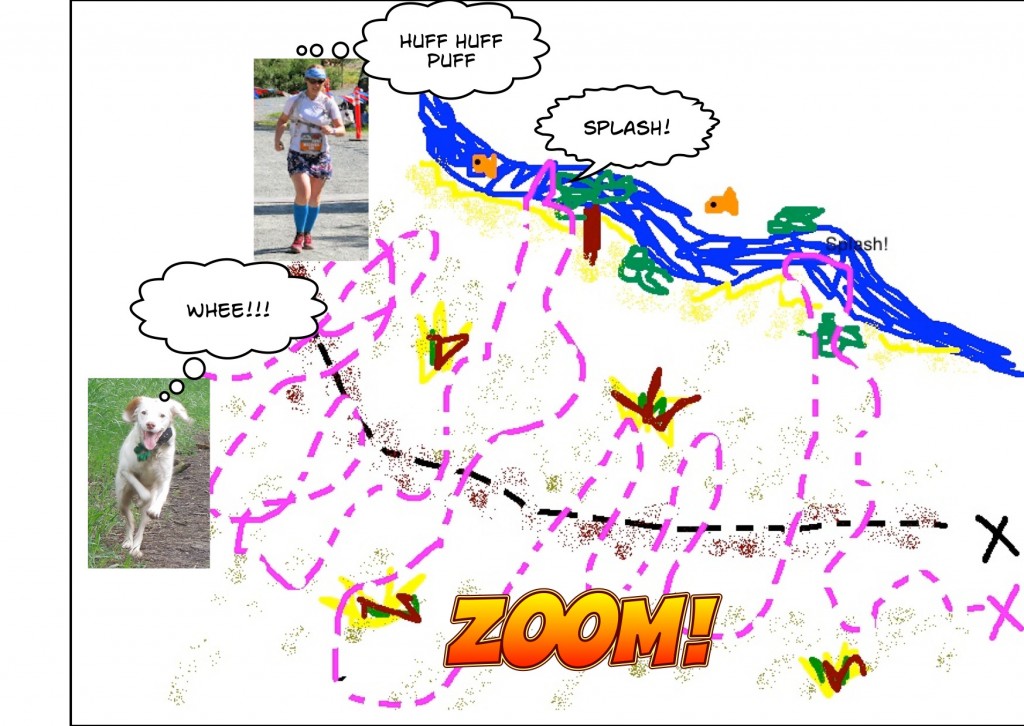 I sorta got up early and went for a run with Tess.  Tess would have been very miffed that she didn't get to share this post as a contributing member since I forgot my camera, so I made it up to her by drawing a picture. (You're welcome you white furry thing).
I'm on call today in Davis which means I have to stay within a prescribed amount of minutes of travel time, which unfortunately does NOT contain my house OR the barn.
Technically I'm on call starting at 8am.
But, considering that in TWO WEEKS of being on call every other day I've gotten called in ONCE, the chances were not high that I would get a call…..which is why "get up early and run" turned into "get up sorta early and run" and got combined with "stop by the stable and say hi to the ponies" even though my watch said 8am as I left the house.
No call, no harm, no foul.
Last night I put a new flymask on Farley. I only have to replace it every 5 years or so and I took it for granted that horses wear flymasks until a friend made an "amusing" remark about how nice it is that I have a cooperative horse that will actually wear a flymask.
Say what?
It hadn't even occurred to me that Farley would so naughty as to take off that $25 bill and stomp it into the ground and then play tug-a-war with Merrylegs over it. Great.
But apparently she is the cooperative type of pony that will wear a flymask and it was still on this morning.
I'm typically out in the afternoons so this morning I caught the ponies unawares.
No nickers or whinnies as I drove up. But Farley spotted the bringer of buckets immediately.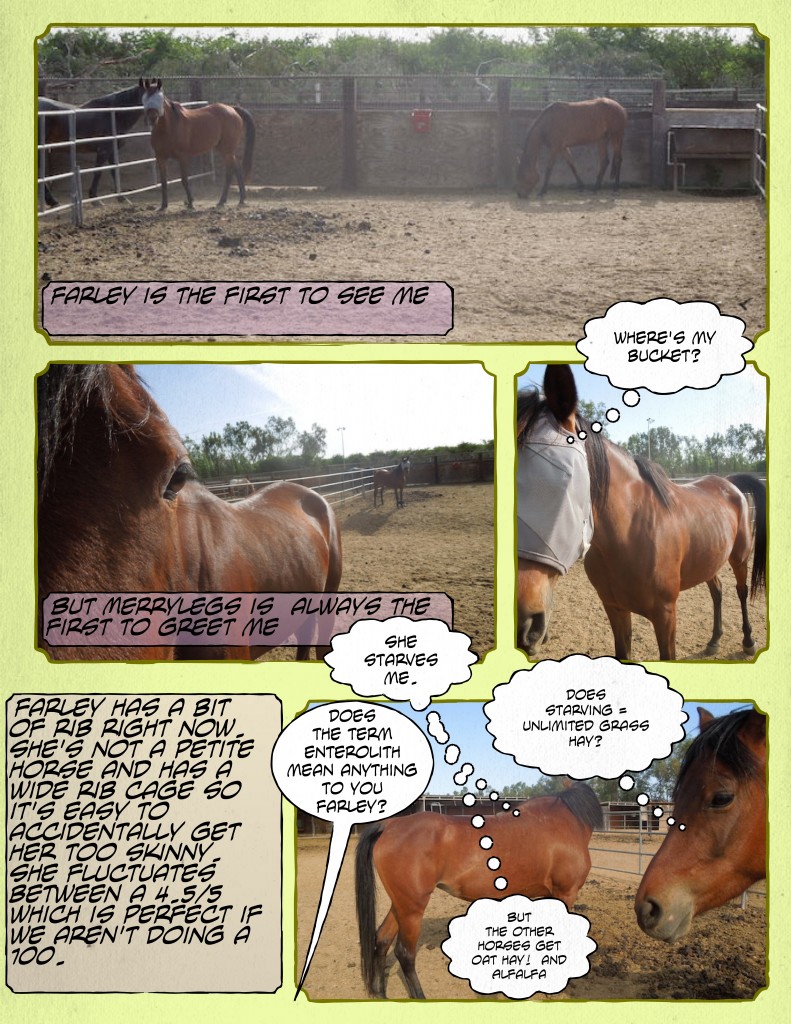 Life is good.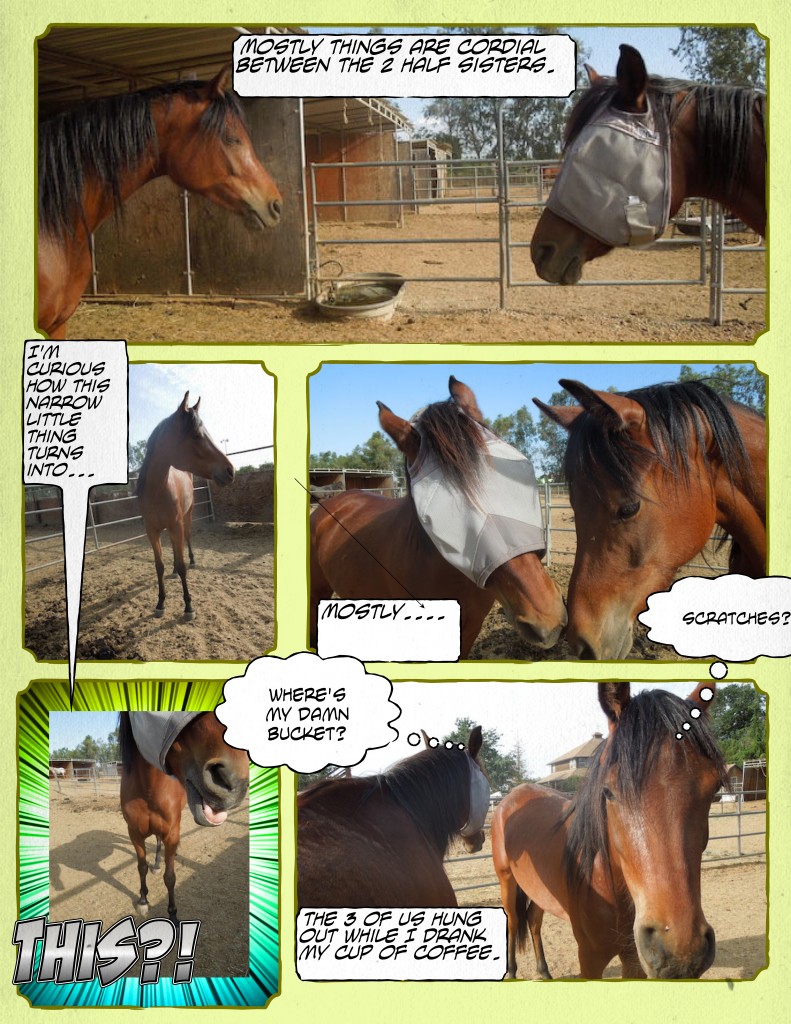 Knowing I'd be in Davis today and bored I volunteered to do a favor for the friend – run a fecal on a young filly who was less than a year old.
The concern is worms. She *looks* sorta wormy.  But she was wormed with ivermectin about a month ago.
The problem with young foals is that they almost certainly have worms. Ascarids (roundworms) to be exact. In fact, if not wormed they can have so many roundworms  that the foal can develop an impaction colic.  They can also have so many worms that if you DO treat them, they can develop an impaction colic.
The good news is that ascarids are a type of GI worm that are still susceptible to most of our wormers. They are killed off by wormers that they other parasites have learned to laugh at.
The bad news is that we are starting to see ivermectin resistance in ascarid populations.
We need to know –
Does she have worms or not?
If she has worms does she have so many that she's at risk for an impaction colic, or is it a small enough number it is safe to worm?
If she has worms what product should she be dewormed with? Did the ivermectin work last time? Or are the worms resistant?
Without a fecal exam these questions are impossible to answer for this filly. The risks are different for worms in foals than in adult horses, and until we know the worm load it's probably not a good idea to throw wormer at her.
Sample in hand I spent the morning at my favorite spot on campus.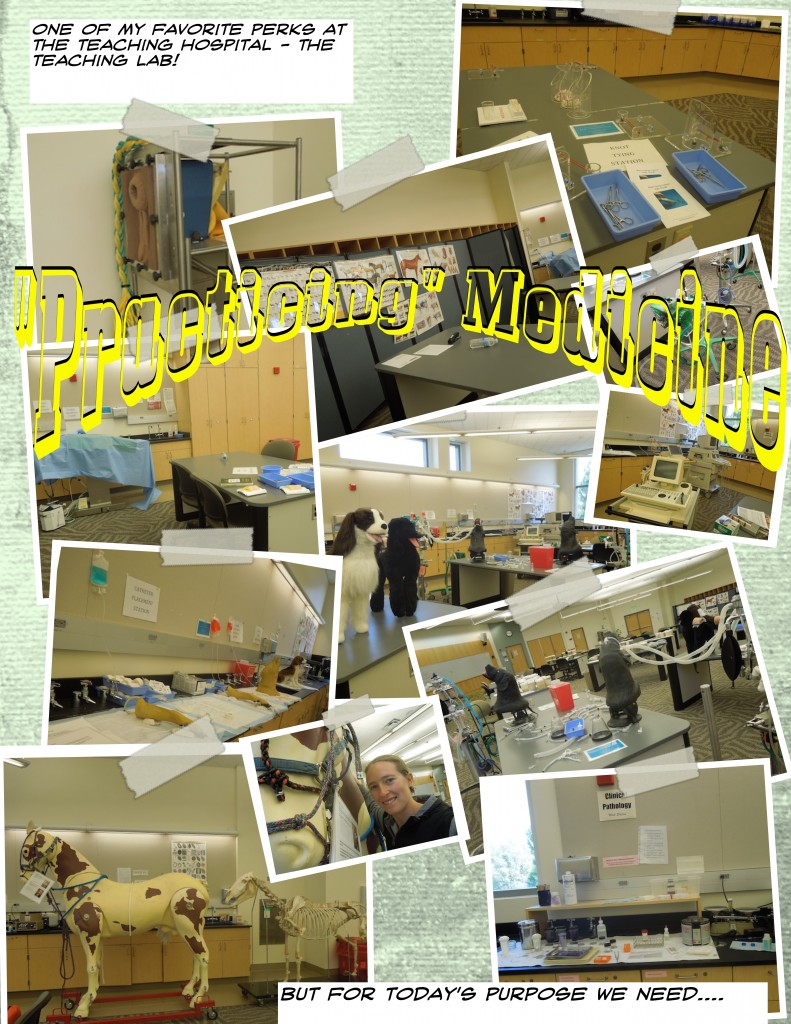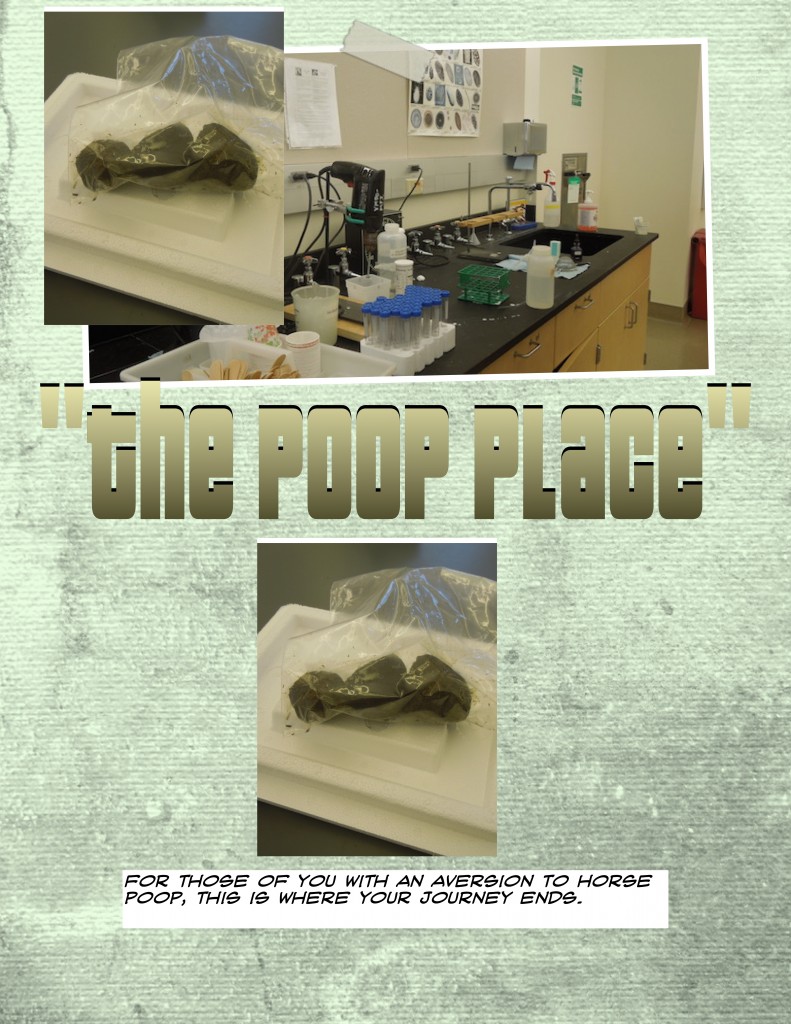 For the sort of worms I thought I would find, there are 3 techniques that I wanted to try.  The passive float, the centrifuged float, and the McMasters.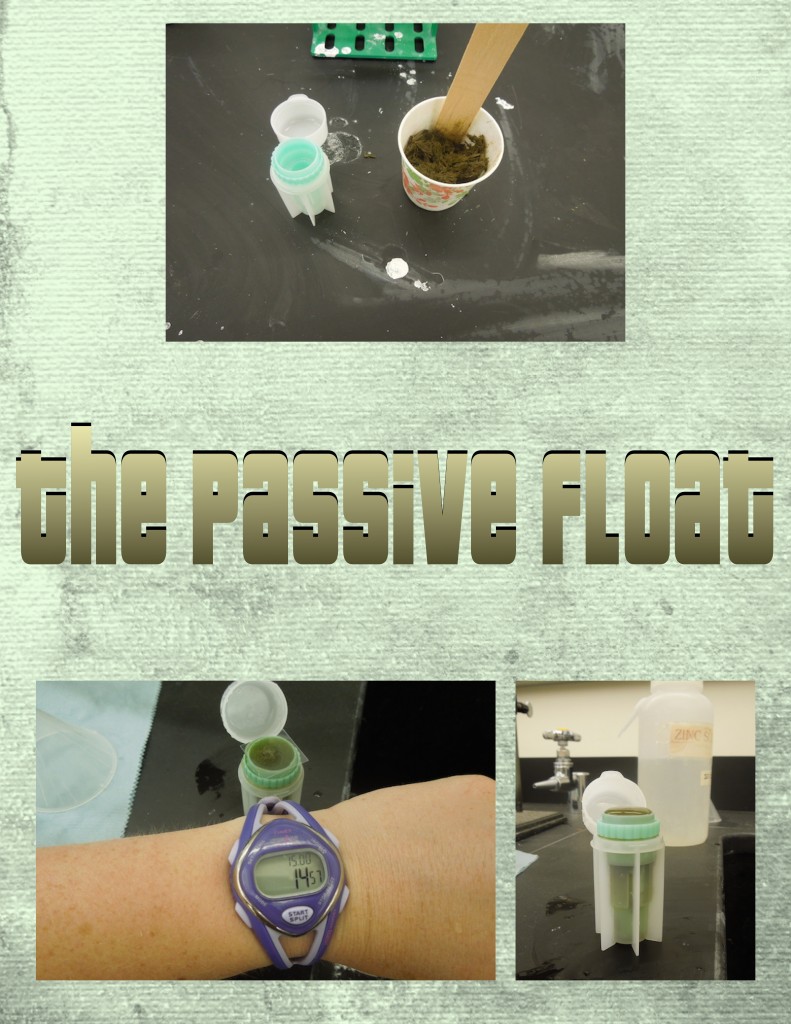 The passive float is relatively simple, the least labor intensive, the cheapest in terms of equipment investment….and the least sensitive.  The centrifuged technique is very similar but takes the extra step of spinning the sample down, which helps push the eggs to the top of the solution, instead of just hoping they passively float up to be captured by the waiting coverslip.
Having the time AND supplies available to do both, I decided to do both techniques and compare the results.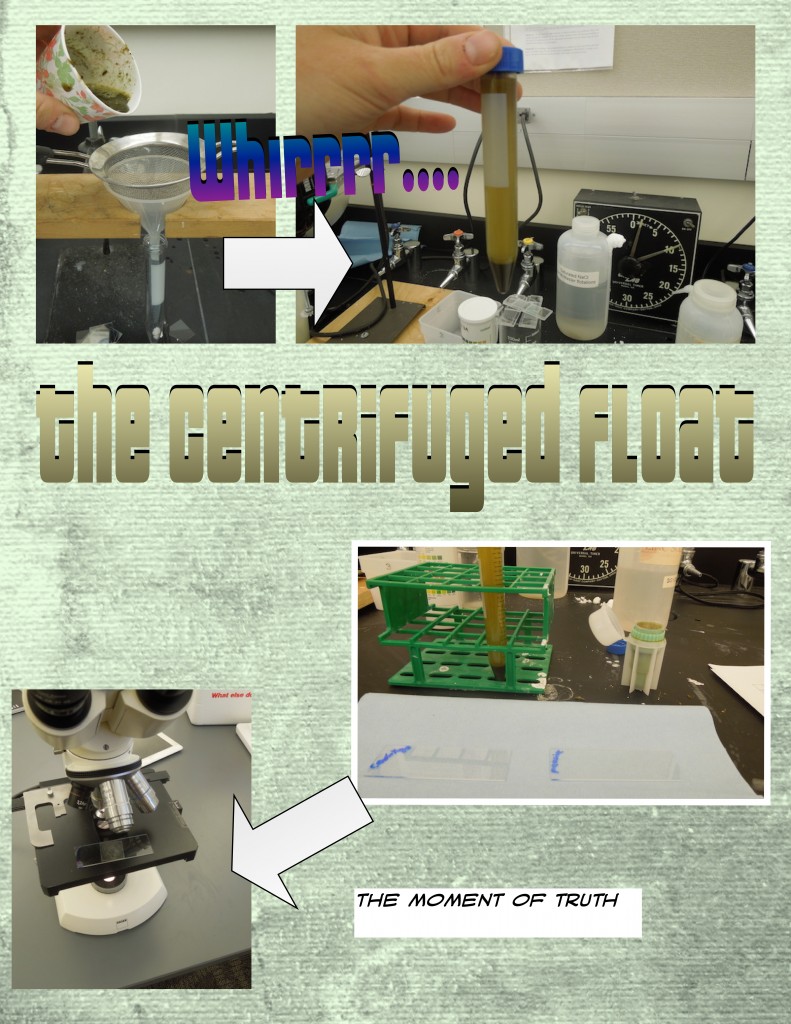 And…..the results are in.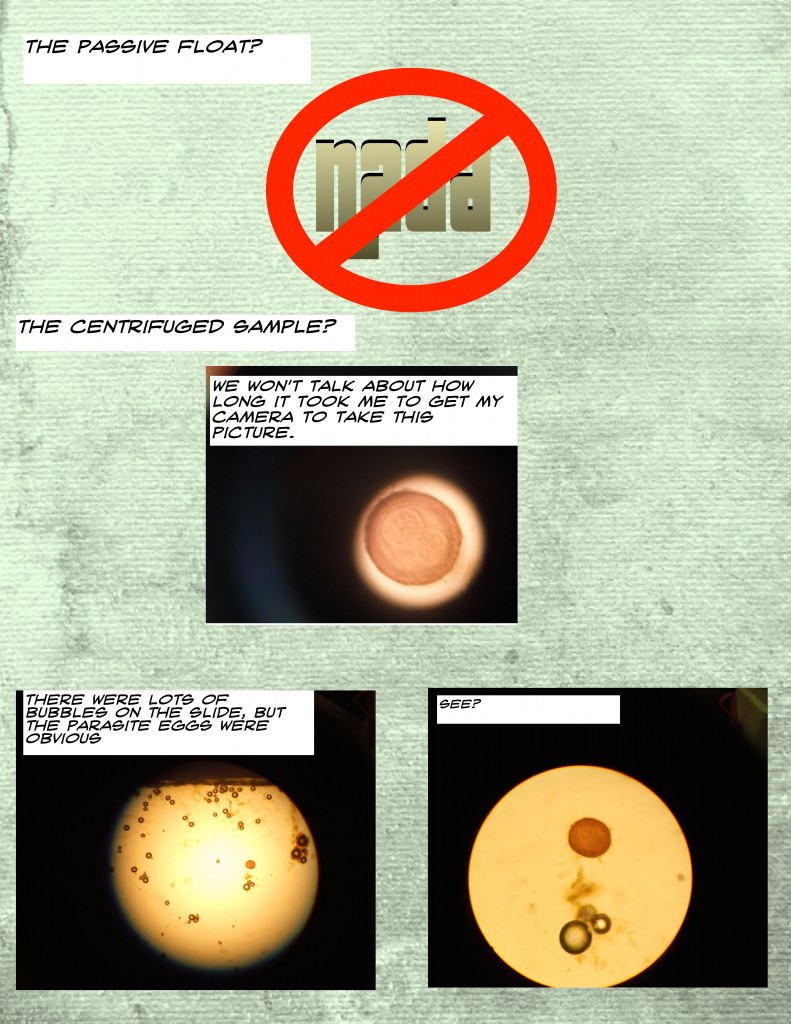 True to what I had been taught in school, the centrifuged sample was a much more sensitive test.
Now that I knew there were eggs there is was time to do a test that would allow me to determine how many eggs per gram of feces there is.
The McMasters lower detection limit is about 50 eggs/gram.  The first time I ran the test I got a (calculated) result of 50 eggs/gram.  I ran it a second time just to double check my results and didn't find anything.  The worms are there as evidenced by the screening tests (the "floats) – but they are there in very low levels.
Both screening for eggs and counting the eggs is very important. Just because you see eggs on a screening test doesn't necessarily mean you should worm and vice versa. A McMasters can help fill the "knowledge gap" and help guide the decision of whether to worm or not.
What can I say? The life of a vet student is good. Interesting, fulfilling, and FUN.