Why didn't I go to bed 2 hours ago?

I am way more exhausted than I wanted to be 48 hours before my first attempt at a 50k, but I'm going to make this short and sweet and get to bed.
My bags are packed and the lighting was too bad for a picture, but I am sure you needed to share in the excitement of having BOTH bags packed that I drew you this.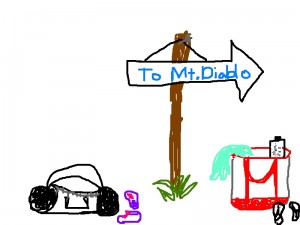 One for the finish (shower stuff!) and another sweat bag that they will transport from the start to the finish for me so I can wear warm cheap clothes over scanty running outfit at 5am and perhaps have a chance of seeing those clothes again.
There was a million things to do today, but got the important stuff done – reserved a hotel near the race so that I don't have to start Saturday at 2am and then run 31 miles, personalized my year book that the historians of my class of 2015 put together commemorating 3 non-clinical years of vet school (wasted my entire lunch hour getting it just right), and fed at my barn – with extra scratches and mashes for 2 particular arab ponies.

Lastly, I submitted the moster project I've been working on – my personal development plan.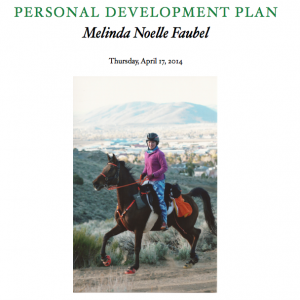 Now, the "personal development plan" was a useful exercise.
Especially after renaming it (was somehow assigned as a "personal business plan" which made no sense) and making a few…err…"adjustments". Such as the fact that picture on the cover is NOT a professional headshot as requested.
Because I'm really bad at playing reindeer games. Two and half years seems to be my limit.
If I'm going to spend a SIGNIFICANT amount of time creating a document for a pass fail class that has nothing to do with money, funding, or actual job opportunities, then for goodness sakes I may as well make it useful.
It's a calculated risk of course, having been given a template,  but I've met the intent of the assignment which according to the professor was to compile a document "useful to us". And if nothing else my choices have validated my SWOT analysis included – independent and self motivated feature prominently.