Maybe it really is cursed

This morning I almost blew up my car.
I don't have a very good track record when it comes to mid 1990's Corolla's and major running events.
For example, there was my very *first* marathon.  And an unfortunate incident the day before, involving the sky blue corolla.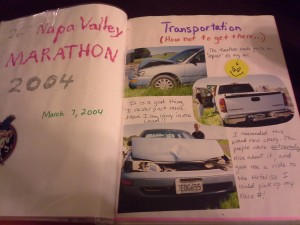 Now, 10 years later, somehow not learning my lesson, I own ANOTHER mid 1990's corolla named "Earl Grey", and I've somehow come to the conclusion that an ultramarathon might be "fun".
And in fact I have my *first* one scheduled for *tomorrow*.
Obviously the best solution to preventing anything untoward happening today was to park the car in the garage, and under no circumstances even enter the garage, lest the curse become activated.
If you are drawing a blank of why Earl Grey *may* be infected with the curse of the blue Corolla….refer to this post here.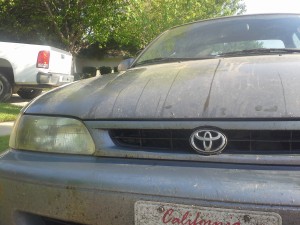 Yes that is the allegedly cursed object, and yes that is streaks of motor fluid all over my hood and my headlamp – after wiping most of it off.
Last night, I realized I was at the 5,000 mile mark for an oil change, and that it was not going to get done before I drove to Walnut Creek. Matt reminded me that the car as a tendency to burn oil if I go over 5,000 miles and I needed to add a quart.
Adding a quart of oil is *not* why there is oil all over the front of my car.
I felt so proud of myself, acting all responsible-like and down-to-earth popping my hood and adding the 1/2 quart I had in my trunk, in view of everyone on my street.  That's right potential onlookers – I may look like a little white girl that owns too much REI gear but I totally have practical skills.
Oil was a still a little low for my liking, so I made a note to myself to stop by the store to pick up another quart before leaving for walnut creek.
That brings us to this morning.  Drove to barn and fed ponies.  Sat in my car debating whether I should tempt fate and drive to Davis on my very-low-I-will-probably-make-it-tank….or drive back into town and get gas.  Still had left over responsible adult-like feeling  from last night, so I drove back into town (thank god, or I would be writing this post in the middle of nowhere on HW 113 probably still waiting for a tow truck) and stopped at a gas station on the edge of town, about a mile further from my house than where I usually get gas – but where I was pretty sure they sold my type of oil.
Did the fueling thing, the oil buying thing…..and started to do the hood-popping thing when I realized the entire front of my car was COVERED in motor oil.
What the f***.
I think the real panic set in when I got the hood popped and realized that motor oil was completely covering my entire engine compartment (and my grill, and one of my headlights), and there was a giant black hole where the oil cap should have been.
Apparently, taking so much pride in my practical skillz I had neglected to put the cap back on.  Remember how tired I was? Stressed? Lack of sleep? Yep.  Apparently made me into a rather large dingbat that wasn't even capable of topping off engine oil.
I pulled the dip stick out and there still a tiny bit of oil on the tip of the dipstick.
This, according to the later phone conversation I had with the boyfriend as I tried to figure out very important things meant that I had *probably* not ruined the car.  Although I wasn't very convinced.  But I tried to focus on the very important things and not that I had maybe/most likely/probably/undoubtedly ruined my commuter car the Friday before an ultramarathon, at the beginning of my clinical year.
Let's review very important things
1. I had class at 9am.  This was further down the list of very important things
2. I had a final exam at 1pm. This was further up on the list of very important things
3. I had to get my car home, and either fix immediately, or drive my truck.
4. I have a hotel room tonight in Walnut Creek and an ultramarathon to run tomorrow morning.  This was especially high on *my* list of very important things, and quite low on *my boyfriend's* list of "very important things". From a cost standpoint I wanted to drive my car if I could, and from a this-is-a-very-important-event standpoint, I wanted to drive something that wouldn't strand me on the way to or from the race. I quickly realized early in the conversation with Matt about very important things that needed to happen, that #4 was not a "shared value".
After being warned NOT to start the engine, and being reminded that I have to actually put my foot on the break to shift the car from Parking to Neutral (yes, that took yet another phone call to the very annoyed boyfriend) I very self sufficiently rolled my car away from the pump and towards a parking spot.
The plan was to walk 3 miles to my house, pick up my truck keys and my truck, go to an auto parts store, buy an oil cap, fill car with oil, and then somehow magically get both vehicles back to my house, probably by doing more walking.
It was a good plan.
Except if you consider that it would be rather nice to get to school at some point, and I hadn't really planned on doing that much mileage on my feet the day before an ultra.
Alternate plans immediately presented themselves.
Plans that were probably not boyfriend-approved, but were infinitely better than the original plan.
The first plan was to accept a ride from a perfect stranger to my house.
Which was immediately superseded by a second more-improved plan in the form of an immaculately dressed man in immaculately white traditional East Indian garb.
I must have looked skeptical when he clapped my "ride home" on the shoulder (I live in a predominantly East Indian neighborhood and they all seem to know each other) and told me he could make a temporary oil cap that would get me home.
WHHHHAAAAAA??????
My response was something along the lines of "my boyfriend specifically said not to start the car without a cap".
His response was to hold up fingers with short clipped nails, stained with oil and say "See!  I'm a mechanic".
OK then!  Let's do this!
I put a quart of oil in, which according to the dipstick was plenty (half way up the hashed lines!), and the guy (forever known as  "the nicest guy ever"), while the motor oil coating the inside of my hood dripped down onto his perfectly white collar, made a cap made of plastic grocery bags and a rubber band and proclaimed me good to go.
For the entire ordeal I was amazingly business like and adult-like, but I came really close to tears in those 2 miles, listening to my car limp home making awful noises.  Having the car blow up as I start my clinical year would NOT be good timing, but aside from that, I couldn't believe that I was going to lose a completely AWESOME car because of a mistake that was totally preventable if I wasn't so absent minded.
As I turned onto my street….I saw my oil cap in the road in front of my house.
I shut off the engine, checked the oil one more time and put the cap on. And then I stared at the engine. On those 2 miles home I had decided to take the truck, but now I wondered whether the noise would disappear now that I had the cap…….
Couldn't hurt to try. My options were start it now or start it later. And if I didn't restart now I would spend my entire weekend wondering.
I restarted it. The awful noise was gone.  I let it run for 10 min or so, revved it a couple of times, and then drove to Davis without any problems or weird noises.
I am cautiously optimistic that I have been allowed to learn a very important lesson without any lasting consequences: don't drive a Corolla a day before a major running race that is a longer distance than I've ever done before.
And perhaps, I won't transfer that hood ornament to my next corolla (or the floor mats, or the gas cap…). Just in case.