Resolution run 2014

I did my 10 mile trail race yesterday in 1:36ish.  My watch said 1:35ish, which was clicked as I went over the start line near the back of the pack, and the clock as I ran into the finish was somewhere in the neighborhood of 1 hour, 36 min and some odd seconds.
The exact time to the second isn't as important as the part where I get to brag this is a PR (personal record) AND it earned me third place in my age division (19-29). I don't know how many people in my division total because official results haven't gone up on the website yet, but there were hundreds in the race across 3 distances.  My best guess is 500-600 people.
Even considering that yesterday's course was probably a little short (at least by the GPS track that is posted on their website), there were HILLS. Lots and lots of HILLS. And of course rocks and sneaky little roots.
And yet…..it was an easier PR than that road 10 mile, very flat race I did in October.  That was also a PR time for me (1:44ish) and at the end of that run I was very sore, very achy, and I most definitely did the old women hobble thing for 2 days.
I can't explain it.  I don't have a site or a source for you to go and read. But surely it can't be a coincidence. I run exactly the same distance on a trail with hills as I do on the road, and I'm faster on the trail by at least 1 min per mile. AND I'm less sore. AND my joints don't hurt.
But I suppose you want the story.
As with any good race, the race started with a good taper.
4 days before the race I put myself into massive sleep debt by driving 5 hours to visit family on 3 hours of sleep. I never did get an 8 hour night, culminating into the 5 hour drive HOME the night before the race, where I got home at 2am.  The drive actually started around 7pm, but because of headaches, nausea and complete exhaustion the drive was punctuated with a blessed nap in a park and ride half way home.  45 min of pure bliss.
The next step is to show up to the race prepared.  I had PRE registered – not so early as to get a nice tech shirt, but early enough to guarantee a vanity sized cotton small Tee.  Which was a GOOD THING when despite my best wishes I wasn't going to show up any earlier than 20 min pre race.
Cue frantic texting to Funder to pick up my race bib and chip and have it waiting for me.
Now, the chip was for pure vanity.  You had the option to race with a chip or without – same cost but without the chip your time wouldn't be posted on the website for the world to see.  The nice thing to do for race management if you aren't planning on winning is to go sans chip – less data for them to process and post on race day.
But even though there couldn't be a slower more unlikely ten miler runner I WANTED my time. So, without any added benefit of going sans-chip (Buffalo Run let's non competitive runners start an hour early) I WANTED MY CHIP.
I had a brief moment of panic as I parked 1/2 a mile a way and at 12:30p all these people with bibs were running TOWARDS me as I walked towards the start and Funder. I finally asked one of them to verify the race start was at 1pm….and it turns out all these people were "warming up".  Whaaaattt?????  Isn't that what the first couple miles are for? And these weren't folks like looked like the elite – just normal folks that are going to finish mid or back pack like me. However, if they want to add miles to the 6 or 10 miles they are going to run…more power to 'em!
And then….it was 20 min 'til race time and I was READY.  Porta-potty line was reasonable, Funder had a truck for me to stash my car key (I could imagine it falling off a cliff as I dug one of my elyte capsules out of my pack….), my ride and tie partner Michele and a friend found me.  I threatened my waist pack with the fate of being returned to REI if it didn't perform exceptionally for the run.  I joked with my friends that the first time I had done this race YEARS ago I had actually taken an age group award (first!) because I was the *only* person that was 18 years old or younger there.  As we looked around at the sproing-y musclely oh-so-very-prepared runners around us, we all broke into hysterical laughter at the thought of THAT happening ever again.
And then it was time!!!!!  RACE START.
I started at the back like all good fat slow recreational slighly crazy people should do.
There were a LOT of people there.  A LOT. And folks, there should be.  It's a well marked, well coordinated run that's a lot of fun.  It's been a lot of fun to see it grow over the years.  It's pretty much a no frills race (water at the aid stations, simple fruit and bagels and a bowl of soup at the finish, medals for the age group placings), but it's well worth (in my opinion) the $25 or $35 dollars I paid for my entry.
I saw a couple people with dogs running – no one in the ten miler.  I had debated whether or not to take Tess, but had decided against it. She had been locked in a car with me for days and days and was a little wild and although she would have LOVED it, no dog water for 10 miles and the chance she would pull on me – even if slightly – over ten miles and cause me to have a side cramp or something made it not worth it.
The ten milers broke off for the other 2 courses early on.  It was pretty obvious who was going off to run the 10 miler – compression socks unite!!!!!!!
These early miles were down hill on pavement and I took advantage of gravity while I could and got off on the shoulder where possible. I passed one girl who had her ipod or whatever playing AUDIBLY so that the whole world could listen to HER MUSIC and I vowed I would do whatever it took to leave her in the dust and not let her catch up.
I had brought my ipod with tunes on it just in case I felt like listening.  I wear crappy ear buds that stay in but aren't noise cancelling so I can actually still carry on conversations with them – it just hides the soundtrack that is my own labored breathing which is *not* motivating.
I lasted without the ipod until we headed up cardiac bypass hill.  I took my first walk break and dug out the ipod.
My plan was to run so that it felt like "green/yellow" for the first hour.  Then I was going to allow myself to go "yellow/orange".
I saw the 2 mile marker and I hit the split button on my watch.  16 min.  Not bad.  That first 2 miles was mostly downhill and I was going at a pretty good clip – but it was a steep enough downhill with loose gravel you couldn't really let yourself go. 8 min/mile was perfectly reasonable. I knew went down had to go up…..
When the uphills came I found myself able to run them.  Now, this was a new phenomenon.  At my last trail race, That Damn Hill/Race 1/2 marathon, I still couldn't strongly run up hills.  But now, I found I could maintain pace up the smaller hills, and could easily do a walk/jog up the bigger ones. Mmmmmm……This was either going to be really good, OR this was going to catch up to me very very badly sooner than I wanted it too.
That's the interesting thing in running the longer distances.  You have the fitness to do all sorts of neat/naughty things near the beginning…but it is at an unknown cost.
Well. I had decided that as long as the effort was green/yellow at this stage in the race I could do it….so off I went.
When the hill was really steep and I was walk/running I did the indian run game. I would jump in behind a line of walkers and walk…and then I would run to the front of the group and walk.  Run up to the next line of people and walk…..and then run to the front of THAT line and walk.  I had done some group training like this once and I had been amazed how much faster I had done that run than usual and sure enough, it worked during the race again.
It was warm, by far the warmest Resolution run I've *ever* done.  Early on when I wanted to take some walk breaks up a long steady hill, I employed my "walk in the shade run in the sun" stategy which I'm sure has *never* been used in the month of January…..
The 2 downhill miles in 16 min didn't impress me. The 5 mixed-up-and-downhill miles in 42 min did.
Starting around mile 6 or 7 we started doing lollipop loops with the rest of the distances (5K and 10K) since there were runners coming back at me, I knew there was a good chance I would see Funder. Folks, Funder looks like a RUNNER now so instead of looking for that person that would clearly rather be on horseback, I had to keep reminding myself that she was wearing a purple tank top.
I passed her while I was going out and the turn around wasn't *that* far away.  I knew I would probably pass her since she was less than a mile ahead of me.  SWEET – I would get to see her TWICE (funny what makes you happy during insane events).  And she probably wouldn't mind me passing because that meant I could get pics of her and scope out the post-race goodies.
Sure enough, while she was getting directions for the aid station guy at approximately 8.5 miles ("the trail really is up that hill?" – smart girl verifying it BEFORE going UP the hill……) I passed her screaming and hollering.  1 1/2 miles to go and I had a lot of gas in the tank.  I gave myself permission to crank it up to orange/red.
Which is how I found myself bounding up a particularly steep single track in front of Funder and I wondered whether perhaps I had *too* much gas in the tank.
Nope.  I did not.  About 3/4 mile from the finish (run finished just past the horse trough finish up on the top of ANOTHER hill for those of your familiar with Tevis) I lost the ability to run up any more hills. Just. Not. Going. To. Happen.
However, unlike That Damn Half I retained my ability to run flats and down hills and I didn't feel the need to track down fellow runners and plead and justify the amount of distance left. There was a spry old man in front of me (the old Y chromosome people are *always* the ones to watch up for in these sorts of things) and I just sort of tried to keep him in sight.  He was still marching up the uphills faster, but I was faster on the downs and flats so it worked out.  He was probably 20-25 yards in front of me and was acting as an *ideal* life line dragging me along.
From previous years I *knew* the finish was brutal. Uphill. No glorious all out runs to the finish. I *walked* up to the horse trough.  I internally commented on the fact if this was Tevis I would have been *done*.  Instead I commented to an onlooker that I was pretty sure this was going to be a 10 mile PR time even if I had to crawl to the finish from here.
But you see, I had passed some people on the trail that looked to be in my age group not *too* far back and I couldn't be sure they weren't wearing chips.
And so I ran/shuffled my way through the equestrian parking lot,  to road, and then to finish, all of which were unmercifully uphill and in the sun AND in full view on spectators.
DONE.
Funder appeared not too much longer at the water trough and I remembered to grab her phone so that I could get some pictures. Of course the sun and shadows were all wrong but I got a good one as they snipped the chip off her foot.
I wandered over to the results.  Mine weren't posted yet…..but the last girl on the page that was posted was in my age group.  And she was second……and she wasn't *that* far ahead of me.  There was a good chance I had come in THIRD.
I joked with Funder.  We both agreed it was highly unlikely.  After all, I am slow and short and have ugly looking back of the knees.
But we did keep an ear out for the announcer to announce the results…..and THEY CALLED MY NAME!!!!!
There was some whooping and hollering.  And a picture where I'm smiling so hard my nose is wrinkled, which doesn't happen much.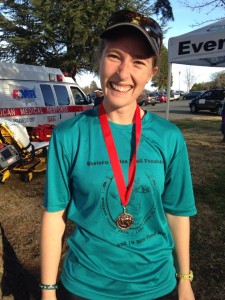 Until the official results are posted, I'm choosing to believe there were more than 3 people in the ten miler that were between the ages of 19 and 29…..
At In-and-Out post race with Funder, I could feel the sleep debt and the effort of running ten miles knocking on the door and demanding their due.  I knew I had just enough time drive home for 1+ hours and then collapse on the couch in stupor.
Of course, I spent the evening not sleeping while despretely wishing I could…..I was in the realm where I was *too tired* to sleep.
Finally, I got to sleep and slept until TEN AM this morning.  Aside from just a little muscle soreness here and there if I tense everything just right I feel FINE. I'll be a little more achy tomorrow (2nd day DOMS) but everything about my soreness is mild/minor/symmetrical.  I'm still in awe.  The medal is hanging by a suction cup to my bathroom mirror because the rule is that I'm only allowed to wear it until bedtime the day I get it.
Looking forward to repeating the run in May (that's the point of this resolution race – they repeat the courses in May and you see whether you can beat your time!). I'm pretty sure I can break 1 1/2 hours!!!!!!!