Of Goals, Flexibility, and the future

At the beginning of every month we discuss what happened in the previous month – miles ran, hours ridden, events finished. I call these "IRL" posts and they are designed to give people who stumble across this post a real time look at actual amount of conditioning I do in order to ride (or run!) fifty miles or more.
I started the IRL posts mostly because I got tired of trying to convince people you don't need to ride or run a ton of miles in order to do endurance sports. You do have time to work full time, spend time with your family, and have other hobbies besides sitting on the back of your horse. Low volume training won't work for everyone, but for some people out there like me it *will*. But, this fact gets lost because of the sheer number of programs toting the necessity of sustained high volume work.
There was another selfish reason I switched to what I did last month instead of putting up goal posts of what I plan to do.
Due to some life changes I went from being able to plan rides and runs 1-2 years in advance, to being uncertain whether I could do a certain run or ride that was a mere 1 week away.
If I'm being honest, I really love this new flexibility that this current life chapter has brought.  Not only I feel totally free to make the best decision for me or my horse at that moment, I also feel like I've been able to stop being such an uptight fusspot about my schedule and learn how to be flexible and spontaneous (not strengths of mine….).
I like this new person that decides the day before a race that it would be AWESOME to wake up at 3am and go for a run that may or may not have a tshirt available in my size.  And who doesn't think an extra $20 bucks is too big of a price to pay to have that flexibility.
Now, I'm staring at yet another new life chapter that will begin in a mere 9 months.  I graduate.
Graduating does not mean I go back to my previous not-a-student life.
In the next not-a-student life I'll be a married women, with a lot more obligations (such as a huge student loan, and some other changes I'm not ready to share here on the blog).
It will be wonderful and different and hard – just like the change from well paid 20's something to vet student was also wonderful and different and hard.
I had 5 months to prepare for the chapter of "vet student".  Now I have nine months to close this chapter and look forward to a new one.
Seeing the end (and knowing what post graduation likely has in store for me) has clarified some of my more immediate goals.
————————————————————————————————————
Camp Far West 50 mile endurance ride Aug 31
I might do the Sunday 50 miler on Farley 8/31 at Camp Far West. We shall see. She has bee an absolute and total b*tch for me for every ride in the last month, and my gut feeling is that I have a very bored fit mare. I feel like getting out there and doing some miles would be beneficial for both me and her and it's a ride that's only 30 min away from me. Cons? It's the weekend after I'm getting married and the weekend before I do a marathon…..and my soon-to-be husband's patience may wear thin for how much I'm gone from home (factoring in that I spend a lot of time away from home during the week because of overnight on calls in Davis).
Here's a previous ride report from when I did the LD there.
Mount Diablo trail marathon Sep 7
I'm running this marathon on September 7th.
I want to run what I originally thought would be my first fifty mile run on Oct 11, and based on how I felt at SF50 last weekend, I think it would be ideal to have a marathon or 50k race 3-4 weeks prior. Unfortunately I have a medicine (ie DEMANDING) rotation mid September, so the only weekend I have available to do a race is Sep 6/7. I'm on a low key rotation that week, but one I know has a 1/2 day of Saturday work, so only the 7th (Sunday) works. I don't have a lot of options for a local race that day…..and I wasn't keen to do Diablo again (different course but similar location) until I realized that by doing another 1-2 marathons this year I would be eligible for a Blazer award!
The blazer award is through Coastal Trail Runs and is based on points earned in your age group divisions in their races. You need at least 2 races to have your name put into the Blazer standings, and as of right now there is just ONE person in my gender/age group for the marathon distance.  I already have one marathon with age group points (2nd place at the Canyon Meadows marathon), so just need at least one more marathon to qualify. There is never very many people in my age group, so I am almost guaranteed a top 10 AG place, and thus points if I go to one of their marathons.  Diablo would count towards this. YES!!!!!!  The competition for a blazer award gets much steeper when I turn 30 so this is the year to do it.
By doing this race it means I *can't* do the buffalo stampede, which is a 10 mile road race I've run more times than any other race. Which makes me sorta sad….but a trail marathon has priority.

Pioneer spirit 50 mile ultra Oct 11
Then, Oct 11 run another 50 miler. I had a lot of fun last weekend and I might not get a chance to do another one for a while.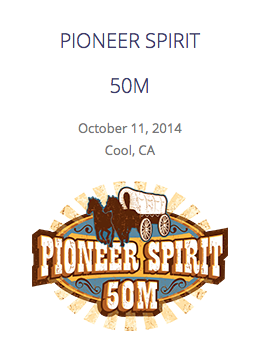 I have a good shot at a sub 12 hour finish, so that's my goal.
This is yet another race that conflicts with something else I want to do – the Cool Ride and Tie. So if for some reason I can't do the 50mi, I'll keep the RnT in mind.
Random Nov/Dec Marathon
Nov 1st, 8th, 16th and Dec 6th there are marathons put on by Coastal Trail Runs. I'll do which ever ones work out schedule-wise and hopefully the Canyon Meadows+Diablo+one of these is enough to cinch a Blazer award!

Gold Rush Shuffle 50 mile endurance ride Nov 28-30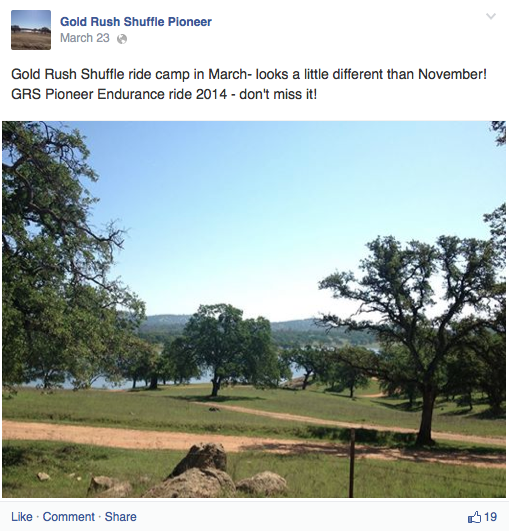 Maybe do Gold Rush Shuffle November 28-30 – do a 50 miler on Farley one of these days. It's the same location as Camp Far West, so I will probably only do one of the two rides. If I don't do the one in August I'll do the November ride or vice versa. This year the entire ride falls within the 2014 season (2015 season starts Dec 1) so I'm not particularly motivated to do Gold Rush over Camp Far West. And Farley and I might kill each other if we wait to do a ride at the end of November.
Our last Gold Rush Shuffle didn't go so well.
Resolution Run 10 mile Auburn Jan 1
I'm slated to work/be on call around New Years, so no idea if this would be a reality, but would love to run the 10 mile race here and see if I could beat my time from 2014!  I had a GREAT race there this year, and it would be fun to see how far I've come this year.
Fourmidable 100k Feb 21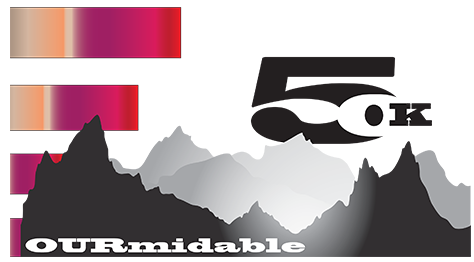 Remember the 35k I did?  Next year they are dropping the 35k distance, and adding a 100k in addition to the 50k instead. I would love to try my hand at a longer-than-50mi distance and I'm not sure I'm ready for a 100. Of course, the fourmidable course is a TOUGH course (that 35k remains the toughest race I've done all year even though it was one of the shortest) so I have no idea whether it would be in the realm of possibilities for me to tough it out, and my on call status for that day is a bit uncertain.
The "four hills" (for those of you familiar with the area) are: Auburn overlook, Cardiac, K2, Old Auburn Dam site.
If I did the 100k I would have to do all of those TWICE. Ugh. Not thrilled at the idea at ALL. Surely there has to be another 100k? *look of despair*.
Rides of March (March 21)
This would be my 2015 ride on Farley towards our decade team award. The ones later in the year are dicey for me to plan on being able to go, and waiting until Nov 2015 to do our 2015 ride seems foolish since then I would only have one shot at completing a 2015 ride and if it doesn't happen….then I'm a year behind on our 10 years. I have a secondary night on call shift that weekend that I would HAVE to get changed in order to go to this ride.
And then…..on May 21, 2015 I graduate and become Dr. Mel!
That's how I envision it going since theoretically I'll be studying/passing boards and performing adequately at rotations between all this fun… Let's see what happens!!!