Fourmidable Race report

In perhaps the last YOLO moment of my life….I ran a 35K (approximately 20-21 miles) this morning after completing a 24 hour taper that included copious amounts of gin and ice cream.
It was early on in the gin consumption that I realized the only difference between the 13.1 half marathon distances and the 35K was about 8 miles.  A bit more pain with the potential of being a better story? YES!
I should have realized was absolutely crazy since Funder – a real life human being who is riding 100 miles on horseback tonight as I type this – was advising me it was crazy….
In fact last night she gave me permission to back out of the whole "run a race thing" this morning and after I assured her that the only decision I was on the fence about was which distance – she suggested the half as the less crazy choice.
I went to bed thinking that a clear head at 4am as I drove to the event would help me make the decision.  Alcohol makes you stupid right? Any thoughts that I was capable of running for 4 1/2 hours HAD to be the alcohol.
Except, when I woke up at 4am I still really wanted to do the 35K, while absolutely the logical choice was the half. Here's what was running through my mind.
– Funder – the insane person also up at 4:30am who was going to ride a 100, thought the 35K was crazy.
– I know that you can't will yourself through some sorts of physical endeavors. Sometimes the body fails. I remember my first marathon. In fact, today I wore my lucky running shorts – which were the first running shorts I ever purchased, which I had wore at that marathon.  Napa was before digital cameras and so long ago that I had a different email address so I have no pictures to show you, but the biggest visual in my mind was my finish line pro pic I bought (that is in an album in a box so I can't show it to you 🙁 ).  An older women who I called my "marathon angel" named Mary and me are holding hands as we staggered and grimaced those last couple of steps.  It was a death march and we had clung to each other those last couple of miles, urging each other on so we could pass under the finish line mere minutes before cutoff. My third marathon I had gotten distracted in the last 6 weeks of training and was undertrained. I spent the last 10 miles of the race trying to convince spectators how horrible I felt. Then there was Tevis last year. Horrible pain that broke me late in the ride. The problem is with some of these experiences, is while I think they make you stronger mentally and give you depth…they can also scar.  I didn't run for 4 months after napa.  Years after that 3rd marathon attempt. I still have sort of a sick feeling in my stomach when I think about riding another 100. Instead of pure excitement, it's tempered by a lot of complicated feelings about how my last 100 went. The point of all this is that I'm not so young and niave to believe that everything always works out, or by wanting something bad enough you can make it happen.
– My last bad-ass 1/2 trail marathon that covered only ONE of the very significant hills that is included in this run (2 significant hills on the 1/2, 3 on the 35K) ended in me almost crashing at the end. Very crampy and sore near the end, I managed to shuffle forward past the finish line and grab a snack or two….. and quickly realized that I had a very very very limited time to get in my car and GET HOME before I was so fatigued and muscle crampy I wouldn't be able to drive safely.
– HOWEVER, since that 1/2 marathon I had run a 10 miler at home that was incredibly easy, a 13 miler at home, AND a 10 mile trail race  on similar terrain that had gone incredibly well. I felt like I was ready to move up time/distance this weekend – but the full 35K would be stretch.
– The 35K would be such a better STORY.  And life is short and those times you can be totally spontaneous and decide to do such a event the next day with no prior notice is even shorter.
– The 35K starts 1/2 hour earlier than the shorter distances.  I am ALWAYS in favor of starting early!
– My right ball of my foot was a bit bruised from the interval run I did earlier in the week. Perhaps that was a sign that I needed to step back and do the shorter distance? I decided that if my foot was sore when I got out of the car I would do the half.
I limped up to the registration table at 6am still totally unsure which distance. (I probably am capable of making smart decisions.  Just not when it comes to things like endurance distance events!!!!  The lure of the trail is strong…)
I explain the woes of my indecision – I want a 3 or 3/12 hour run. The half is a bit short for me. The race coordinator says "Well……". Ride volunteer is like "you could hike it!" And I'm like "I have until 4pm right? I could totally hike it!". Race coordinator is all "you should do totally do the 35K!".  So much for my self control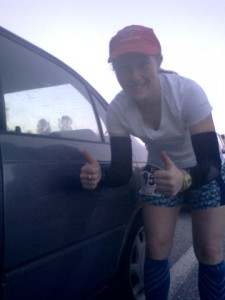 Pre run optimism
In retrospect, looking closely at the elevation and trail map probably would have had me screaming in tear and begging for the 1/2 marathon paperwork.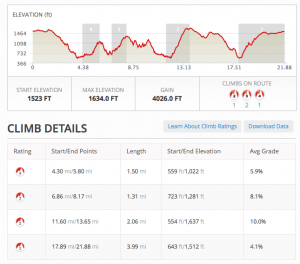 To view route URL: http://www.mapmyrun.com/routes/view/360332045
The race coordinator told me to check back after the race to see if there was a shirt left over for me (there was!!!!!  Women's XS….which shows off my rather…ummmm…"ample" top section if you know what I mean. But hey – beggers procrastinators can't be choosers!!!!!) and I nervously went back to my car to check out my swag.
Trail races totally have the best swag. This race had EARBUDS in my race packet.  Full on ear buds. I was stoked. Along with a new fizz tablet form of my favorite electrolyte capsule.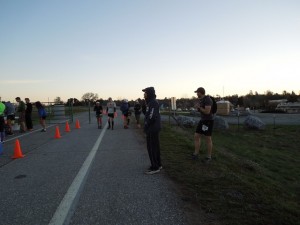 At 7:00 I was lined up with the other 35K and 50K racers.  I didn't feel totally out of place or look like I didn't belong, which gave me some comfort.
After the obligatory "I need to tell you about the trail, but if you don't already know the trail this isn't going to make sense and really you should just watch for ribbons" pre ride instructions, we counted down as a group and sped off. At a very sedate pace – befitting of a group of people doing way too many miles before lunch time.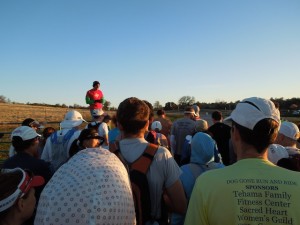 I cruised along for the first hour going down to no hands bridge.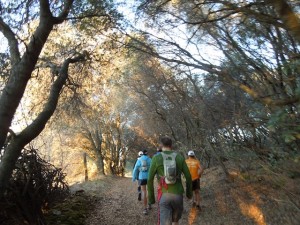 Down down downity down down.
More down.
More and more down.
I took some pictures and then realized that pictures are boring without horse ears. So in tribute to my steeds and a nod to their missed presence on the trail, I substituted my fingers as make-do horse ears.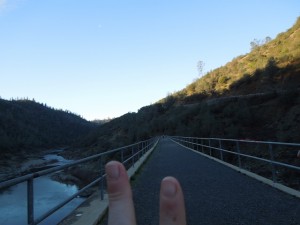 Today was going to be stretch for me and I really focused on relaxing on the trail and keeping all tension out of my body.  I focused on light quick strides and embracing the trail instead of fighting it. I'm still new to serious trail running and especially in a race I have a tendancy to attack and be aggressive on the trail. I think that pays off in the shorter races – but over the longer distances I tried to adapt a slightly different strategy. I ran carefully, not taking risks like going too fast down hill and when in doubt I walked over especially technical footing or up inclines I would have normally ran up if it was a shorter distance.  As a result I didn't make as good a time on the downhills as I usually do during a race, but I figured it would pay off in terms of impact and muscle fatigue (and I was right!) over the long miles.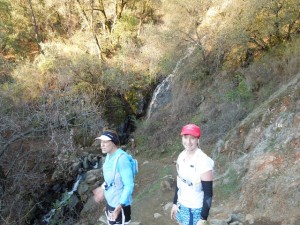 I was running easily along the familiar western states trail when all of sudden….BAM! there were ribbons for a turn off the main jeep road.
It was startling.  I was almost past the ribbon turn off to a single track before I saw them and jerked to the left.
The person pacing behind me told me she wouldn't have seen the turn if she hadn't seen me turn! I had been so close to missing it that I mentally gave myself a "gold star" for me catching it. It also put me firmly into the "endurance" mindset – where's the next ribbon and how long ago did I see the last ribbon? It was confusing because we did come back on mostly the wide jeep WST trail so it was marked with ribbon as well.
It was also a good reminder of the lesson I learned at day 1 of Wild West last season.
– If you are on the ground running, keep your head up and don't focus on the ground because you will miss ribbons
In fact, a bunch of people DIDN'T see the turn and passed it. We were headed to the Auburn Overlook and so we all ended up in the same spot and I don't think the mileage was much different – but they missed some VERY pretty sections of single track and tech footing, and being off course, even if the mileage is the same, would have made me sad.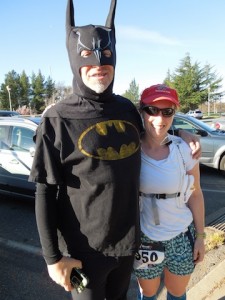 At the overlook the 50K people peeled off to do some extra mileage and I got to head back to No Hands. Again, I was moving easily along. I had actually contemplating during the race whether perhaps I should have just gone with the 50K? what was 15K (~9-10 miles) extra when I'm already doing 21?……but again watching the body types that were headed out for the 50K versus continuing on the 35K made it obvious I had entered the right distance :).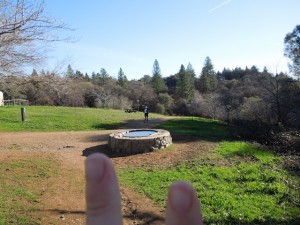 Once I left the overlook, I basically ran all by myself for the rest of the race. I had brought my ipod with podcasts (thank goodness!) and there were friendly aid stations to look forward too. But it was disconcerting. Later on when some of the 50K's starting passing me, I was pretty sure I was the last 35K runner. It wasn't until I was at the finish waiting around for the life flight helicopter to leave so the road would be clear (a motorcycle accident on HW49) that I watched some 35K's come in 40 min behind me, and tell me there was even more behind her.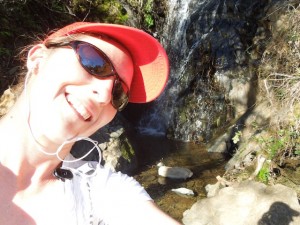 At some point between leaving no hands bridge for the overlook, and then returning to no hands bridge was one of the big hills. To tell you the truth, I didn't even notice it.  However…..I knew that Training Hill just past No hands bridge going back to Cool would be a different story.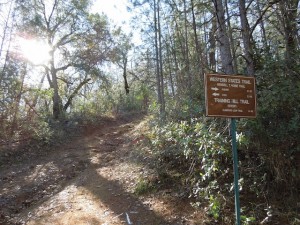 I don't like Training Hill. I have very very bad memories of Training hill from the very first endurance ride I did with my Standardbred. I broke my horse on that hill. I puked more times in a row trying to climb that hill on foot with her than I care to remember (I HATE throwing up). In fact, going up the hill – even though it's been YEARS since I've been up it, I can point to the tree that I sat at and cried. The bend of the trail that Minx's nose started to bleed. Each bush and rock that stopped to puke at. The rock I sat on as I totally gave up any hope of finishing. The point where I thought I was done climbing only to have a rude surprise.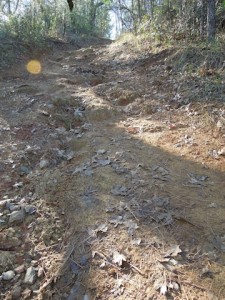 These pics don't do it's awfullness justice. 10% grade with rocky, crappy footing.
So, I avoid it.
But today, I had to climb it.
You know what?
It sucked just as bad as I remember.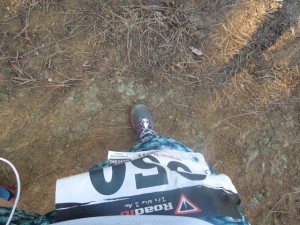 In fact, the only thing suckier than having to climb it at all, was having to climb it after running 13 miles.
It was steep. It was eroded. I had knarly sharp exposed rock. It went on FOREVER. And FOREVER.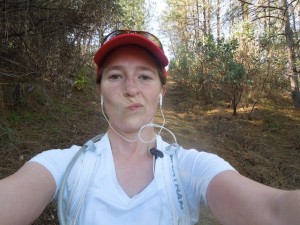 My legs BURNED. My cardio was working hard. I had to remind myself several times that I had been more out of breath an my legs hurt more on some backpacking trips I had been on.  I wasn't even near my physical capacity.  So yes, I could still keep moving forward and up even if old men with trekking poles were striding past me.
Climbing it today did NOT instill any sort of fond, positive vibes towards Training Hill.
But I also discovered after climbing it I was still capable of running.  So perhaps in a small way I have redeemed myself in that hill?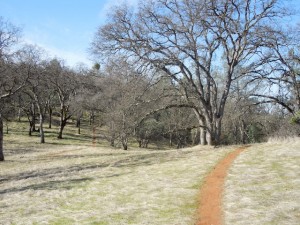 So, off I went conservatively jogging along.  All by myself. Sometimes that annoys me during a race – afterall if I wanted to run by myself in a little bubble I can DO THAT any time.  However, because of the circumstances surrounding the run and why I was doing the run – stress, school, surgeries, anger that 20MT didn't work out for me, tests, a low feeling of self worth – I felt nothing but contentment to run along on my own, listening to my podcasts and thinking delightfully superficial thoughts.
I knew I had one more long climb.
That Dam Hill. The same one that the 1/2 marathon I did in October is centered around. At the last minute the trail diverted away from the Dam Hill and I held (briefly) onto the hope that perhaps I had misunderstood the race description and map and I didn't have to do it after all???????
Ummmm……not so much.
The aid station at the top directed to my last loop – down the hill towards the Dam Hill.
I slowly jogged down down down. In October I had blasted down this portion of the course, but now, 3 1/2 hours into the race it wasn't worth the risk – my little conservative jog was my comfort level.
I considered the hill that lay in front of me as I moved on down the trail.
Was it better that I knew what was ahead? Would it be better if I had to repeat a hill I had already climbed earlier in the day? Or if this was unknown like the first 2 hills of the race (I count training hill as unknown, because before actually climbing it today I didn't know how much of my memory of it was reality and thought perhaps I had exaggerated it?).
Nope nope nope. I sorta like that Dam Hill. I did it in the RnT and I did it during a half marathon.  I'm familiar with it. I know I can do it. I know it's tricks and secrets. It didn't discourage me.
When I had briefly contemplated the 35K yesterday, I had run my predicted finish time based on a 12 min mile – which I felt was a reasonable middle figure number based on the hills. I didn't like the 4 hour number I got, which is why I felt like the half might be a better choice. When I actually toed the line at the start today, I  knew because of the length of the course, the size of the climbs, AND how I would have to be conservative it might be a bit longer.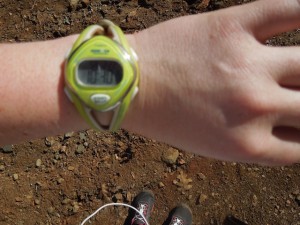 proof that I accomplished my long run goal.
I gave myself some rules.
I ideally would have done a 3 or 3 1/2 hour long run. At 3 1/2 hours into the race if I didn't want to run any more, I could quit and walk in – HOWEVER barring any injury pain etc, I should give it "best effort" until the 4 hour mark – but after 3 hours I was allowed to acknowledge how tired I was and quietly whine to myself. After 4 hours I would implement "trick time".
Noon would be close to the 5 hour mark (race started at 7:10) and I set noon was what I call my "trick time".  I'm going to see if I can explain it, but I'm not sure I'll be able to. It's the time that I preset prior to the race that I tell myself that I will absolutely be done with the race. Not just walking in. Not taking a break. But magically, at that time, the race is DONE. Like – aliens or something magical will happen and I will no longer have to be a participant in this.  i know it's completely illogical. But it's a mental trick that has worked for me over and over and over.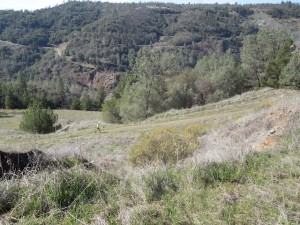 So, if I got to 4 hours, I knew that regardless of my decision to run or walk, at 12:10, the race would be done.
At the 4 hour mark I was at the bottom of the Dam Hill.
At 4 hours 20 min I was at the top(ish) of it. It was mostly slight up hill into the aid station and I power walked in with short periods of shuffling that told me I was very close to DONE.  Just had to keep it together until noon.
At noon I arrived at the aid station. 2 miles to go. I joked with the volunteers and told them that I had given myself permission to be done at 5 hours and so I thought it was time to walk to the finish line – but that I was done for the day.
To my surprise I broke into a jog.
Mind you – it didn't last very long – but it was a spontaneous jog at the 5 hour mark.
I was alert, striding forward well. Mentally in good shape. Not cramping. Feet sore. Back of my upper arms SORE (NO idea why – but my tricep area down to the back of my elbow was UNHAPPY). Just done running and ready to be done :). This wasn't a death march.  And that was an EXCELLENT feeling.
When I got ~1/8 mile from the finish line I broke into a run that was an actual run….if it had been a vet check I would have passed with flying colors :).
Some quick summary stuff you might be interested in
– I listened to my body when it came to food this morning.  Now, I know I don't have the problems eating while running that I do while riding – but I find that even DO feel like eating it's easy to get caught up with the should and shouldn'ts that ABOUND on runnign sites. Today I distinctly felt like I could trust my body to tell me what it needed for distance running – much like I can trust Farley during a 100.  I woke up hungry and wanting protein, so I ate 2 fried eggs. (food that morning). That's a pretty typical breakfast for me.  About midway through my drive, I passed a McDonalds and my body was like INSTANTLY – I WANT MORE FAT AND PROTEIN. In fact, what it wanted was a egg and sausage McMuffin.  Now, I can think of a million reasons why that particular "food" is NOT a good morning pre race food (or really, a good food for ANY morning). But, I decided to give it a try.  I had about 90 minutes to let it digest and if my body said that it wanted more calories, protein, and fat on board prior to the race…..I was willing to see what happened. It worked REALLY well. I'm not sure if I'll have the same craving prior to my next race but I'm inclined listen if I do.
– On trail I packed a squeeze bottle of nutella and almond butter paste (found I REALLY prefer to make my mixture with the almond butter that is "self ground" in the bulk section. It has a rougher texture and is less paste-like). I also packed some real food but it didn't appeal at any point.  Anytime that I even had a thought that acknowledged I had food on my body, I took a mouthful of my goop.  Thought of food = eat food on trail. I had weighed my goop tube pre and post race and as far as I can roughly calculate I consumed about 500 calories, which is about half of what I should have over 5 hours. I had another 300-400 calories at the aid stations (such yummy treats there), which means I was probably 350 calories short. I'll keep that in mind. I don't think I can easily do more than I did on the trail, but I could have easily eaten 100 more calories at each aid station than I did – so that will be my strategy for the next race.
– Water consumption!  I put 1 – 1.5 liters in my pack at a time. In the first 2 hours of the race it was cool and mostly down hill and I refilled it for the first time at the Outlook, which was about the half way marker (~.5 liter/hour). I also had to pee there…….My water consumption went up to about ~1 liters/hour for the remainder of the race, but I never had to pee again, so was probably slightly dehydrated finishing. I had packed lots of fluids in the car for the trip home and when I weighed myself on the scale I was the same as I was prerace, so was able to rehydrate fairly quickly. Still, I could have probably pushed my consumption to closer to 1.5-2 liter/hour just based on thirst. With my tendacy to over hydrate I've been cautious and tend to wait until I'm thirsty, but I probably wasn't prompt enough to act on thirst, AND it's hard for me to drink large quantities at a time out of a hose and sucking little bits over time doesn't work well.
– I took 8 or 9 electrolyte capsules over the course of 5 hours and that seemed to be a good level. I started to get crampy in the early afternoon, realized that I had salt encrusted all over my face, and started popping them closer to the 20-30 min mark instead of the 45-60 min mark and the cramping resolved quickly and never came back. I think elyte management is THE key for me. :). Followed by hydration and then calories. All are important – it's just that the calories management themselves a bit better and don't need as much concious attention from me, and the elytes tend to get me in trouble really fast.
– pack update – the new nathan pack worked well. I flipped the hose so it wasn't against my back about 2/3 threw the race and it was much more comfortable – the hose attachment at the bottom of the bladder was creating a pressure point on my lumbar area (makes me sound like the princess and the pea…).  It's a tiny bit long for me – I think if I had to "redo" the purchase I would try and find a nathan that was more like the expensive Salomon's that are super short in the back. I hate having to take it off to refill and coordinate the hose and clips and stuff – but the alternative is a waist or hand bottles which won't work…..so that's the price to be paid!  I had everything I needed at hand, and had plenty of room for the stuff I needed to carry. The binding on the edges of the straps are very soft and I had ZERO issues with it rubbing skin if my shirt wasn't exactly under it. Coming into the finish I passed my car so I took it off and dumped it on the hood as i ran in.  I really didn't notice that big of a difference at the end running with or without it which was a good sign – there was no "yes I'm free!" feeling.
– Weird soreness.  The only other thing of note is some weird soreness I had during the race. About 3 hours in I noticed that the back of my upper arms, extending to the backs of my elbows (tricep area) was really really sore. To the touch sore, sore to extend or flex. Like I had done 100 pushups the day before sorta sore. Definitely muscle…..but not quite the same as DOMS.  Maybe slightly swollen? I thought perhaps it was because of having semi flexed arms for 4 or 5 hours moving down the trail (even though I was focusing on relaxation and looseness) somehow was a muscle work out……but it went away after I stopped running.  WEIRD. Now, sitting on the couch at 10p the area is slightly sore, in the joint more than the true tricep.  The other place that I've noticed soreness this evening is at the top of my calves, right below where the back of my calf collides with the back of my knee. WOWZEES!  I'm walking around like an arthropyosis deformed calf – not quite able to extend my legs all the way or get full range of stride behind me, so with my knees slightly bent, toes out or in (but NOT straight forward), while maintaining knees and feet in front of hips at all times…..is my locomotion MO tonight :). The good news is that historic problem areas for me (IT bands, hip flexors, achilles) seem remarkably happy!!!
So there you have it. A way too detailed post that wasn't nearly entertaining enough about running for 5+ hours (something that has only happened twice now in my life). I think there are a couple of endurance gems in how I managed myself in this race. I was worried if I didn't get this report down onto a post and up on the blog that my busy life would get in the way and it wouldn't get done!  So a bit rambly and unedited is better than it never getting written 🙂