Pioneer Spirit 50 mile

Shall I spoil it for you from the beginning?
I ran 50k (31 miles) and then DNF'ed.
I actually decided to quit and called my husband to arrange my ride well before that point, but just because you have cell phone reception and a firm decision to go home doesn't mean magical fairies come and whisk you away, so I hiked for another 2+ hours on the toughest part of the course during the hottest part of the day, admist puking runners that had run out of water.
In summary, I was on track for my sub 12 hour goal, finished the toughest part of the course looking physically fine among the carnage of runners around me, and went home to run another day.
24 hours later I still don't have any regrets, which makes me think I really did make the right decision – Both to start the race and drop out early.
The race started fine. The first 45 minutes we ran in the dark on single track. It was completely magical to watch the string of runners in front of me, each melting into the next runner in a pool of headlamp white light, strung across the landscape. I was running comfortably and easily at an 11 min/mile pace (14.4 min/mile was needed for a sub 12 hour finish). This was the first time I had lined up at the start of an ultra and felt like maybe I did belong. My body has started to mold itself into the shape of someone who actually runs and I was surprisingly calm about the notion I would be running for 12 hours that day on no sleep and a stomach that still hadn't completely settled from the stresses of the week. Even my shoes, the Altras that did me wrong during my most recent Mt. Diablo marathon were cooperating.
The first knickerbocker loop at Cool was done and it was time to run down to No Hands Bridge. I love that section during a race because it's the perfect grade to fly down and make some time. ~10 min/mi pace and it was time to head up to the Auburn Overlook on the western states trail.
My pace was still good, but I realized that my legs were not fresh and my feet were pretty beat up. My legs felt as if I was 20 more miles into the race than I was, which was a problem. I had tried to spend as much time off my feet as possible in the last couple of days, but on the other hand, I was doing what was necessary to keep my horse alive. Which involved me being on my feet far more than ideal.
I kept run/walking, hoping everything would work out and gave some cheery advice to other runners doing their first 50 that often 50 miles is long enough for things to work themselves out – don't quit because you think something will get worse. You just don't know. You could feel better at mile 40 than now at mile 13. Somethings will resolve themselves.
It was between Auburn Overlook and Rattlesnake Bar that I couldn't stop thinking about DNF'ing. I was only about 15 miles into the race and my feet were done and my legs felt like they had 40 miles on them instead of almost 20.
Even more worrisome was I had no desire to push and "dig deep" mentally to get through this and finish.
I tried all the tricks I knew.
I told myself to run from aid station to aid station.
I told myself I could quit at the 31 mile aid station, thinking it was far enough in the future that the wall would be "gotten through" by then.
I told myself at noon, at the 6 hour mark I could call Matt and ask how ML was doing. And if she was doing badly I could quit.
I told myself to just run to 5 hours, then 6 hours. That those are historically my biggest walls.
I gave myself permission to walk for extended periods of time.
At rattlesnake bar aid station I took away a bag of candy and tried to eat a piece every time I thought about DNF'ing in case I was just fuel-deprived.
I played music loudly to drown out my breathing and sing along with the lyrics.
I tried my favorite podcasts that are so engrossing they make the hours roll by effortlessly.
I did fancy pace and distance equations in my head to reassure myself I could actually walk the rest of the course and still finish in front of the cut offs. Other runners reassured me of the same thing.
But none of it worked.
And at noon, 6 hours into the race I took my phone off airplane mode and texted my husband.
11:53: How is ML? At mile 25 and hurting bad.
12:03: I think I want to quit and hang out with you the rest of the day
And then at 12:06 I called him in tears telling him to pick me up at the next aid station, which was the 31 mile point. I was DNF'ing.
For those folks where to finish is to win and if finishing is still within your grasp it is disrespectful or shameful to quit, I'm afraid this is going to be a disappointing post. Because the dirty little secret is that I probably could have death shuffled to the finish. I was technically capable of finishing.
But at what cost?
For this particular race I didn't want to walk/hike the next 7 hours for a finish. I would rather have quit at 31 miles and be ready to run again sooner rather than later. I didn't want to take extra recovery time and perhaps face burnout or mental fatigue because I had wrung every last drop of the reserves I had left after the debacle that has defined the last 2 weeks of my life to finish this race. I wanted to head out the door in my running shoes in 7-10 days post race and look forward to that run.
Cost of finishing this race exceeded the benefit.
There were 2 other things that comforted me as I spent the next 15 minutes quietly bawling on the trail.
I had gotten what I needed out of the run. My stomach, which had been stress-induced tied in knots until several hours into the race finally felt settled. And if not completely back to normal, at least capable of sending my normal signals like "hungry" and "full".
The DNF was a gift to myself. The best gifts are those that require sacrifice. There is no doubt I can persevere through adverse circumstances and succeed. Being nice to myself and giving myself permission to take the easier path is much harder. In fact, that desire comes along so rarely, it is rarely wrong to succumb.
Not once during my last 50 miler at SF did I think about DNF'ing. Not once. The fact that I was trying to talk myself out of a DNF starting at mile 15 was significant.
I wondered yesterday whether I would feel right about wearing a shirt that I did not "earn". Most of my race shirts I wear and remember a job well done, or an accomplishment earned.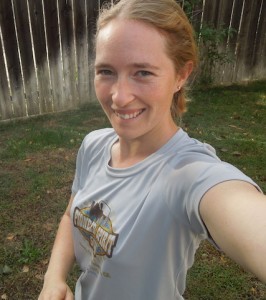 I'm sitting here wearing the shirt now and it feels right to do so. I DNF'ed and the shirt reminds me of the things I learned yesterday that will help me on my next 50 miler. The best part is they are gentle lessons learned instead of lessons learned through crashing and burning. It's like being given useful constructive criticism before you fall on your face or step off the cliff. The lessons learned aren't mixed up and easily ignored in the glow of success (like if this had been a 50k race) but I'm not so battered and bruised that I need extended healing before trying again.
Here's my thoughts yesterday and today
I'm getting through the longer distances on a combination of physical training and mental grit. What I lack in physical training I am making up for with my mental game. Which is good…except I don't have enough physical readiness to truly succeed in the absence of a good reason to finish a tough race.
Most of my other races I've run through adverse circumstances worked because I was running away from something – work, school, life stress. I wanted to get away and spend some time on myself. It didn't work this time because all I wanted to do was be with my husband or MerryLegs.
I *am* capable of a sub 12 hour effort. In some ways this was an easy 50 – the elevation map is reasonable. However, there are sections of the trail I could not make time on because of the big step downs and step ups and erosion. It wasn't all runnable. And yet, I was still making excellent time. I'm barely sore at all today.

I need to go up a size on my Darn Tough socks, or go to a different sock for long races. I noticed toe pressure on the tips of my toes, as well as some hot spots forming between my toes because the socks are compressing my toes a bit. Not a big deal on training runs, but for races I may have to use a more forgiving sock that will probably get holes in them and become sacrificial after every race. Like my Balegas. 

My feet are a good 1/2 size bigger than they were a month or 2 ago. *sigh*. Which means I need to buy new shoes, AGAIN. My next cushioned shoe that is specifically for longer distances will be a 1/2 size bigger than usual and will be a shoe model not currently in my closet…exactly what I'll end up with to be determined. The Altra Lone Peaks redeemed themselves somewhat on this race but continue to cause issues. This race? The top of my right arch hurts because of some pressure.
Night running is fun!  I don't slow down that much. I can use a handheld light if I need to, but prefer a headlamp. Probably a combination of both is ideal. I borrowed my husband's small Fenix light and it was the perfect size and weight. I especially liked being able to look around the corners of single track before barreling around at top speed.
This is the second race in a row where my lower back was sore hiking up hills. I think I need to focus on strengthening my core.
A crew probably wouldn't have helped my race yesterday…but a pacer might have.
My burritos halves continue to work really well as "real food" in my drop bags.
I really really liked the pace before it dissolved into tears and calling for rescue. It was very comfortable and felt good. I think I'm going to work on making that pace work for me at future races.
I want to renew my search to try to find running bottoms that are both functional and make me "feel" like an ultra runner. It sounds silly, but it's important to me.
After my previous races I couldn't wait to get to my next race event. After yesterday, I'm excited to get some work done in training and am OK not racing for a couple of months. Core work, some faster paced tempo runs on hillier and more technical trails, and more regular hill hiking will be the focus. My odds of finishing yesterday's race were tenuous best (sorta like ML's survival…) but sometimes you don't learn something new until you try something new.
A guy who knows his way around the ultra marathon sport told me at my first ultra that if you run enough races you will eventually DNF. Ever since then I wondered what my first DNF would look like. The suspense is over…now I know!  And it's a relief and actually kind of fun. More than black toenails or bloody knees, I feel like a DNF is a badge to wear with pride. Failure makes the success all the more sweet.
EDIT:
I have had a post in my draft folder for a couple of months preparing to talk about DNF'ing. This was, of course, before I had my own DNF to talk about. I don't plan on doing another post on DNF's so wanted to share some of my thoughts that were going to form the structure of that eventual post.  Maybe some of these questions and statements will help you if you are struggling with your own DNF or pull.
When do you give up? When do you cut your losses and be able to return to the trail in two weeks instead of two months?
Running there is one body – sometimes a DNF is to take care of it for a future run. Riding you don't know what the horse is feeling. A Pull is to play it on the safe side.
Not every event deserves the same effort or sacrifice
The mental toll of a hard race is like an injury. It is not always true what doesn't kill you makes you stronger.
I quit at five hours at FOURmidable 35K (see the "Events" page in the banner to find the event story). But I finished because I hiked out. Even though I finished…I quit. Was this a DNF?
A finish at Tevis 2013 wasn't worth as much as a finish in 2010 when I had never finished.
iRunFar has some great articles on DNF
The the mind can be overstretched just like a muscle.
There is value in being tough and a DNF and RO-Pull are not easy things. It isn't necessarily the "easy" way out. Sometimes it's the smart thing.
DNFs and RO's aren't just for the elites and racers. Sometimes our bigger goals are in conflict to the goal of finishing
To finish is to win and sometimes we don't win. The motto helps us remember the value of finishing but it doesn't dictate that is the only goal or even the only worthy goal.
Sometimes you don't know what you are capable of until you run with reckless abandon and see what happens.