American Canyon 25k Race Report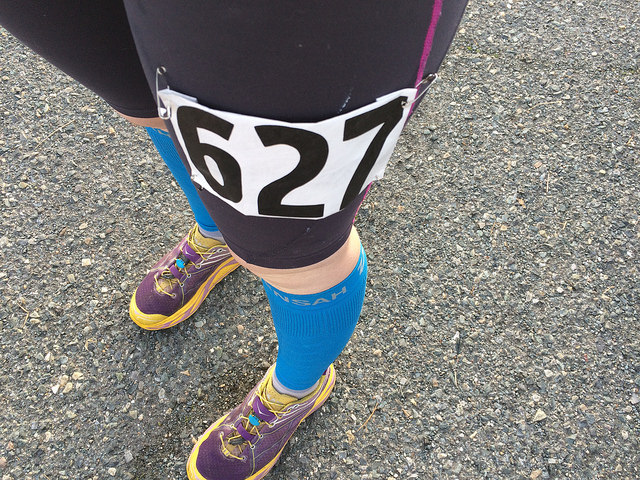 The truths of Saturday morning were as follows
I most definitely had a cold. Unless it was progressively worse allergies. But probably not. So most definitely probably a cold.
This race was a "C" race, meaning that I was treating it like a long run. Thus the cold wasn't a deal breaker and I was slightly more prepared to leave in the morning then if it was an unsupported solo run, but slightly less prepped than an actual race.
Take for example my choice of transportation.
My race prep worksheet in my training log clearly states that I planned on wearing my Hoka's and orange mud hydration pack, having a McMuffin breakfast, and driving the Subaru.
But I sorta wanted to take the Zombie.
Pros of taking the Zombie.
He's never let me down. Actually the bastard has let me down twice but apparently I'm the forgiving sort.
He has cruise control, just like the Subaru. Oh that's right. He does NOT have cruise control.
I can listen to my audiobooks on the drive. Oh never mind. With 250K miles and the barest maintenance we can get away with because who the hell knows whether he will pass smog this year with a cracked head gasket and a manifold intake related check engine light on the road noise is better than any white noise machine.
I can drive this car in my sleep with both legs broken. Yeah. That's a pretty good reason since this is definitely the longest run since having Fig, and might be the longest since 2014 (only ran 1/2 marathons while pregnant, and don't think I did anything longer in training).
 So I ignored my half-ass race plan and threw my Go Bag into the Zombie at 6:15 6:30 and sped my way to the Auburn Overlook.
For those of you familiar with the trails, I started at the Overlook, ran down to no hands bridge, ran almost to the Cool staging area before abruptly turning back towards 49 for the mid way point…and then turned around and came back.
Truth: Finishing up at the Auburn Overlook never gets easier. My. God. My first trail race EVER at 16 years old was a 10k trail race out of the Overlook (in the rain, mud and rain) and the thing I can remember most clearly is how relentless that last 1 1/2 miles was (and the how the trail fakes you out before you actually get there by about a mile). Fifteen years later and many many more trail races, rides, and training runs out of the Overlook and somehow it hasn't gotten any easier.
What was brilliant
1. My training journal it makes me do the right things. Like formulate a race plan not just wake up at some of our throw things in a bag and make it to the start. Actual stated and articulated goals and scenarios made a surprising difference as the race unfolded.
2. Putting together goals and scenarios worked. Of the 3 scenarios I envisioned (A. In addition to the flats and downhills that I would run the entire race, run the uphill in the last quarter. B. Run the flats and downhills the entire race. C. Walk in) I was somewhere between A and B. Of the 3 goals I had, I achieved my second – come in under 3:52, which is the pace I would have to maintain to finish my 100k goal race in under 16 hours. (The A goal was to finish at 3 hours so I could be home by noon like I told my husband I would be, the C goal was just to finish the thing). I usually have a time goal of some sort that helps me have an end point in my mind, and "to finish" is always a back up goal, however having an actual stated B goal was very helpful to keep me moving once it was obvious 3 hours was not in the cards. Not only did it keep me moving and less late getting home, sitting here 2 days later I have the satisfaction of knowing that I'm on track for my bigger goals later in the season.
3. I managed to shuffle along. Somewhere along the last year through pregnancy and postpartum recovery I've forgotten how much of long distance running is just shuffling along. It's not particularly brilliant, more turtle thanhare, less tempo run and more methodically busting through that wall and that wall and that wall…. Saturday I kept reminding myself that what I was feeling was perfectly normal. It didn't mean that I wasn't ready for that distance, and it didn't mean that I wouldn't be ready in a couple of weeks or a couple of months for a longer distance. Somewhere between the easy miles at the beginning of the race, and the elation and satisfaction of the last miles, I manage to forget the slow "put one foot in front of the other" miles that come between. It's a mental sport and the mental game isn't how much pain you can handle in the last couple of miles, it's the game of how you keep moving forward in the middle when your mind is screaming that you are not making any progress and there's too many miles yet to come. Time and time again I pushed aside that demon, asked myself instead whether I was hungry and continued to execute my plan and move forward.
And what wasn't
1. I didn't go to the pre race briefing.  I had 15 minutes less than I should have at the race start because of my dithering of Zombie versus Subaru merits, so instead of standing around listening to ribbon colors and how a bear recently mauled a ribbon marker on the trail (I jest), I was sitting in Zombie and pumping every last shred of fluid out of my boobs.
This wasn't a deal breaker because I know the area and had looked at a map of where we were going (sorta), but there was still some pesky details like "am I yellow or orange ribbons?" that caused some tense moments as I ran hiked briskly trudged shuffled up an especially long steep hill following only orange ribbons wondering whether I was yellow.
Everything was made clear when I passed a sign that clearly stated that 25k runners with YELLOW ribbons went this way and 50k runners with ORANGE ribbons went that way. Mystery solved.
So when yellow ribbons turned abruptly left, and orange ribbons stretched straight on, I turned left. Which took me down to the turn around point at HWY 49 and then I turned around to head back to Auburn. I found a runner puzzling over the turn and assured her that she turned left as I ran past.
"But what are the orange ribbons for?" (really?). "Are you sure?" (yes, I just came from the aid station). "I get lost all the time! (I bet).
Apparently I have advanced deduction skillz.
2. My go bag contained: 
Manual breast pump with an extra bottle and ice pack
Bento run/ride box (I've talked about it before. It's a clear plastic fishing box that has electrolytes, first aid supplies, spare parts etc that I typically need for running or riding)
Orange mud hydration pack with full water bottle
Post race pants/underwear
Wallet, keys, iphone, ipad, ear buds
Run apparel: Buff, compression calf sleeves, armwarmers, gloves, run jacket
This was all good…except here's what I missed. I wish it had contained:
A pair of post run shoes (I thought about packing some and decided it was too much trouble. HOW MUCH TROUBLE IS GRABBING THE CROCS BY THE DOOR???????)
A clean shirt (I expected a shirt from the run so didn't pack a clean shirt. But there were no race t shirts because they didn't get delivered to management in time).
Chocolate milk. You know. The chocolate milk that my race plan SAID I would PACK. That I completely forgot about.
This perfectly illustrates why the go bag needs to be packed the night before (don't just write down a list).
3. My nutrition the day before the race wasn't stellar. I'm not a nazi about it, but keeping my nutrition consistent leading up to a race makes me feel better and more confident.

Gear
Pioneer Spirit shirt: Ironically I chose to wear the shirt from the only DNF I have. LOL. And didn't realize it until I was half way through the race. I chose it because the color called to me that morning and it's comfortable. Perhaps I should wear it at every race this season until I finish a 50+ mile distance in it? No, that's stupid. Right?
Orange Mud hydration pack: Still my favorite pack for running AND riding. Performed exceptionally well as usual. So comfy, so convenient. Zero issues. When I first got this pack to review (for free) I was unsure whether I would have paid the rather expensive retail. Now? Absolutely.
Smart Wool Socks – PhD running. It's a shame that I tend to punch holes through socks on mileage greater than double digits, but even with a hole in each toe I chose these socks for this race because they are thin, yet supportive AND I had an inkling my feet might get wet. Yep. Splashed through several creeks and aside from the initial "oh that's COLD and wet…" I never noticed my feet being wet again (until the next creek). Wool really does do a superior job of moisture control. Darn Tough brand socks are more durable, but for races Smartwool is still my go to. No blisters, sorespots, hotspots or other feet trouble, even with shoes that weren't ideal.
Smart Wool arm warmers: my secret for layering for both running and riding. when I get warm I just push them down around my wrists. Later on I can shed them and stick them in my waist band because they are thin, light, and unobtrusive.
Hoka Huakas shoe: I bought these at the beginning of 2015 as a solution to needing a more cushioned shoe for ultramarathons of distances of 50 miles and beyond and shorter races that have a lot of rock, but haven't gotten to test them out, being pregnant and all. I picked this model because of all the reviews, it was the Hoka that typical Hoka users complained about, and Hoka haters loved. It's a much firmer shoe with less of a toe to heel drop (prefer as close to 0-4mm as I can get), which means it runs a lot less squishy and is fairly responsive. It doesn't has a rock plate (which I hate) and is more of a glorified road shoe then a true "trail" shoe which works well for me, since most of my running (even during races) is a combination of well groomed single track, gravel, hardpack jeep roads, asphalt, sidewalks, with the occasional technical section. The traction is sufficient for 99% of what I do, although I did find myself a little wary of the mud and rock combination on Saturday. On the plus side, the lack of deep grooves and lugs meant that mud didn't build up on them (another one of my pet peeves).
The shoe also drained really well and was none the worse for wear after several creek crossings and did NOT go squish squish squish…..
The other thing I like about the shoes is the laces. Seriously the best so far. Love not having to worry about them coming untied and because they aren't stretchy, the shoe stays stable on my foot, but there's also not a lot of pressure across my arches.
The biggest problem with the shoe is the width. The forefoot could be a little wider and it would be perfect. I try to compensate with thin socks, but on training runs pressure on top of my little toes has been an issue.
This was my longest run in these shoes and under realistic trail conditions so I was curious to see how they would do. Verdict? They did NOT feel narrow, and no pressure soreness on my toes. I was going a bit slower than in training, but I'm not sure why the shoe suddenly fit better. It was very stable most up and down hills. More miles needed!  In any case the shoe worked well enough for me to keep moving it up distances. Total miles on these shoes so far is ~140ish.
(Now I'm going to whine about shoes….)
Merrell's worked SO well for me, but they recently changed their models to have a more narrow forefoot and instead of a relatively flat insole, it's now "humped" for arch support. Boo. What made them perfect for me has disappeared and I was so unhappy with a recent model that was supposed to replace one of my beloved discontinued models I gave it to my sister practically unused. I still run in moccasins or sandals for distances less than 10 miles, but for longer distances, especially on the rocky Sierra Nevada hills I've got to have more foot protection. I need a cushioned shoe that isn't too squishy, doesn't have a huge toe to heel drop (4 mm or less), wide forefoot, suitable for a midfoot striker, can handle groomed single track and roads, can accommodate a very high arch WITHOUT arch support (prefer a flat or nearly flat insole). The Brooks Glycerin looks and feels promising. Any other suggestions? I've run in Mizuno's in the past with really good luck (but depending on their redesign can be too narrow) and Saucony's. Have hated Newton's and Altra's (unless their redesigns run less squishy and sloppy?). Sigh. I need a minimalist shoe on top of a sole that can handle miles and rock.
Buff: Yes I KNOW people make fun of them. Why pay so much money for a glorified bandana (men tend to say) or headband (women tend to say)? Because it's comfortable, I don't notice it's there, and it holds tendrils of hair out of my face and sweat out of my eyes. I have 2, a half size one and a full size (original) one and I adore them. It keeps my forehead from getting sun burnt when I'm not wearing a hat and just keeping the sun off my forehead makes me feel cooler. In the cold morning it makes me feel warmer.
That's it for lessons learned, gear, and event recap!
On to the next event!  Not sure whether it will be a horse or a run event yet 😉