SF 50mi ultra Q & A

Some of these are real questions, some are questions I *wanted* to answer. if I missed something leave a question in the comments.
Did your toenails fall off?
Nope.  Not even sore, not even discolored. I've never had a toenail tragedy and part of me feels like I'm missing out on a quintessential part of being a runner. And the other part of me feels really glad I still have cute feet in sandals. I also don't get blisters unless there is something wrong. I do poke holes in socks, at the big toe, especially on my right foot. Before barefoot my socks were mercifully spared. For the first couple years barefoot I didn't wear socks. After switching to a minimalist option with socks I suddenly had a hole in the sock problem.
How did you prepare?
I didn't particularly feel like running after my ride and tie 3 weeks prior….so I didn't. In that 3 weeks I went for a grand total of 2 runs and got lots of sleep and ate whatever I felt like.
In hindsight, it was an ideal taper for this race. I
say in hindsight because it's not like I thought about any of this before signing up for this 50 the THURSDAY prior to the race. Just sorta had a vague feeling I hadn't run in a couple of weeks so it should probably work.
Thursday and Friday I spent preparing for the race like I prepare for all the races that turn out well – no sleep and copious amounts of ice cream. I kid you not. Every time I do a last minute sign up, combined with very little sleep and ice cream I have the BEST RACE EVER. Between Thursday and Friday night I maybe had 10 hours of sleep.
I have now implemented the 3am rule: if a race requires me to get up prior to 3am…it warrants a hotel room. Doesn't 3am strike you as that balance between getting up "in the middle of the night" and "just really early in the morning"? As I stared at the alarm clock at 10pm Friday night, this struck me as a very good rule of thumb, and since I was obviously not in a hotel room I set my alarm for 3am instead of 2:30.
What did you eat?
McDonalds Sausage McMuffin – I bought 2. One for breakfast on the way to the race, another to stash somewhere in case I got the munchies (post run driving home is the worst). I've talked about my pre-race McMuffins before and they still remain the best pre race food for me. I discovered at Canyon Meadows that while 1 isn't quite enough, 2 is too much. So I ate one and also stopped at a gas station and bought a ……
Cut melon an grape bowl. – along with the mcmuffin this was breakfast. When I got hungry on the drive home I finished off the melon and the second mcmuffin.
Chipotle Burrito halves, wrapped in foil, stuffed in various crew/drop bags. One veggie and one shredded pork since I wasn't sure which would be best on race day (I sometimes have a hard time with chunks of protein during races).  The pork ones went down REALLY well. Ended up eating 2 halves during the race (13 miles, 27 miles) and then the other 2 halves the night and day after.
Pizza (HUGE slice) that was provided at the mile 42 aid station.  It went down SO GOOD. In complete contrast to my "riding stomach" my "running stomach" is quite resilient for whatever I want to throw at it. Won't work for everyone, but eating *whatever* sounds good during a run has worked for me so far, even if it's stuff I can't eat in every day life.
Watermelon – with pizza, the best dinner I've ever had. Provided by aid station.
Chocolate and nut candies – Had in drop bags and carried on trail. I carried a ziplock baggie on me while I ran so I could carry off any food from my drop bags or aid stations that looked good.
Mix of plain almonds and honey roasted – in drop bags. Flavored nuts can be sort of overwhelming so I cut them down by added some regular almonds to the flavored ones.
Jerky – in drop bag. Didn't eat much of this
Luna/cliff bars (1? 2?) – I think I ate two of these on the trail – early on (before 20 mile mark). After that if I wanted trail food, I ate my chocolate peanut butter m&ms from the ziplock
Soda – at aid station sports drinks – at aid station
Caffeine pill at Muir beach (mile 38).
I ate less of the aid station food and more of my own during the race, and more "real food meals" than previous races. NO stomach issues, NO cramping, NO major walls. I look at my food list and some of what is working should NOT work…but it does, so until something happens that convinces me I need to change my strategy, then I sticking to the idea that I can trust my body to tell me what I can get down and keep down.

Hydration and elytes?
Two elyte tabs when ever I thought about it, which worked out to 2 tabs every 60-90 minutes.
Drank to thirst. I didn't have a specific "requirement" for consuming ounces and didn't push myself to drink when not thirsty. We can talk about why I disagree with the often touted advice on "drink before your thirsty because by then it's too late" later.
My hydration felt really good all day. At one point couldn't figure out what was out of whack (not enough elytes? need more water?) until I peed. It was a really tough section of hill climbing and I was a little loopy and light headed from the effort and couldn't think straight (in hind sight, eating something on this stretch might have helped), but squatting and peeing on the side of the trail and seeing the light yellow hydrated color helped me to screw my head on straight. I was hydrated. I was sweating a LOT so another elyte capsule or 2 wouldn't hurt, and there was an aid station just around the corner.
I could feel my hydration "catch up" in the afternoon – sorta like a horse. It was cool!
In total, I drained 5L out of my pack, plus I tanked up on soda, water, and sports drinks at the aid stations (the more I drank there, the less I had to carry up and down those hills!)
Did you run the whole way?
Plan was to run everything but uphills.
Most of the hills I could walk at top speed and not get out of breath, but were too steep to run (at least for someone that was worried about their ability to finish a 50).
There was 3 really awful hills to climb up that were steep even at a walk. They were at about mile 23 or 24, mile 27, and mile 38.
Sometimes on good footing single track I did run up hills. I really tried to minimize this, telling myself that if I still felt like doing that after I reached the turn around point at mile 27 I could. In hind sight, knowing how I fared throughout the distance, I probably could have pushed up some of the less steep hills throughout the race and been fine, but better to be safe than sorry this one.
At the end of the race, running/walking uphill/downhill was all the same so I just jogged along no matter what the terrain. Have you ever been in a situation where running an walking was exactly the same effort and pain? Or when running uphill felt no different than the downhill? REALLY COOL.
I kept a couple of downhill mantras muttered under my breath as I flew down. Running downhill efficiently is a good way to add speed to my race since I can run down hill far faster than my flat speed suggests. The mantras are designed to keep me upright, preserve my quads, and save my IT bands. Pawback, short stride, minimize braking, keep feet off midline.
How long did it take you?
Total time was somewhere around 13 hours 50 min. (my watch says 13:49:48).
Of that time, I estimate I spent 47 min in aid stations. I forgot to time some of the later aid stations, but can make an educated guess.
That works out to an average of 4 min per aid station.
I spent the most time at Stinson Beach (12 min), mostly because I needed the recharge time to face going back up that hill.
It would be easy to be able to criticize the amount of time spent at aid stations. But, I went through each station with a goal, did not waste time, and did things that would help me on the trail. Having never run 50 miles before, I was efficient going through A/S (aid stations), but didn't rush.
At rodeo valley I stopped long enough to see what was on the table so I knew what to expect for food at future A/S
Tennessee valley – found my drop bag (so that it would be easy to find when I went back to this A/S at mile 42 – but since they accidentally took it back to basecamp before I got there….it didn't matter), loaded up my trail ziplock with m&ms, grabbed a burrito, ate it while standing in line for bathroom.
Muir – Ate. Took about a minute or 2 longer than I should have socializing with Funder (first time I had seen her that day!) but these minutes out of almost 14 hours seems ridiculous to agonize over.
Cardiac – Ate and spent an extra 1 minute being really glad I was there and could start going down hill.
Stinson – Ate real food. Refilled water reservoir. Refilled trail food. Changed shoes. Trepidations about impending hill, so got a pep talk from crew.
Cardiac – Ate and quickly left.
Muir – Ate and drank. Pep talk with volunteer about how close I was.
Tennessee – Ate and drank. Reapplied antichafe cream (OUCH!!!!). Got night gear on. Did a little celebrating since I knew I could walk in and make the cut off. And I had a FRIEND.
Rodeo valley – Refilled water reservoir.
I went into this race comfortable with spending 3-5 min at aid stations, so a 4 min average is right on mark. At my next one if similar terrain and weather I think 2-3 min would be sufficient as long as I wasn't having any issues.
Did you hit any walls?
Only one big one. At about mile 41 was when I realized walking and running hurt the same, and I was completely unmotivated and tired of running by myself. About 10 minutes later another women caught up to me and all of a sudden I could run again. We ran the next 5 or 6 miles together. So that wall only lasted about 10 min.
During the afternoon, when I would normally hit a big wall I was climbing a HUGE hill (out of Stinson beach). Because my mind was saying "this is hard" and I could logically look at the hill and say "yep, this is REALLY hard" my perception of the effort was on par with the trail, and so it wasn't a mental wall – it was about gutting through a hard section of trail. After getting through that section, I was just really really sleepy.  That's also when I started to get a bit loopy and felt disoriented (lasted about 20 min).
Lack of afternoon heat might have contributed to the lack of substantial walls, but it's hard to say. In the heat I tend to slow down more in the afternoon, but since temps stayed cooler I moved out at a good pace for most of the day. I'm not sure how it affected my evening pace.
My walls seem to be much worse when my mind says "this is really HARD" and I look at the trail objectively and it's flat or down hill and I think to myself – "If i can't do this……I am SCREWED".
My five hour wall seems about gone. I barely noticed the 5 hour mark come and go.
I listened to my ipod for much of the race, matching what I listened to my mood on the trail.
Struggling? Podcast. Music is really annoying when I'm "working" at something.
Jamming down the trail? Music.  I have my music sorted according to "intensity" so I can have the right beat for a tempo run versus a HIIT versus my warm up and I stuck to my tempo run music for the first half, and my HIIT playlist for the latter half. I sang, I hummed, and conducted imaginary orchastras as I flew down the trail.
What did you wear?
1/2 size buff
Nathan intensity hydration pack (2L)
compression calf sleeves
Random socks
Shoes (see another section for more commentary on shoes)
Long (to the top of the knee) spandex shorts
Loose tech Tee
Smart wool arm warmers (thank goodness – saved me!)
How did you recover?
Tried to sleep in the school parking lot. Had nightmares about someone ultrasounding my legs (I had turned into a horse????) and them finding unknown pathology and I was declaring myself lame….so decided to give up and stumble into the actual hospital locker room. Took a shower, and settled on a bench with my emergency car blanket.  The auto lights kept going off every time i wiggled my toes.
And because I had to turn my body 1/4 turn every 1/2 hour I was so sore (if you've been there, you know *exactly* what I mean), this means it was not the most restful night.
I put in an equine med 12 hour emergency shift starting at 8am. Forgot to have ANY coffee, and continued to eat my elytes and trail food as if I was on the trail.
No major problems, and the next day I started my farrier rotation able to get under a horse and pull shoes.
Logistics
This is sort of a nitty gritty question, but worth thinking about if you are planning to do an ultra. There were 2 A/S you could send drop bags to.
Tennessee: mile 13 and 42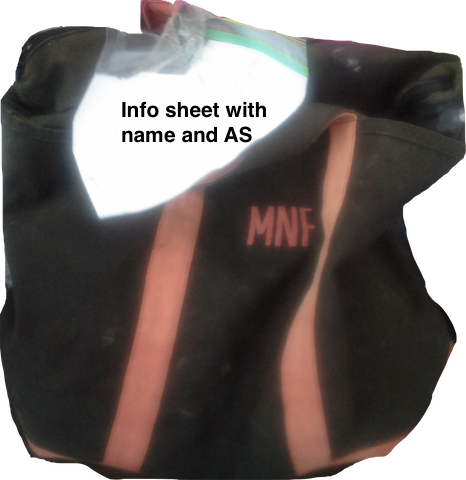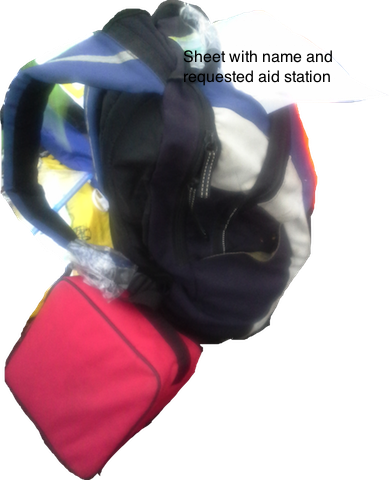 Funder wouldn't make it to Tennessee before me at mile 13 so I elected to send a mostly empty drop bag to Tennessee (with one food box, extra socks) in case I wanted to shed clothing (umm….it was so cold I didn't) and send everything else in a bag to Stinson.
I put my running bento box, a soft cooler with food boxes, extra clothing, spare shoes, glasses (in case my contacts did that weird fogging up thing) into a backpack. Funder said it was an excellent drop bag. It was well organized and I could find everything quickly, and it was easy to carry into the AS by Funder.
Funder would meet me at Stinson, pick up my crew back, and bring it to Muir (38), Tennessee (42), and Rode Valley (47).
I put my light on one full AS before I thought I would need it – which was smart because Funder missed me at the mile 47 AS and I finished in the dark.
I'm also very glad I sent the Stinson bag with Funder to TN, even though I knew that my TN bag would already be there. The race organizers (accidentally?) packed up the TN bags prior to me getting there and if I had depended on that bag for my jacket and lights I would have been sh*t out of luck.
Advice for others?
Asphalt versus trail percentages matter more than the elevation map
Have essentials on you. Have your night light on you or with a crew. If with crew, carry it before you think you need it. If it's going to make or break your race, don't count on your drop bag to be there (unless it's at base camp and you personally put it there!)
Decide what priority taking photos has. I didn't take any trail pics – just ones at registration. I really wanted to concentrate on the experience, views, and what I was feeling. Not being pressured to take pics to document the race, keep my crew updated with texts or whine to friends about how hard that moment was let me "single" task more effectively.
It really is all mental. This run hurt no more than road marathons I've done. Certaintly hurt less than Mt. Diablo 50K. Physical and mental issues are relatively transient if you have a plan and strategies for manageing and dealing with them in the short term. If you don't believe me, read this guy's first 100 mile story: http://trailrunusa.blogspot.com/2014/06/dont-call-it-comeback-my-first-100.html
Having list of check point mileages and the elevation map with me on the trail was very very mentally helpful
Be mindful of the time in the aid stations. In this case I had made a decision that this race was a "test" so although I was timing myself through aid stations I wasn't rushing. Three minutes isn't enough time to go to the bathroom and eat!  If you have to refill pack, that's extra time. I filled my pack full (don't always do that because of weight) and didn't refill unless it was empty. And I tanked up on AS fluids which made my pack last longer – less refills saves time. I took an extra ~2 min at Muir (first time) to visit with Funder, but other than that, I would say there was no wasted time at the AS – I spent the time there I needed to manage myself mentally and physically (do not underestimate managing the mental game, especially the first time!). I could probably average closer to 2-3 min per aid station my second time through a 50.
Don't overtrain. Obviously this is from a finishers point of view, not a racers. It is more important to go into a race like this without injuries and fully prepared to play the mental game, then squeezing in that last 10 mile training run.
Hal has a new book out and his top 10 must do (and don't do) things for ultra race day are posted here. It's worth the read. I think I managed to nail most of these, even though I didn't read this post until this morning, AFTER my race.
Needed advice….
I don't have everything figured out!  For example,
….I still haven't found the magic solution for preventing "down there" chafing.
….Or the perfect shoe combination. I wore my Merrell ascends for the first 27 miles and appreciated the ground feel and ability to navigate technical trails at speed without catching a toe. The lone peaks were definitely more cushioned for the return home, which I needed – but just weren't quite as responsive as I would have liked. I had a couple of tripping close calls and I need to change the laces to the elastic ones I usually use. It's hard to complain too much – no blisters or black toenails. Today my calves are more sore than my feet. The footing was quite a bit harder than I anticipated, so perhaps I'm being the princess and the pea by criticizing my shoes.
….Or why my neck was super sore the day or 2 afterwards. (none of the usual suspects present)
Any more questions?