Mt. Diablo – the nitty gritty

Today is the nitty gritty, the lessons learned, the lessons I implemented successfully, and the lessons I *should* have learned last time – but I'm either stubborn or stupid or a little bit of both.
As if the lessons learned weren't entertainment enough, I also spent *way* more time than I care to admit scouring the online web albums of the event picking out the pics I appeared in, and throwing in a few that I'm not in that were too beautiful to resist.
I saw so many familiar faces as I flipped through the pics – people that I ran miles with, talked with, and commiserated over the length and breadth of the hills – many of them finishing their first ultra like me, and one women who had finished this race every since it's inception.  Thank you for making the experience richer.
Now, shall we begin?
above: post race, in my nifty t-shirt
First the stats:
I was 137 out of 157 finishers. Total time of about 8 hours 39 minutes.  In the past they had a completion rate of about 85%.  They haven't published the start versus finish list so I'm not sure how many DNF's there were.
Lesson applied: Spend more time at the aid stations
After my 35K race at the end of February I crunched the numbers and realized if I had spent a couple more minutes at the aid station and focused on eating I could have hit my calorie goals easily.  So, at Mt. Diablo I made myself slow down and eat more at each aid station.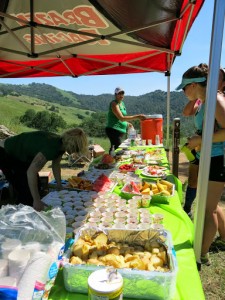 On average, that meant about 5 minutes per aid station, for additional 20 min to my race time overall.
I think that the time was well spent.  I never hit a wall related to my refueling, reapplied sunscreen in the mid afternoon, and generally took care of myself. The aid stations were a welcome oasis. No matter how low and crappy I felt coming into the aid station (mile 23 comes to mind), after those 5 minutes I felt refreshed and optimistic heading down the trail.  I felt genuinely hungry and I always approached the table with a sort of childish glee, rubbing my hands together. "What do we have here?!". At least at this point in my ultramarathon experience, I think those aid stations are important refueling time both physically, emotionally, and mentally – and 5 minutes seems to be a small price to pay.
This seems as good of time as any to list off what I ate – trying to stay away from soy, wheat, egg, dairy for a couple weeks and knew I might have to make compromises here, but ended up doing OK.
almond butter/honey/cocoa mix (this was my trail food)
chopped up jerky
various elyte drinks/capsules
fruit – bananas, oranges, grapes, and a lot of berries (blueberries and raspberries mostly)
chunks of boiled potatoes
potato chips
gummy bears (at my first marathon these were EVIL and I've avoided them ever since. But for some reason they looked REALLY good on Saturday so I trusted my body and they were GOOD. I ate a lot of them).
Coco-cola (yes, really)
Afterwards – shredded pork with BBQ sauce. With a ginger ale. Went down GOOD.
Lesson learned?: I could speed up the aid station process by carrying a small baggie with me, and filling it up with goodies to eat as I walked down the trail.  It would save a little time – maybe as much as 8-10 min over the course of this race.
Lesson Learned: Be more prepared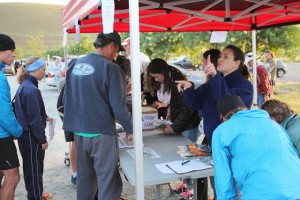 They forgot to have safety pins at bib pick up at the start to pin the numbers to our clothes. The type of chip they used had to be unobstructed and unfolded. Which means the majority of us had to carry our bibs in our hands as we passed over the start timer, and then make sure we didn't drop/lose them on the trail until the first aid station (8 miles) where there would be safety pins.
And since bib pick up was at the start of the race – an hour shuttle ride away from the car – I couldn't rig up something.
Lesson learned: bring my own safety pins. And while we are talking about being prepared, a small tube of sunscreen would have worked better for reapplying large swathes of skin than the little pushstick.
This was almost not my day
It really wasn't my day.  I knew I was in real trouble in the first 1/2 mile.  My legs just didn't feel fresh.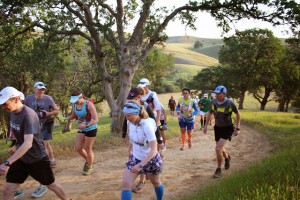 Both these pics were taken in the first mile or two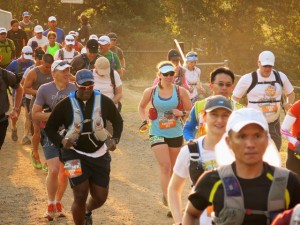 I've had this happen 2x before. Once at a marathon, once at a ride and tie. There's nothing really wrong, but my legs just sorta feel heavy and blah.
Whelp. I dialed back my expectations from a 7 1/2-8 hour finish, to staying in front of the cutoffs and doing my best to mentally manage what was shaping up to be a very long day.
It was never easy. I never got that effortless groove. The best I ever got was when other runners on various sections struck up conversations with me. Then I'd get distracted for a couple of miles.
First, my hip flexors went. Which considering the hills I was climbing was not a good thing.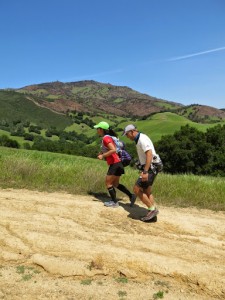 I ignored them as best I could and kept climbing.  I ran the downs and flats and walked up the hills.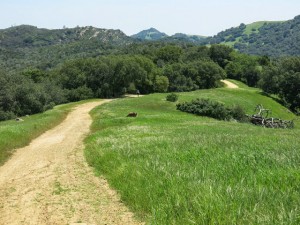 The sucky thing was when my IT bands, completely tired of the bulls*** my hip flexors were pulling decided to speak up.  Around mile 20.
Bummer.
By the time I hooked up with Funder at mile 23, I couldn't run up OR down hill.
This put a serious cramp in my style.
We muddled through the best we could. Which meant in general we still walked uphill……still walked the really steep downhills (which meant hollering and cussing everytime my IT band "caught") and death shuffled everything else.
Good times.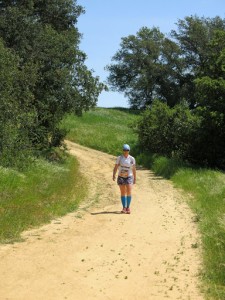 Lesson learned: A friend suggested that my hip flexor inflammation on runs like this could be related to me backing off my interval training too much in the weeks prior to the race. And I realized she had identified a pattern – this hip flexor thing seems to flare up randomly, but when I looked back and crunched the numbers on past races where I had these issues….it was always associated with a drastic decrease in interval runs.  Yes, I still need to taper – but I need to watch my tendency to gravitate towards tempo runs and do some faster paced stuff closer up to race day.
Dealing with the hip flexor and IT band stuff probably cost me 30-40 min.  But in the grand scheme of things I'm grateful I finished at all. More is on the line in one of these races than just a finish time.
The Walls
Since we are talking about "hard things" now is a good time to talk about the "walls".
I went further and I went longer than ever before on this run.
Every time I've gone further or longer my body seems to rebel – physically and mentally. Saturday was no exception.
What's interesting, is that as I increase distance/time the walls become less and less physical and more mental.
In fact, I'm not sore AT ALL. Not the day after. Not today (48 hours after). I think The sore hip flexors and IT bands slowed me down enough that I never really reached physical capacity. Sure, my hip flexors and IT bands hurt. But only they accelerated the mental fatigue – and didn't contribute much to the physical aspect I think.
I hit a mental wall at 5 1/2 hours which was expected considering this was my longest ever run time.  I got through it on my own.
I hit a mental wall at 1:30p. It lasted longer. I distracted myself by talking/whining to Funder. It wasn't until 2p when I felt perky again that I realized I had just gotten through the afternoon doldrums that seem to hit no matter whether I'm driving, in class, in the saddle, or on the trail.
I hit the last mental wall at 3pm.  I realized that 8 hours is the longest it usually takes me and Farley to finish a 50. Considering that I've been piggybacking my mental training for running with my endurance training, this made sense.  With Funder being infuriating cheerful about various supposedly beautiful trail scenery, I worked through this wall too.
The presence of walls didn't surprise me – over the years I've worked through various incarnations of "walls".  What did surprise me was as the walls got harder, the "recoveries" after the walls got better. It was like the more miserable the wall, the higher the "high" was afterwards.
Completely addicting.
To be continued: time for bed. Sorry 🙁